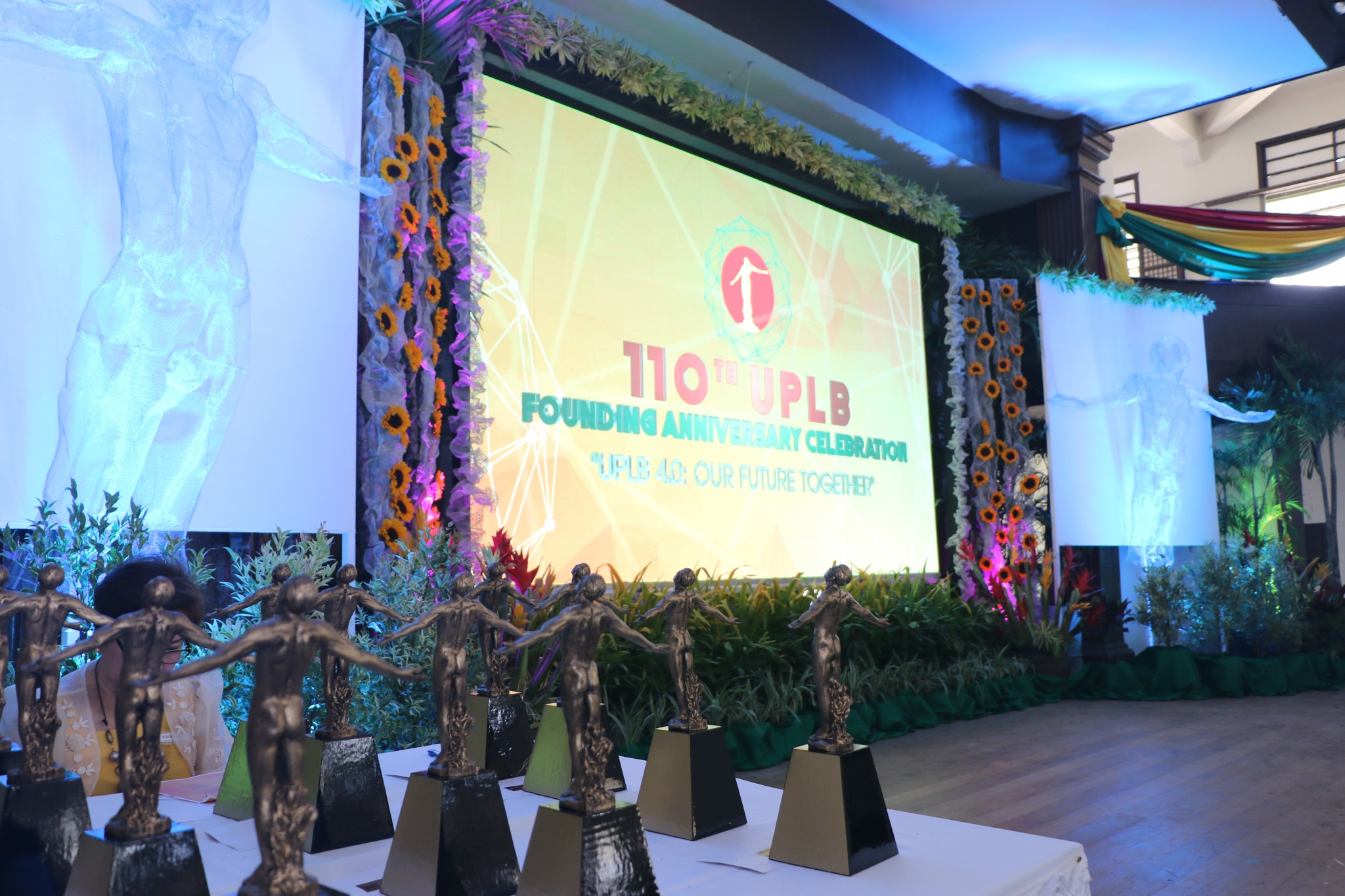 UPLB names 2019 outstanding personnel
Fourteen individuals and two programs stood out in this year's quest for UPLB's Outstanding Personnel and Programs/Teams.
The honorees received the coveted Oblation trophy during the convocation and awarding ceremonies on March 6 at the Charles Fuller Baker Hall.
The annual search and the awarding program served as the centerpiece of the 110th Foundation Day celebration of UPLB.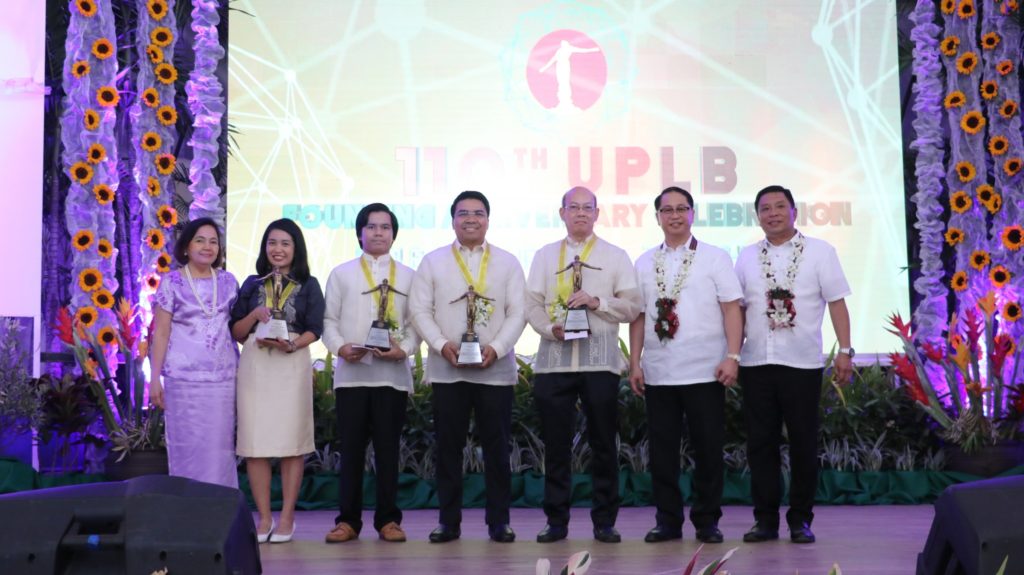 This year's outstanding teachers are (2nd-5th from left) Asst. Prof. Mariyel Hiyas C. Liwanag (junior category, social sciences and humanities) of the Department of Humanities; Asst. Prof. Elvin D. Dulce (junior, physical sciences) of the Department of Electrical Engineering; Dr. Rommel C. Sulabo (senior, biological sciences) of the Institute of Animal Science; and Dr. Catalino G. Alfafara (senior, physical sciences) of the Department of Chemical Engineering.
Joining the outstanding teachers on stage were Dr. Portia G. Lapitan, vice chancellor for academic affairs (leftmost), and UP President Danilo L. Concepcion and Chancellor Fernando C. Sanchez, Jr. (2nd from right & rightmost, respectively).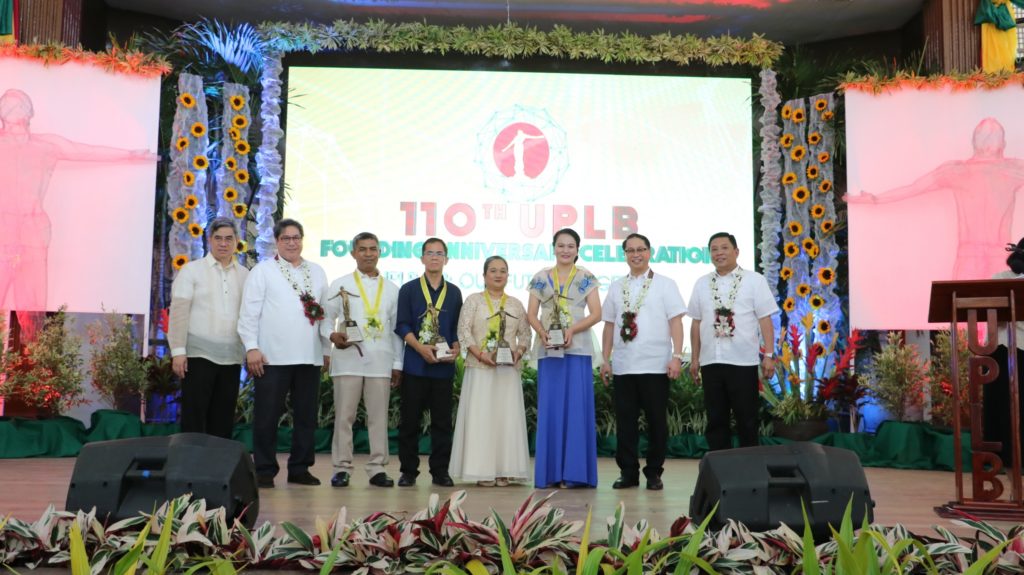 Hailed as 2019 outstanding administrative personnel are (3rd-6th from left) Jose T. Ogalesco (blue collar category) of the University Planning and Maintenance Office; Rodel A. Deriquito (technician/craftsman) of the Department of Civil Engineering; Margarita S. Maghirang (supervisor) of the Accounting Office; and Maria Cristina Wagan-Zafaralla, RN (professional) of the University Health Service.
Flanking them are Dr. Crisanto A. Dorado, vice chancellor for administration and Dr. Teodoro J. Herbosa, UP executive vice president (extreme left & 2nd from left, respectively) and President Concepcion and Chancellor Sanchez (right side).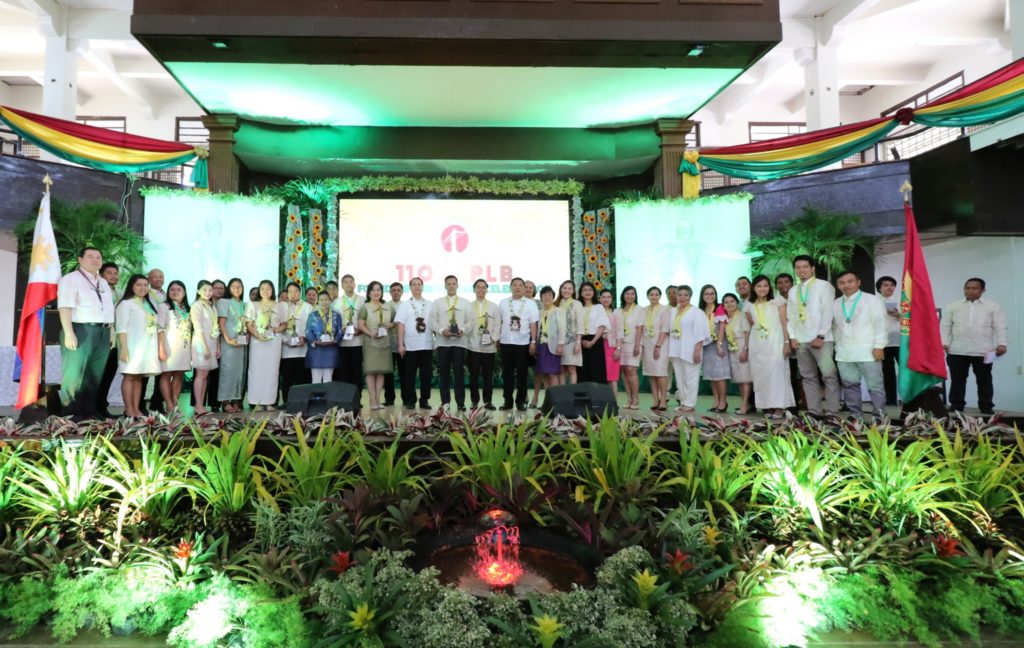 Outstanding senior researchers are (1st row, 5th-7th from left) Dr. Merdelyn C. Lit (senior REPS, natural sciences category) of the Institute of Plant Breeding (IPB); Dr. Josefina T. Dizon (senior faculty, social sciences) of the College of Public Affairs and Development; and Dr. Francisco B. Elegado (senior faculty, natural sciences) of BIOTECH. Outstanding junior researcher is Allen L. Nazareno (junior faculty, natural sciences; 1st row, 13th from left) of the Institute of Mathematical Sciences and Physics (IMSP).
Outstanding extension personnel is IMSP's Alleli Ester C. Domingo (1st row, 8th from left), while outstanding artist is Dr. Antonio Jesus A. Quilloy of the Department of Agricultural and Applied Economics (1st row, 12th from left).
Rounding up the roster of awardees this year are the National Plant Genetic Resources Laboratory of IPB as outstanding research team and the Language Instruction Towards Excellence (LITE) Program of the College of Arts and Sciences as outstanding extension program.
With them on stage are Dr. Rex B. Demafelis, President Concepcion, and Chancellor Sanchez (1st row, 1st, 11th, and 14th from left).
In their respective messages, President Concepcion and Chancellor Sanchez commended the awardees.
"Salamat sa pag-aalay ng inyong husay, buhay, at talento," said President Concepcion, who led the contingent of UP System officials present during the event.
Chancellor Sanchez recognized the awardees for working "to excel in their commitment to serve the university and the country."
In his message, Chancellor Sanchez explained the context of the Fourth Industrial Revolution to university operations, which is reflected in the theme of the anniversary program "UPLB 4.0: our future together."
"When we say UPLB 4.0, we are putting emphasis on strong network by strengthening the links of the various colleges, schools, and institutions that comprise UPLB, and by building partnerships that connect UPLB to its fellow constituent universities in the UP System, as well as other academic institutions within and outside Philippine shores," he said.
"It is through this network that this unity of linkages, partnerships, and collaborations can really make an impact to address challenges that our society faces such as food security and climate change," Chancellor Sanchez added.
Hon. Mark A. Villar, Secretary of Public Works and Highways (DPWH), delivered the keynote address during the program.
Sec. Villar talked about the on-going DPWH infrastructure projects in the country, which included some being built in UPLB, such as the widening and construction of new roads on Pili Drive, and the Institute of Weed Science, Entomology and Plant Pathology Building and the Graduate School Dormitory.
"Rest assured that we will continue to give our full support to the UP System. We believe that this is the institution that produces the best and the brightest," said Sec. Villar.
"[UP] requires the full support of the national government to continuously improve the quality of education that we give to our students," he added.
Joining Sec. Villar in the program was Anna Mae Y. Lamentillo, chairperson of DPWH's Build Build Build Committee and a UPLB alumna. (Mark Jayson E. Gloria)