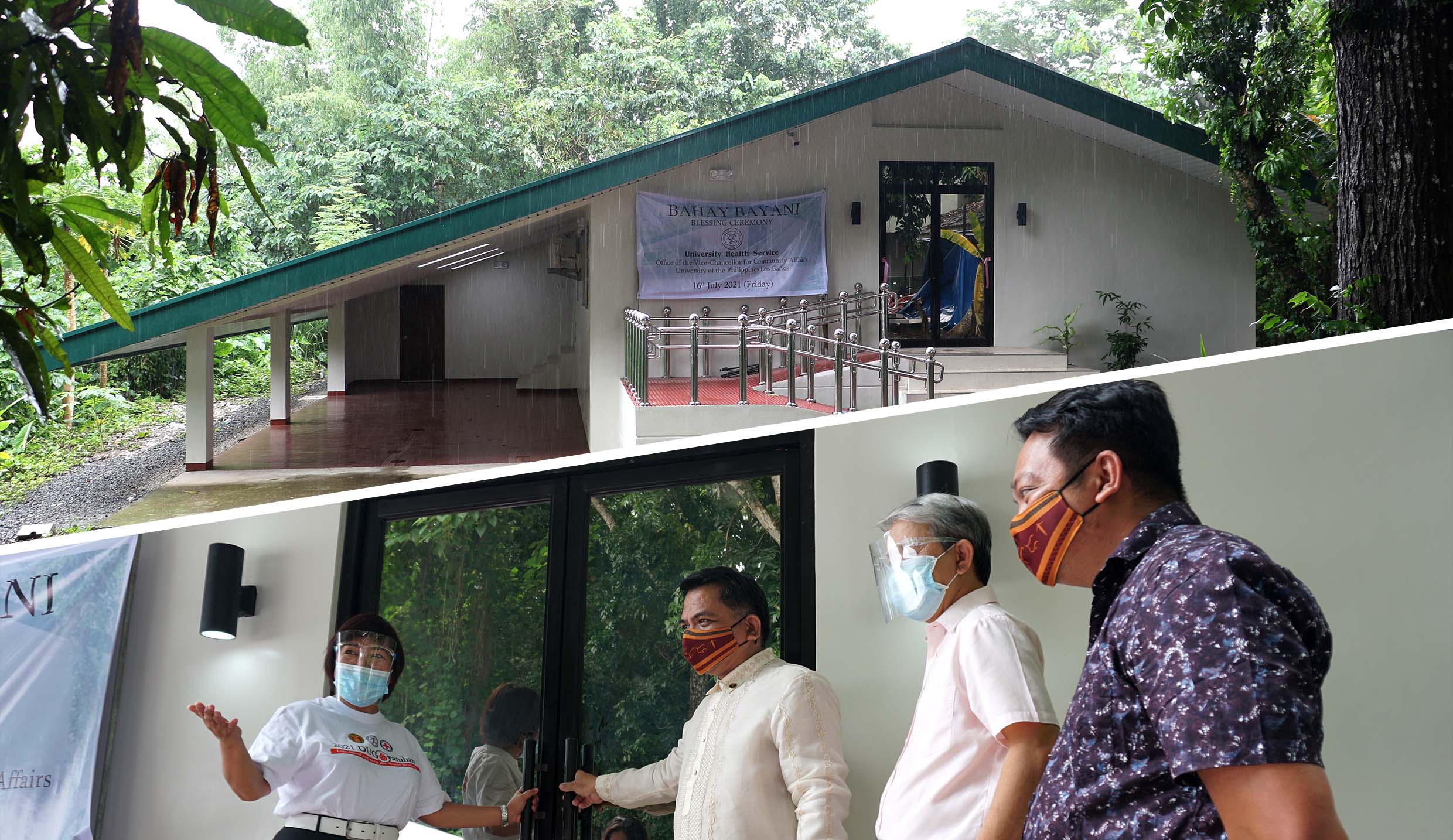 UPLB opens Bahay Bayani for medical frontliners
UPLB formally opened on July 16 its newest facility, the Bahay Bayani, exclusively for frontliners of the University Health Service (UHS).
Bahay Bayani is a renovated housing facility located at the back of the UHS. The said facility took almost a year to be completed.
According to UHS Medical Director, Dr. Jessie Imelda F. Walde, Bahay Bayani will serve as a halfway house, a safe place to stay especially in between shifts, to avoid the possibility of infecting the health workers' families with the highly transmissible COVID-19 virus.
In a speech given during the program, Chancellor Jose V. Camacho, Jr., encouraged the community to protect the frontliners and the future. According to Camacho, the future depends on the decisions and activities that UPLB is doing in the present.
Camacho acknowledged the efforts of the previous administration, which began the project and said that with the pandemic as a huge challenge for the university, UHS frontliners are one of the most dependable allies in battling the pandemic.
He expressed his hope for the support and trust of the community in the administration to take care of its constituents and highlighted the need to continue helping not just UPLB, but also other nearby communities.
Vice Chancellor for Community Affairs Roberto P. Cereno expressed his hopes to have more projects like this especially for frontliners. Cereno said that a caring university leads by example, and that means taking care of its own constituents.
Dr. Fernando O. Paras, Jr., vice chancellor for planning and development, said that the construction of the Bahay Bayani is just one of the many infrastructure projects in the pipeline for the UHS.
Bahay Bayani is a fully air-conditioned dormitory with four rooms furnished with double bunk beds and the fifth being a single-occupancy room. Bahay Bayani has bathrooms, a patio on the side, and a dedicated laundry area.
The opening of Bahay Bayani coincided with a blood donation drive held in collaboration with the Red Cross Laguna Chapter.
The activity was held at the patio of Bahay Bayani. More than 100 blood donors participated in the event including UHS staff, students, UPLB constituents, representatives from the Regional Special Training Unit 4A Special Action Force from Sta. Rosa, Laguna and walk-in civilians who learned about the blood donation drive on Facebook.   
In attendance at the ribbon-cutting ceremony of Bahay Bayani were Dr. Myla Lourdes R. Avena, UHS deputy director; Dr. Imelda Marie Fremielle F. Palacol, head pathologist of the COVID-19 Molecular Diagnostics Laboratory (CMDL) of UPLB and Laguna Voluntary Blood Program Coordinator for Blood Service Network of the Red Cross Laguna Chapter; staff from UHS, and Red Cross Laguna. (KEAraguas)