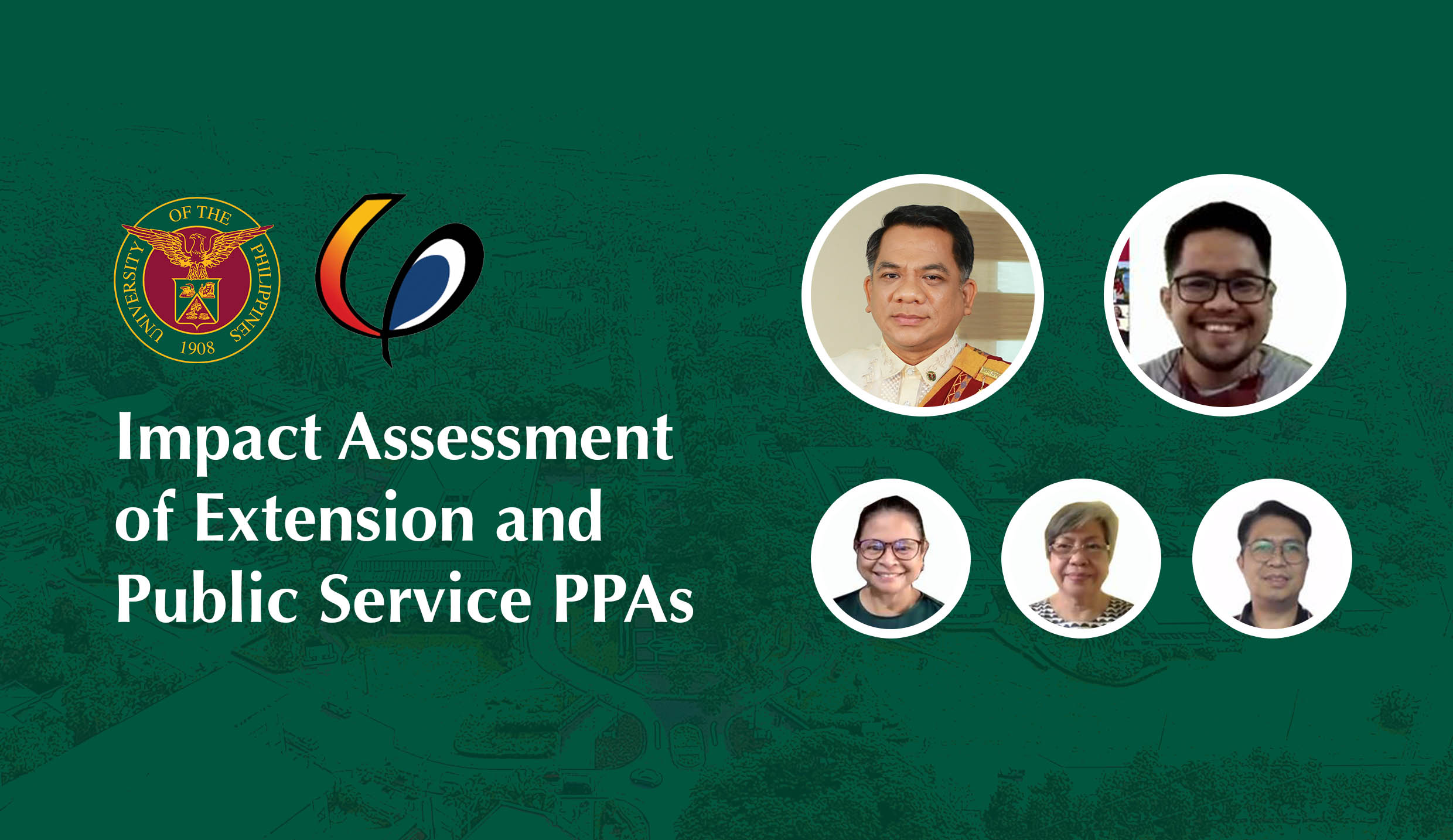 UPLB Pahinungod holds Impact Assessment workshop
The UPLB Ugnayan ng Pahinungod organized an online workshop on Impact Assessment of Extension and Public Service (PPAs) last April 6 to 8.
Designed as a short course, the workshop provided an overview and understanding of the concept and purpose of Impact Assessment (IA), its elements and application as well as how gender can be mainstreamed in different extension and public service projects and programs.
Four topics were discussed: Theories, Principles, and Approaches of IA, Best Practices of IA in Extensions and Public Service, Gender Mainstreaming in IA, and the challenges and innovation in IA in the pandemic context.
Three experts were invited to the workshop: UP Scientist Maria Victoria O. Espaldon, Professor 12; Dr. Eduardo C. Calzeta, Assistant Professor IV, both from the School of Environmental Science and Management (SESAM); and Dr. Maria Helen F. Dayo, a Gender and Development Expert and former director of the UPLB Gender Center.
Espaldon presented the theories and best practices in IA of extension and public service while Calzeta shared the challenges and innovation in the pandemic context. Dayo, a social scientist, discussed the gender mainstreaming on IA.
The three day workshop also provided venue for the participants to conduct logic model-result change analysis, logical framework development, impact monitoring and assessment plan, and an opportunity for Q&A for the participants to raise their concerns to the experts.
Chancellor Jose V. Camacho, Jr. expressed his hope that the training has helped participants understand the principles and methods behind impact assessment but also the importance of its use in evaluation. During his closing remarks he hope that the participants have greater appreciation not only in the effectiveness of the projects or activities but of benefits and costs of projects and programs as the comments from the experts were valuable learnings that are vital when it comes to public service delivery.
"UPLB Pahinungod is at the frontline of future proofing the university especially in the efforts to future proof the area of our public service. Rest assured that we will continue to support you in worldly endeavors such as this. I hope that our participants had an insightful and engaging learning experience, and may this activity inspire you to continue to your desire who served the Filipino people." Camacho said.
Over 40 participants attended the workshop and was participated by REPS, Faculty members, Pahinungod staff from difference UP constituent units, and representatives from other universities and agencies. (KEAaraguas)