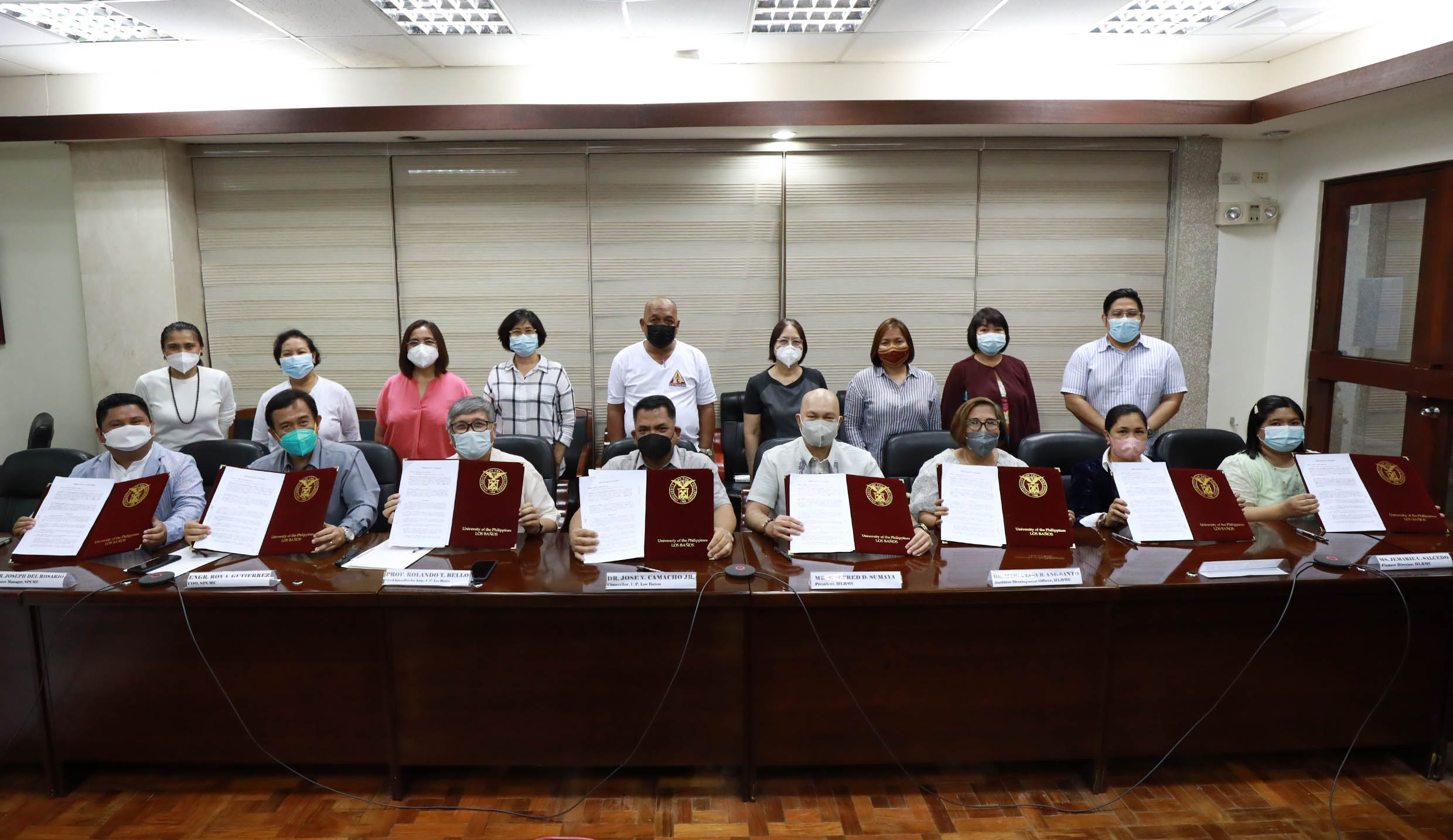 UPLB partners with more Laguna hospitals for EHOPE
UPLB has expanded its network of partners for the implementation of the no cash-out policy for UP's Enhanced Hospitalization Program (EHOPE) for UPLB faculty, research, extension, and administrative personnel.
The newest addition to the list are HealthServ Los Baños Medical Center (HealthServ) and San Pablo College Medical Center (SPCMC) who signed a memorandum of agreement (MOA) with UPLB on April 25 at the Executive Conference Room, UPLB Main Library.
In his speech, Chancellor Jose V. Camacho, Jr. highlighted the aim of the partnership to futureproof UPLB's human resources and lessen the financial burden on UPLB's workforce so that they can focus on recovery in case of hospitalization.
Chancellor Camacho explained that the EHOPE was approved by the UP Board of Regents in 2016 to give each UP employee an PhP80,000.00 annual financial assistance for hospitalization expenses incurred during confinement, among other benefits. This has been implemented with partner hospitals since 2017, however the program had limited accredited hospitals and still required employees to shell out cash before reimbursement.
With the new partnerships, UPLB employees will only need to present a University ID and a Certification on Guarantee of Payment to the hospital to receive financial assistance.
SPCMC and Healthserv through their respective heads similarly welcomed the opportunity to become UPLB's partners in addressing its healthcare needs as both ISO-certified hospitals.
UPLB will also be pursuing future hospital partnerships in Calamba and Sta. Cruz in Laguna, and Sto. Tomas and Tanauan in Batangas.
The MOA signing event was attended by UPLB officials including Vice Chancellor Rolando T. Bello and Dr. Jennifer Marie S. Amparo, vice chancellor and assistant to the vice chancellor for administration (VCA); and members of the ad hoc committee on EHOPE including Atty. Eric Paul D. Peralta, chair of the Human Resources Development Office; Marie Claire L. Raymundo, chief accountant; Elizabeth T. Eala, chief of the Cashier's Office; Ethel T. Cabral, chief of the Business Management Office; Joan E. Mendoza, chief of the Internal Control Office; Dr. Jessie Imelda F. Walde, director of the University Health Service; and Leni N. Garcia, executive assistant of the OVCA.
Also in attendance were Antonio J. Salcedo, president of the All UP Workers' Union – Los Baños, and Cris Lanzaderas, president of the All UP Academic Employees Union Los Baños.
HealthServ was represented by Melfred D. Sumaya, president; Dr. Maria Lisa B. Ang-Santo, business development officer; Jemarie C. Salcedo, finance director; and Marjorie M. Cadiz, marketing supervisor.
SPCMC was represented by Engr. Roy A. Gutierrez, chief operating officer; Dr. Louis Lademora representing their medical director Dr. Rodolfo Inacay; Dr. Joseph V. del Rosario, finance manager; Elaine Juan, business development manager; Mychelle Laroza, client services unit head; and Christian William Feliz, marketing sales officer. (Jessa Jael S. Arana)
Aligned with our commitment to: