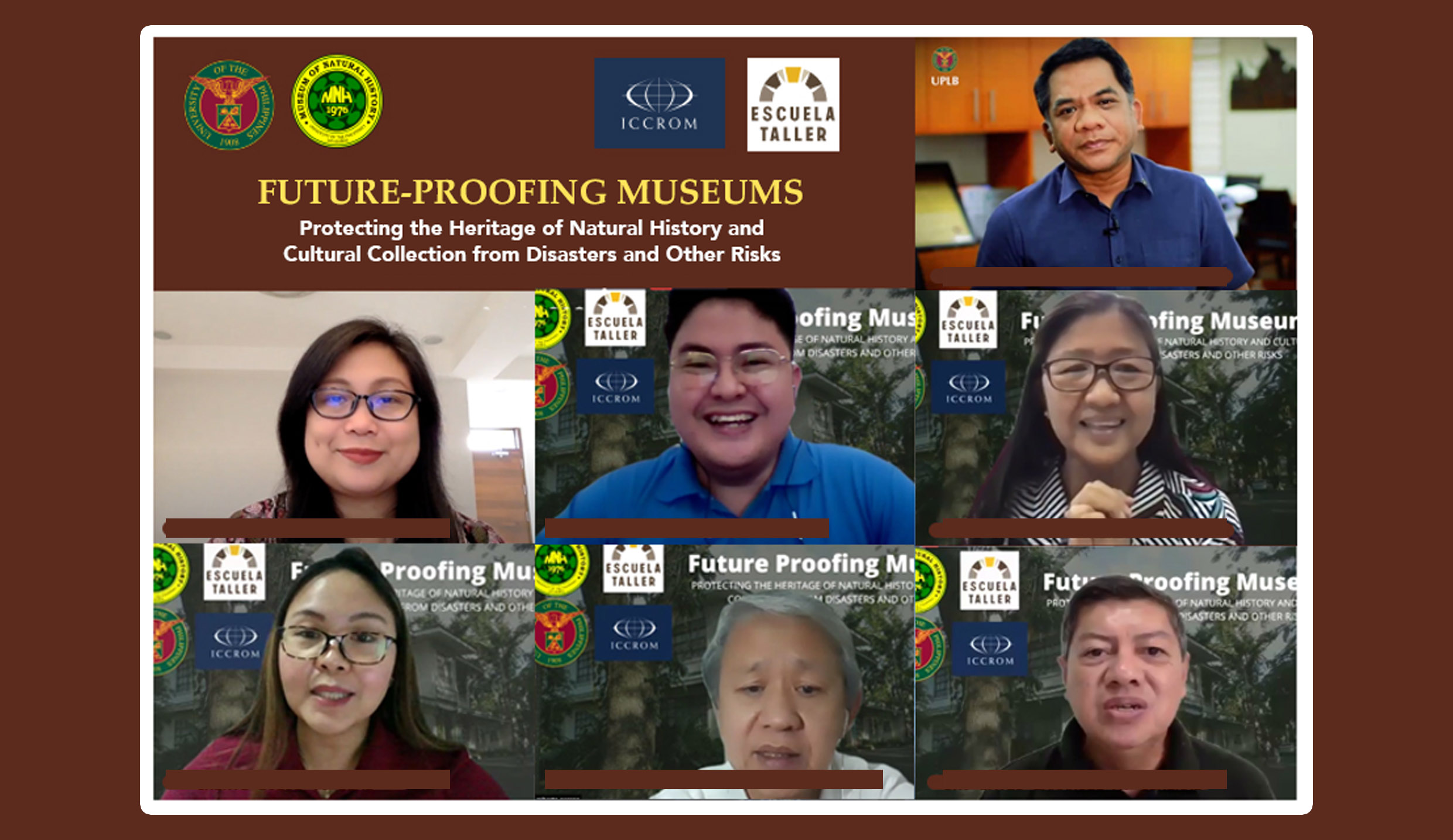 UPLB promotes future-proofing of museums
In observance of the National Disaster Resilience Month last July, the UPLB Museum of Natural History (UPLB MNH) held a webinar series on July 30 with the theme "Future-Proofing Museums: Protecting the Heritage of Natural History and Cultural Collections from Disasters and Other Risks."
Chancellor Jose V. Camacho who was invited to formally open the webinar said that holding it is responsive to the pressing issues of our environment with the different kinds of disasters that abound in our archipelago.
He also called the virtual event refreshing as it is not every day that we dedicate time to (discuss) preserving our rich natural and cultural heritage.
Dr. Marian de Leon, UPLB MNH director, emphasized the importance of the webinar in putting proper perspective on the impacts of natural hazards on our priceless cultural collections.
Several speakers were invited to shed light on various topics that surround preservation and future-proofing natural and cultural heritage.
Culture cannot wait: DRRM for cultural heritage
Michael Querido, project architect of Escuella Taller de Filipinas Foundation, Inc recalled the previous disasters that caused damage to the country's architectural heritage. Querido showed photos of Bohol Church after the Magnitude 7.1 earthquake in 2013, Palo Church after typhoon Yolanda in Leyte in 2013, and Bato Mosque after the Marawi Siege in 2017.
Escuella Taller advocates preventive conservation, to mitigate deterioration and damage to cultural property and considers it an ongoing process that continues throughout the life of cultural property. They developed the "Preventive Conservation Manual for Adobe Masonry Walls in the Philippines," which is widely distributed in the Philippines.
"Build Back Better"
The second speaker was Cheryl Loise T. Leal, an environmental planner and acting chief of the Disaster Risk Governance Division, Policy Development and Planning Service of the Office of the Civil Defense.
Leal provided the highlights of the National DRRM Framework and Plan for the year 2020-2030.
She also presented the key results areas of the NDRMM Plan that includes disaster risk reduction, disaster risk preparedness and response, and rehabilitation or "Build Back Better."
DRRMO is enhanced by local government units down the line. The Laguna Provincial DRRMO headed by Aldwyn M. Cejo, officer-in-charge, takes care of this at the provincial level.
"Prevention mitigation, preparedness, response, and rehabilitation and recovery. These are the four thematic areas of DRRM," Cejo said, referring to the principle of "Build Back Better" or "Build Forward Better" as one of the most important parts of rehabilitation and recovery.
Disaster resiliency through understanding geologic and hydrometeorological hazards
In her presentation, Dr. Ma. Mylene L. Villegas-Martinez, chief of Geologic Disaster Awareness and Preparedness Division of PHIVOLCS said that the Philippines is prone to many natural hazards due to its geologic and geographic setting.
According to her, loss of life and lifelines, diseases, damage to buildings, displacement of people, loss of business and livelihood, and damage to the environment are some of the large-scale impacts of different disasters.
Bernard Punzalan, an engineer and weather specialist at DOST-PAGASA, the government's weather bureau, shared his knowledge and expertise on understanding hydrometeorological hazards and weather-proofing our fffices.
Among those that we need to prepare for, according to Punzalan, are monsoons, frontal systems, ITCZ, tropical cyclones, and the La Niña and El Niño.
Role of actors and local context in DRRM and preparedness in UP and UPLB
Dr. Carlos P. Tatel, chair of the Department of Anthropology of UP Diliman gave some insights on the very important lessons in disaster risk reduction and management.
"Context is an important lesson in DRRM. It is the starting point of every disaster risk reduction management plan. Thus, context is everything, and it must be well-established in order to map out the whole spectrum of potential disasters", he exclaimed.
These contexts according to Dr. Tatel were physical geographic space, historical background, and institutional model or organizational set-up.
Dr. Carlos Primero G. Gundram, head of the UP Manila DRRM, discussed the recently
launched second edition of UP Manila's Disaster Risk Management Manual. It contains several guidelines in addressing specific disasters. The Incident Command System (ICS) of UP Manila was the most highlighted topic in his speech. It is based on a flexible, scalable response organization, providing a common framework within which people can work together effectively.
UPLB, on the other hand, is in the process of setting up the UPLB Safety and Security Office Crisis and Emergency Unit according to Vice Chancellor for Community Affairs Roberto P. Cereno. This new office, according to VC Cereno, will provide and help students and staff in their mental health concerns.
UPLB is now in the process of drafting the campus succession plan, management plan, and a public continuity plan, which are all necessary for DRRM.
International Centre for the Study of Preservation and Restoration of Cultural Property
Ms. Aparna Tandon, senior program leader of the International Centre for the Study of Preservation and Restoration of Cultural Property (ICCROM) said that cultural heritage has been greatly affected by different disasters. "ICCROM revolves on how we can protect from climate-change induced disasters and conflict, " she added.
It is important to build programs and initiatives that can strengthen the implementation of disaster prevention, recovery, and resiliency", Tandon explained.
Dr. Medelyn C. Lit, Vice Chancellor for Research and Extension of UPLB ended the whole day webinar by thanking and congratulating who took part in it.
The webinar was attended by close to 100 virtual audiences representing different museums and sectors. The program was moderated by Dr. David Emmanual M. General, University Researcher of the Museum of Entomological Collection and Ms. Michelle DR. Alejado-San Pascual, University Researcher, UPLB MNH. (Ana Mariz Z. Pineda)