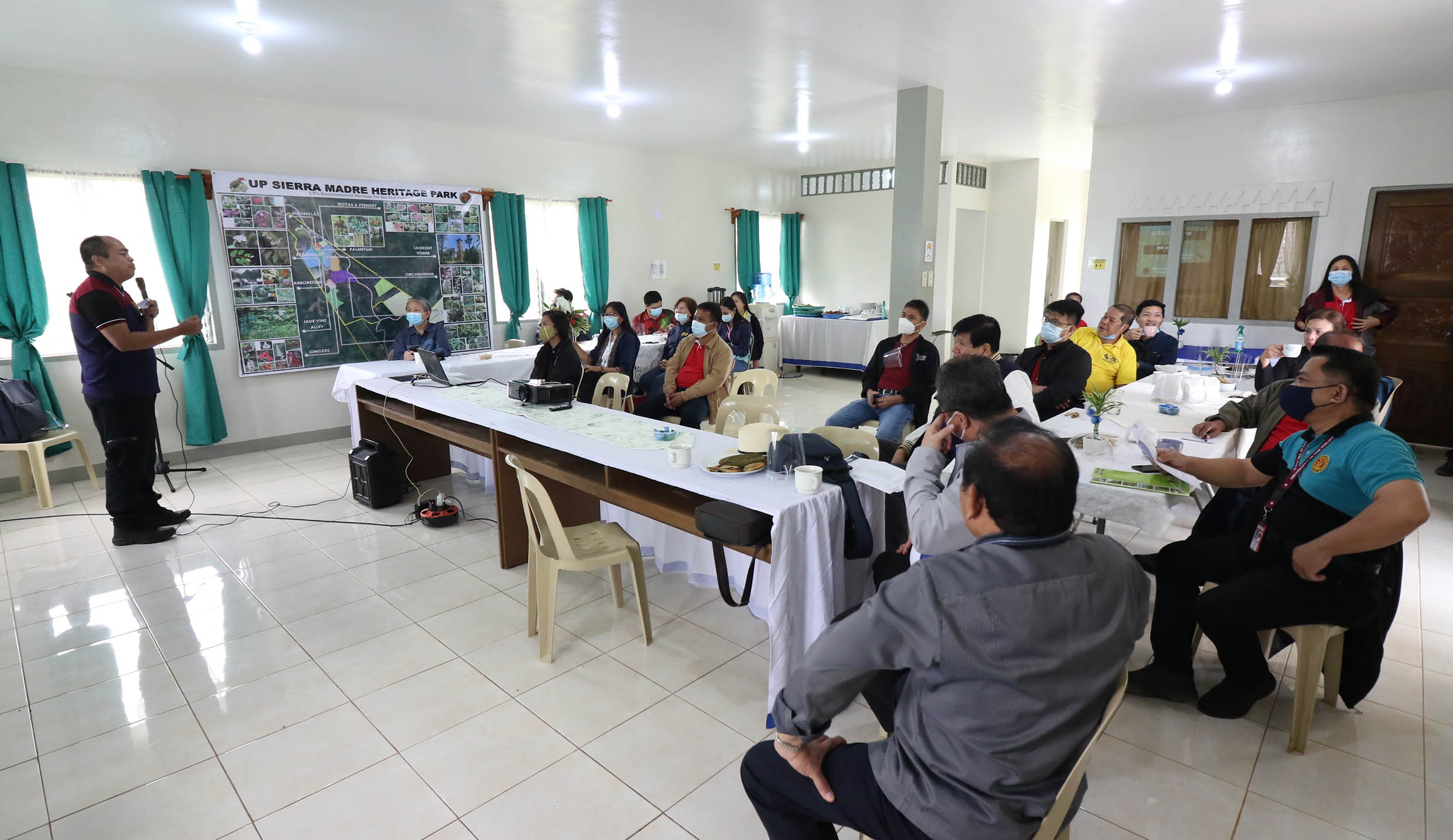 UPLB reveals ecotourism plans for LQLG at its 91st anniversary celebration
Since 1930, UPLB has stood as the steward of the Laguna-Quezon Land Grant and the Laguna Land Grant, two forested areas covering a combined 9,084 hectares, both brimming with biodiversity.
To mark 91 years of this stewardship, the UPLB Land Grant Management Office held a celebratory program at the LQLG Field Station in Siniloan, Laguna, last Feb. 8.
Gracing the event were UP Executive Vice President Teodoro Herbosa and UPLB officials led by Chancellor Jose Camacho Jr.
In the UPLB delegation were vice chancellors Dr. Fernando Paras Jr. (planning and development), For. Roberto Cereno (community affairs), and Dr. Merdelyn Lit (research and extension); Assistant to the Chancellor and Alumni Relations Director Eileen Lorena Mamino, and Assistant to the Vice Chancellor for Student Affairs Jickerson Lado.
Also in attendance were UPLB alumni led by Dr. Cristino Collado and Capt. Mauro "Mannie" Barradas, both of Class 1970.
The program opened with a detailed report by the newly appointed manager of the LGMO, Prof. Pastor Malabrigo Jr., of the past accomplishments, future plans, and pressing needs of the LQLG. The report outlined how the LGMO, despite its limited manpower, continued to perform its mandates of protecting the LQLG and facilitating its use as an educational "living laboratory."
Prof. Malabrigo also gave emphasis on the need to develop the LQLG as an income-generating unit of the university as a way of making up for the cost of stewardship which UPLB presently shoulders. Included in the plans for income generation were developing the LQLG as a nature and ecotourism destination, a nursery and gene bank for endemic plants, and as a potential venue for seminars and trainings.
Following his report were messages from VC Paras, Chancellor Camacho, and EVP Herbosa, who were united in their support for the LQLG's future plans. VC Paras commented on how the LQLG had potential partners in renewable energy companies, such as hydroelectric or wind power plants, and that such partnerships should not be immediately discarded but instead carefully studied.
Chancellor Camacho revealed his intention to push for more support and development for the LQLG as part of his administration's pursuit to future-proof UPLB. He described the LQLG as an important resource for instruction and research where future generations could learn about biodiversity. He also noted that funding would not be a cost but an investment.
EVP Herbosa enthusiastically seconded the need for investment in the LQLG, which he described as a "paradise." He also keenly endorsed the idea of developing the LQLG for ecotourism and proposed a good name – the UP Sierra Madre Nature and Conservation Reserve. EVP Herbosa also strongly encouraged the LQLG to seek partnerships with banks and private corporations for funding.
After their messages, the visiting UPLB alumni also pledged their support for LQLG. In particular, Capt. Barradas, president of the College of Agriculture and Food Sciences Alumni Association, pledged to donate a vehicle for LQLG's use.
The program concluded with the planting of seedlings of the endemic plant, Medinilla magnifica. or kapa-kapa by the university officials. (Albert Geoffred B. Peralta)