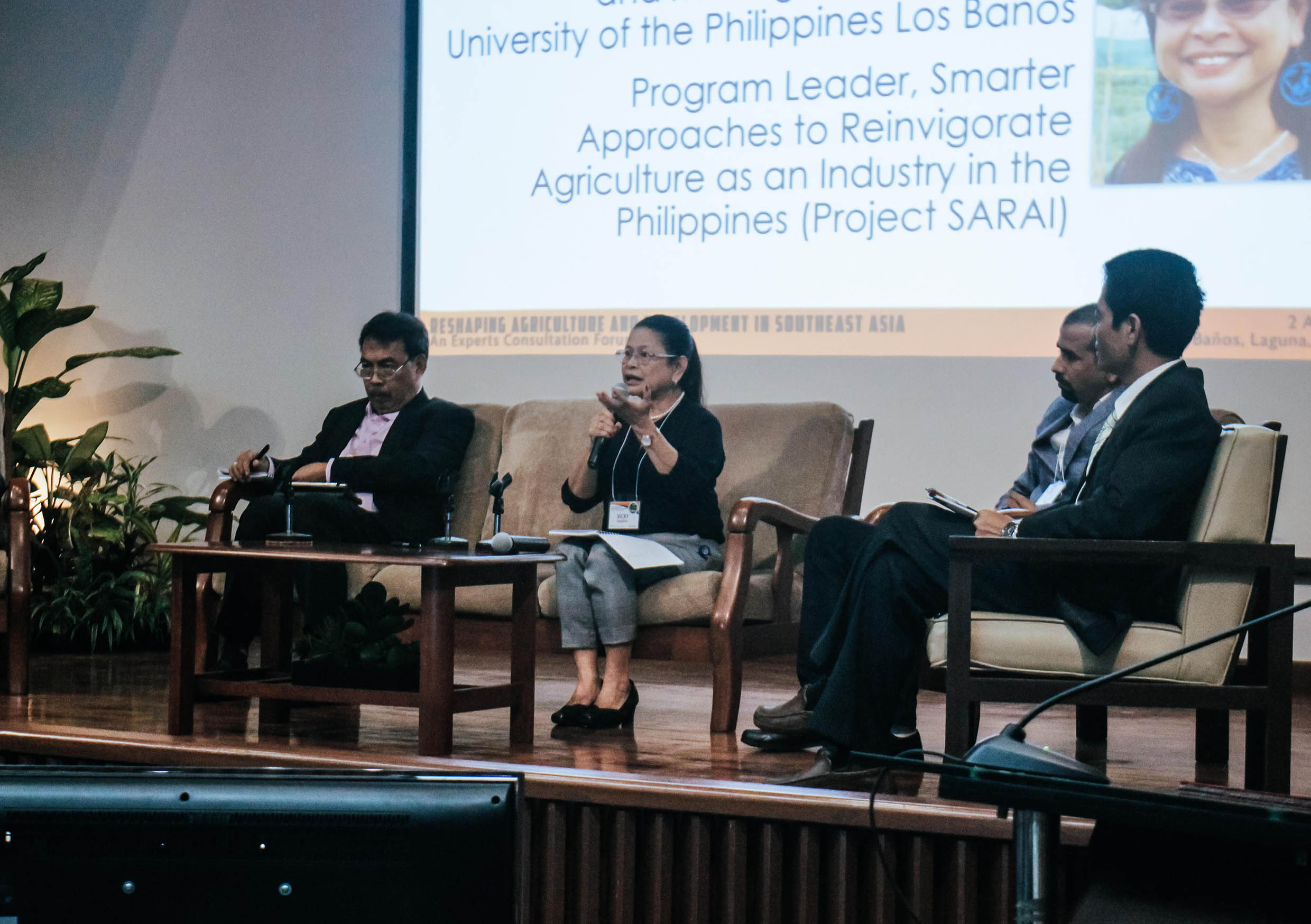 UPLB scientist calls for paradigm shift at SEARCA forum
"There is really a need to shift agricultural extension paradigm. There should be a rethinking of how we disseminate climate information."
Thus, said Dr. Maria Victoria O. Espaldon during the Experts Consultation Forum of the Southeast Asian Regional Center for Graduate Study and Research in Agriculture (SEARCA) on Aug. 2 at its headquarters in the UPLB campus.
Dr. Espaldon, a professor at the School of Environmental Science and Management and UP Scientist III, was one of the 24 national and international experts who shared their perspectives on reshaping agriculture and development in Southeast Asia during the Forum. She took part in the plenary session about managing climate uncertainties and water scarcity. Other themes covered the promise of information technology; agro-industrial value chains and integration of smallholders; and farm tourism and family farming.
According to her, farming households should understand knowledge and technologies being introduced to them.  "We are always asked: 'How can our farmers understand this information? What will be the relevance of this information to their practice?'" said Dr. Espaldon, who leads SARAi, a project that promotes smart agriculture in the country through the use of technologies and near real-time crop advisories.
Dr. Espaldon called for a multi-layered capacity building that would involve national government agencies (NGAs), local government units, and farmer cooperatives. "The current extension system is basically centered on our NGAs whereby the problem is really at the local level; so there must be a rapid, quick and really serious look at capacity building," she said.
Dr. Doris Capistrano, senior advisor at the ASEAN-Swiss Partnership on Social Forestry and Climate Change who chaired the plenary session, affirmed the need to reshape agricultural extension, with emphasis on disseminating knowledge "from the bottom going up."
"Increasingly, the evidence shows that the best extension agents are the farmers themselves. The question is how you mobilized that kind of credibility in order to be able to transfer, transform, and even co-produce knowledge?" Dr. Capistrano asked.
"The farmers are integrated inherently. They shape their landscapes. It is us who manage and relate to them that need to be better integrated," she added.
Officially opening the event was UPLB Chancellor Fernando C. Sanchez, Jr., who also sits as chair of the SEARCA Governing Board. In his welcome remarks, he reiterated the importance of agricultural and rural development (ARD) in addressing food security and poverty alleviation in the Region.
He identified the Forum's role in responding to issues affecting ARD. "We look forward to hearing new ideas, paradigms, approaches, and directions that could influence the ARD and overall regional development of Southeast Asia and beyond," Chancellor Sanchez said.
Present during the event was Dr. Paul P.S. Teng, managing director of NIE International Pte. Ltd. based at Nanyang Technological University in Singapore, who provided the context-setting of the Forum and articulated the six imperatives for ARD transformation in Southeast Asia.
Also present were Dr. Cielito F. Habito, professor of economics at the Ateneo de Manila University and former socioeconomic planning secretary of the country, and Dr. Gil C. Saguiguit, Jr., outgoing director of SEARCA. Almost 50 representatives from the public, private, research, and farming sectors in Southeast Asia attended the Forum. (Mark Jayson E. Gloria)