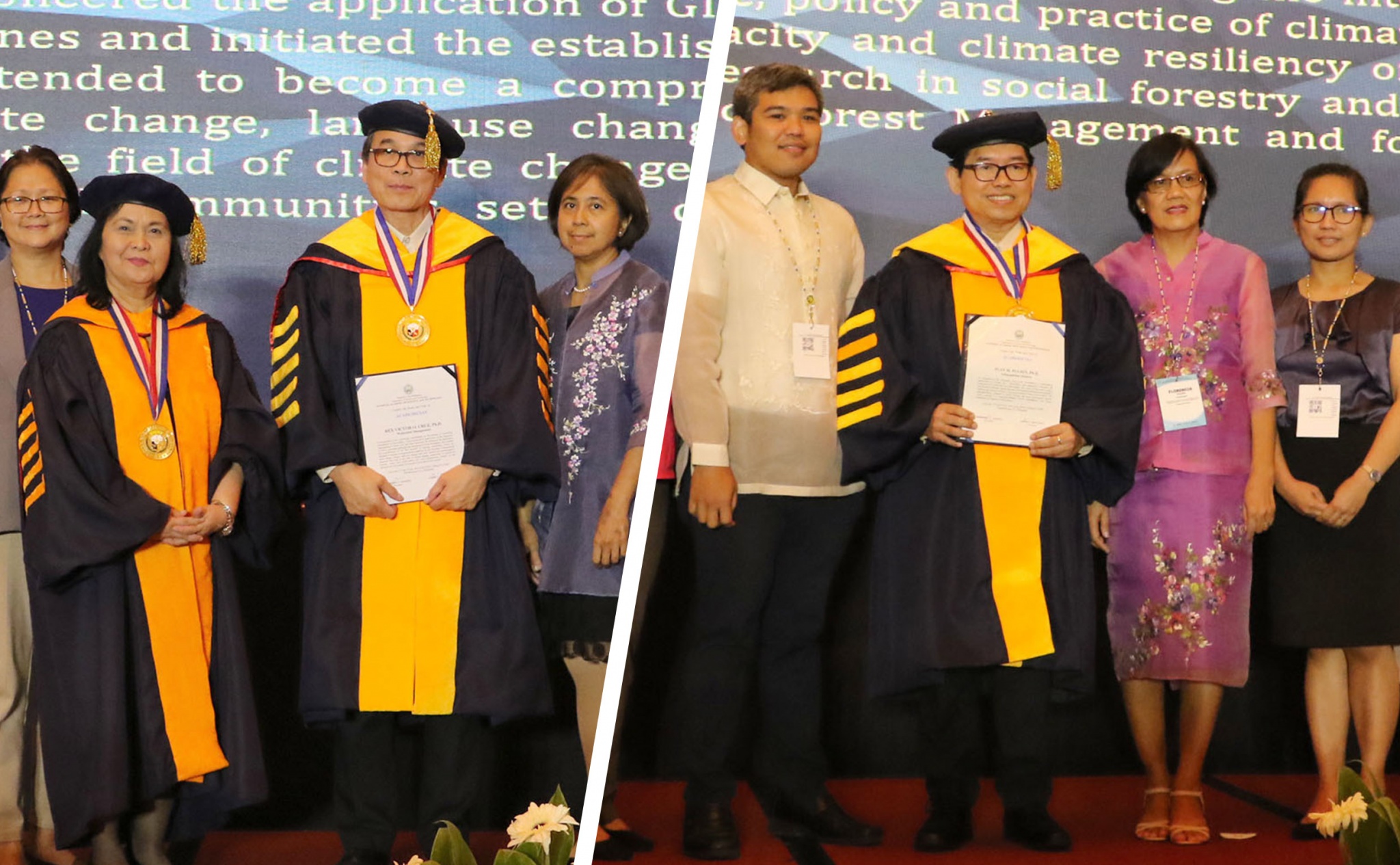 UPLB scientists, researchers reap NAST honors
UPLB scientists Dr. Rex Victor O. Cruz and Dr. Juan M. Pulhin are the recent addition to the growing and elite pool of Academicians of the National Academy of Science and Technology (NAST).
Dr. Cruz and Dr. Pulhin, both professors and UP Scientists at the College of Forestry and Natural Resources, were officially conferred with the title alongside two others during an investiture on July 11 at the EDSA Shangri-La Hotel, Mandaluyong City.
The ceremony was part of NAST's 41st Annual Scientific Meeting (ASM).
Academicians Dr. Rhodora V. Azanza and Dr. Fabian M. Dayrit, president and vice president of NAST, respectively, assisted in putting on the regalia that signify their membership to the Academy.
Hon. Fortunato T. dela Peña, secretary of the Department of Science and Technology, witnessed the event and administered the oath taking of the new Academicians.
Elected NAST Academicians are outstanding Filipino scientists who have made significant contributions and have advanced the cause of science and technology in the Philippines.
Dr. Cruz was recognized for his contributions in watershed management in the country, particularly in the integrated management of forest, soil, and water resources.
Dr. Pulhin was cited for his pioneering works in participatory approaches to climate risk, vulnerability and adaptation, and the integration of science and local knowledge.
NAST is an attached agency to the Department of Science and Technology mandated by law to recognize outstanding achievements and advise the President and the Cabinet on matters related to science and technology.
The Academicians elect the next National Scientists from their own pool.
During the ASM, NAST also recognized this year's winners of its various searches, which include four individuals and one team from UPLB.
Dr. Patricia Ann J. Sanchez and Dr. Rico C. Ancog, both faculty members at the School of Environmental Science and Management, were named 2019 Outstanding Young Scientists together with 10 others.
Dr. Sanchez, chair of the UPLB Water Center, clinched the prize for her research on river basins and upland watersheds, particularly on the optimization of dam operations and the development of river basin management systems to maximize water use and prevent flooding.
Dr. Ancog, UP Scientist III, won for his notable contributions in linking economics and environmental science in analyzing the impacts of development programs and projects to different socio-ecological systems and finding the balance between the two.
The remaining UPLB awardees were recognized for their specific studies.
Dr. Darwin B. Putungan, a faculty member at the Institute of Mathematical Sciences and Physics, won first in the 2019 NAST Talent Search for Young Scientists.
Dr. Putungan's research is "Conducting 2D 1T'-MX2 (M= Mo, W; X= S, Se, Te) and hydrogen evolution reaction: towards the realization of clean and renewable energy resource."
Meanwhile, John Christopher A. Dañez, a graduate of BS Chemical Engineering, placed second in the 2018 Magsaysay Future Engineers/Technologists Award.
Dañez's research is called "Optimization of fermentation factors for the production of Polyhydroxybutyrate (bioplastic) from Bacillus megaterium de Bary using hydrolysates from selected agricultural residues in a model system."
Lastly, the paper of Khris June L. Callano, Visitacion C. Huelgas, and Dr. Merlyn S. Mendioro titled "Cytogenetics of Solanum aethiopicum L.,S. melongena L. and their F1 hybrids and the mechanism of hybrid sterility and breakdown" was among the four winners of the 2019 Outstanding Scientific Paper Award.
Callano is a PhD Horticulture student; Huelgas is a university researcher at the Institute of Plant Breeding; and Dr. Mendioro is the director of the Institute of Biological Sciences.
Over 700 attendees from industry, government, and academe took part in the event.
It also featured plenary and scientific poster sessions addressing plastic waste, sustainable marine food security, and education, talent development, and retention.
With the theme "Caring for the country's carrying capacity," the ASM focused on tackling three Sustainable Development Goals: Goal 4 (Quality Education), Goal 12 (Responsible Consumption and Production), and Goal 14 (Life below Water).
The ASM also served as a venue for NAST to present its policy recommendations that will be submitted to the Office of the President, the Cabinet, and the Congress. (John Glen S. Sarol)