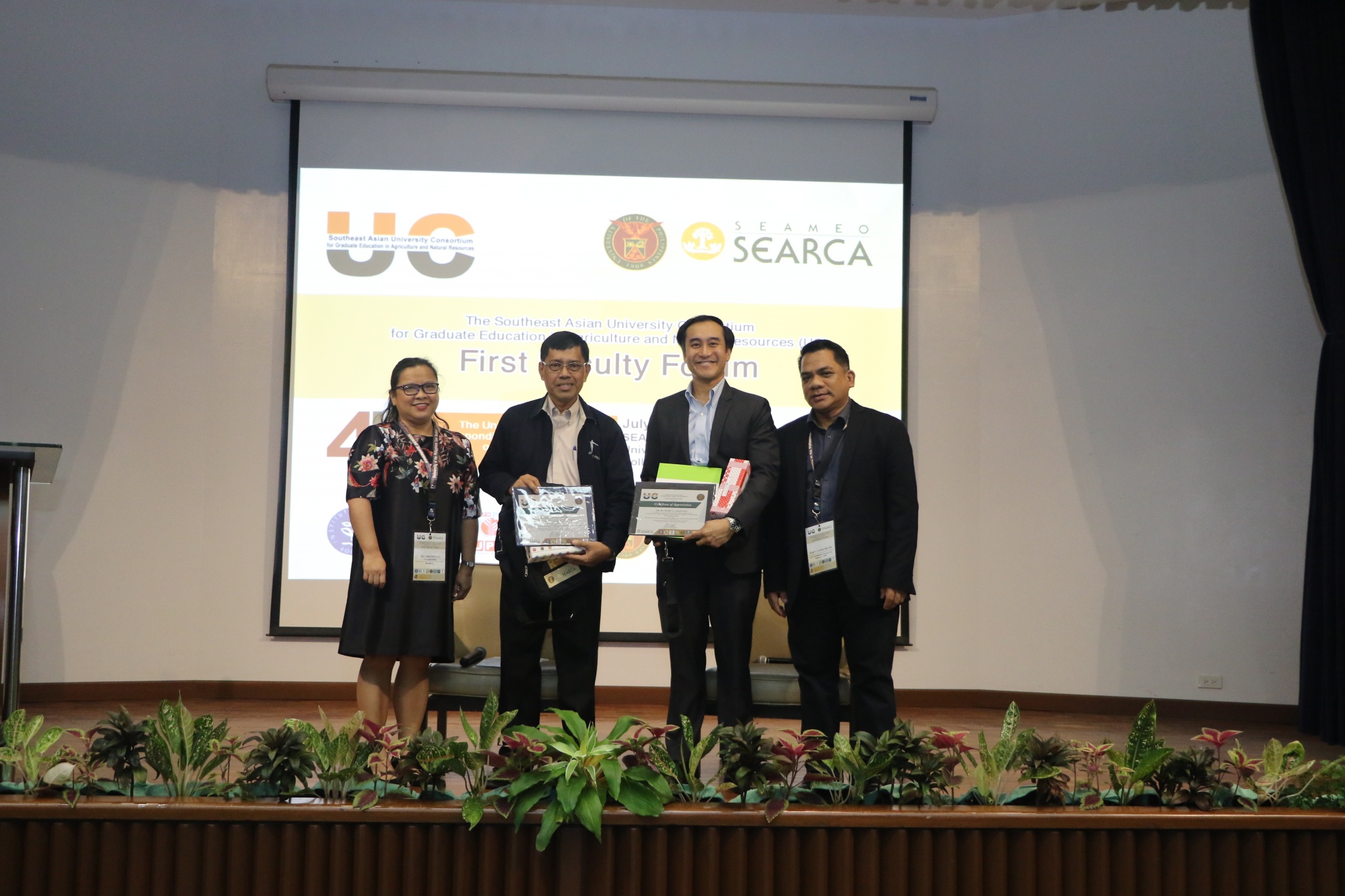 UPLB, SEARCA lead first forum of its kind in ASEAN
Professors from Southeast and East Asia are now gathered at the UPLB campus to share their knowledge, learn new things, and establish linkages for a first-of-its-kind academic event in the region.
At the First Faculty Forum of the Southeast Asian University Consortium for Graduate Education in Agriculture and Natural Resources (UC), 55 faculty members from eight member universities are taking part in plenary and parallel sessions, open forum, and roundtable discussions on the Fourth Industrial Revolution.
The forum runs from July 23-24, with activities taking place at various venues in UPLB and SEARCA headquarters.
During the opening session, Dr. Portia G. Lapitan, UPLB vice chancellor for academic affairs, who delivered the message of Chancellor Fernando C. Sanchez, Jr., noted that the Fourth Industrial Revolution has been fast evolving and that higher education institutions (HEIs) should keep up with it.
"As we face the dawn of the Fourth Industrial Revolution, we are starting to see how emerging technologies such as artificial intelligence, the Internet of things, biotechnology, and nanotechnology are blurring the lines among the physical, the digital, and the biological realms," she said.
"To enable younger generations to take advantage of the Fourth Industrial Revolution, we need to shift emphasis away from growth learning, knowledge consumption, and conformity, and build the huge capacities for innovation, creativity, and collaboration," Dr. Lapitan continued.
Innovation and collaboration served as the centerpiece of the respective plenary talks of Dr. Richard Abendan and Dr. Felino Lansigan.
Dr. Abendan, chief of party of the United States Agency for International Development-Science, Technology, Research, and Innovation for Development (USAID-STRIDE) Program, highlighted the value of innovation and industry collaboration in empowering HEIs.
As an example, he cited how the USAID-STRIDE has been supporting university career centers, professional science masters, and technology transfer offices at selected HEIs in the Philippines to improve their capacities for innovation.
At the core of these initiatives are industry partners. "Industries define their problem and the university research is there to work with them in co-creating research projects to solve these problems," Dr. Abendan said.
For his part, Dr. Lansigan, dean of the UPLB College of Arts and Sciences, suggested ways on how HEIs in the region could collaborate in managing climate risks and in pursuing smart agriculture through research and development.
He also discussed how the interdisciplinary and multi-HEI Project SARAI have been preparing Philippine agriculture for the Fourth Industrial Revolution through its various technologies and systems.
The forum has nine parallel sessions that feature papers on food security, climate change, rural transformation, and graduate education in the context of the Fourth Industrial Revolution.
Of the 43 paper presentations, 15 are authored and co-authored by UPLB faculty members and researchers.
Joining UC's First Faculty Forum are UPLB, Institut Pertanian Bogor, Universitas Gadjah Mada, Universiti Putra Malaysia, Kasetsart University, Tokyo University of Agriculture, University of Brawijaya, and National Taiwan University.
The Graduate School (GS) of UPLB and the Graduate Education and Institutional and Development (GEID) Program of SEARCA are the lead organizers of the forum.
Dr. Jose Camacho, Jr., dean of GS, and Dr. Ma. Cristeta Cuaresma, head of GEID, took part in the opening session, along with Dr. Pedcris Orencio, head of SEARCA's Research and Development Program. (Mark Jayson E. Gloria)