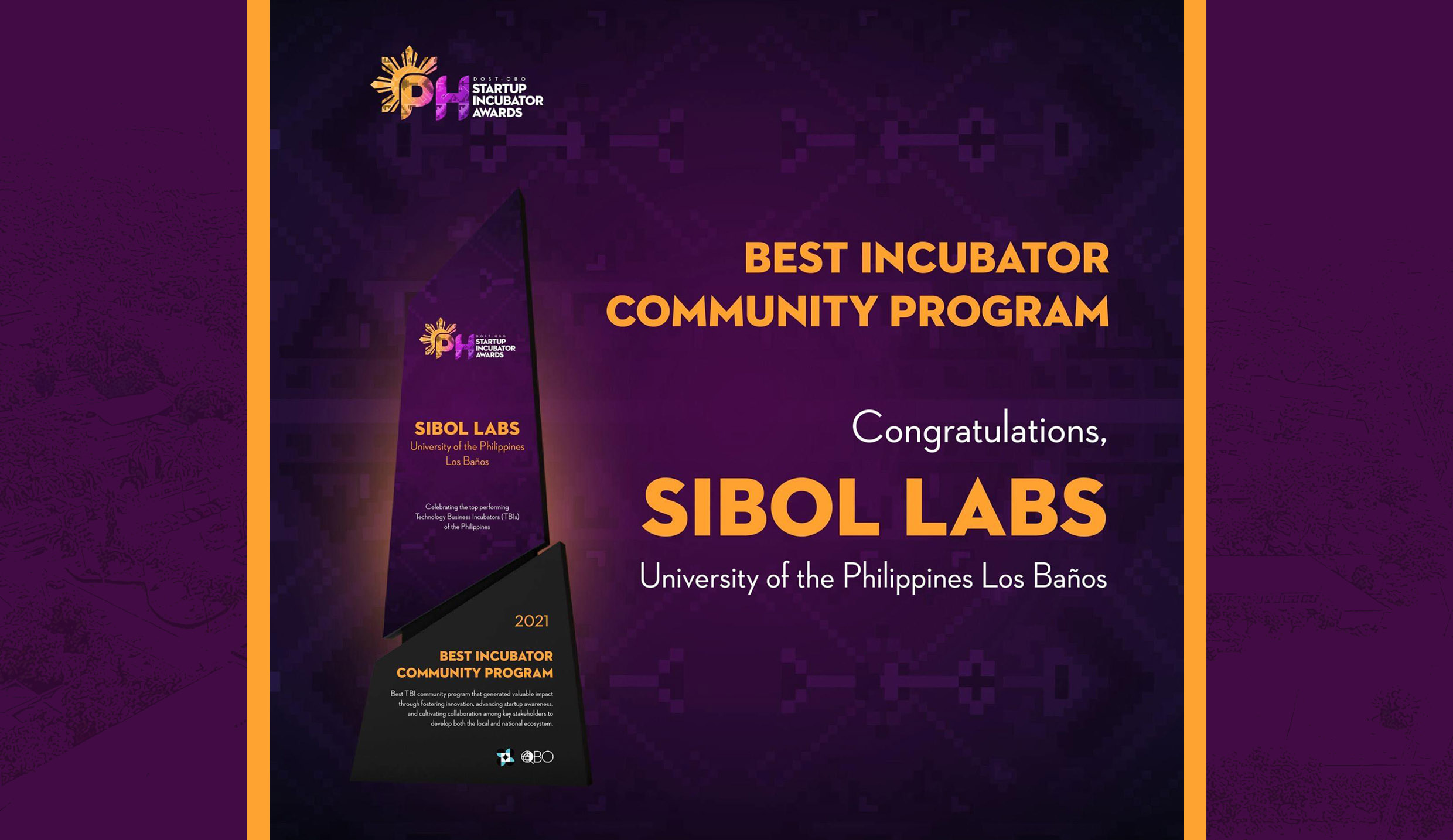 UPLB SIBOL Labs wins best incubator award
The UPLB Startup Innovation and Business Opportunity Linkage (SIBOL) Labs bagged the Best Incubator Community Program Award of the PH Startup Incubator Awards hosted by the Department of Science and Technology-Philippine Council for Industry, Energy, and Emerging Technology Research and Development (DOST-PCIEERD) and QBO Innovation Hub on April 23.
UPLB SIBOL Labs was also nominated for three other awards–Best Incubator Startup Program, Best Incubator for Growth & Sustainability, and Grand Champion.
The awarding program, held via video conference and streamed live on YouTube, culminated a two-year initiative, dubbed TBI 4.0, of DOST-PCIEERD and QBO Innovation Hub to recognize outstanding Technology Business Incubators (TBIs), and showcase their success and milestones.
The TBI 4.0 Program aimed to transform the Philippine startup ecosystem by elevating the capacities and services of 12 TBIs from the country's leading universities.
The Best Incubator Community Program is awarded to the TBI that best generated valuable impact through fostering innovation, advancing startup awareness, and cultivating collaboration among key stakeholders to develop the local and national innovation ecosystem.
UPLB SIBOL bested the community programs of 11 other TBIs through its aggressive pursuit of partnerships and community engagements.
UPLB SIBOL was given a trophy and Php 50,000 cash for this award. The finalists were the AIM-Dado Banatao Incubator and iDEYA-MSU Iligan Institute of Technology.
In the past two years, UPLB SIBOL launched a number of events and programs, as well as forged partnerships and collaborations, to help stimulate the country's innovation ecosystem.
These included holding design thinking workshops and seminars on technopreneurship and establishing partnerships with local and international key players on startup accelerator programs.
Among these engagements was the Innovation Olympics 2.0, an "Agri-Hackathon" competition challenging the next generation of agriculture, business, and technology leaders to develop innovative solutions that can help transform the Philippines' food and agriculture sector.
UPLB SIBOL collaborated with the Southeast Asian Regional Center for Graduate Study and Research in Agriculture (SEARCA), East West Seed Company, and Sensient Colors LLC for this program that awarded a total of over Php 1.2 million in seed and prototype funding to 20 startup teams.
To date, UPLB SIBOL continues its mission to grow and nurture a generation of green startups.
According to Glenn Baticados, project leader and former TTBDO director, UPLB SIBOL is envisioned to be a prime-mover of the agri-startup ecosystem in CALABARZON and in the country and a leading agri-incubator producing world class agritech startups. "We aim to bring UPLB technologies and startups in the global startup scene," Baticados said.
The PH Startup Incubator Awards is also part of the 2021 Philippine Research, Development, and Innovation Conference, the country's first massive public presentation of completed R&D projects in the industry, energy, and emerging technology sector. (Daniel Dave J. Batayo)