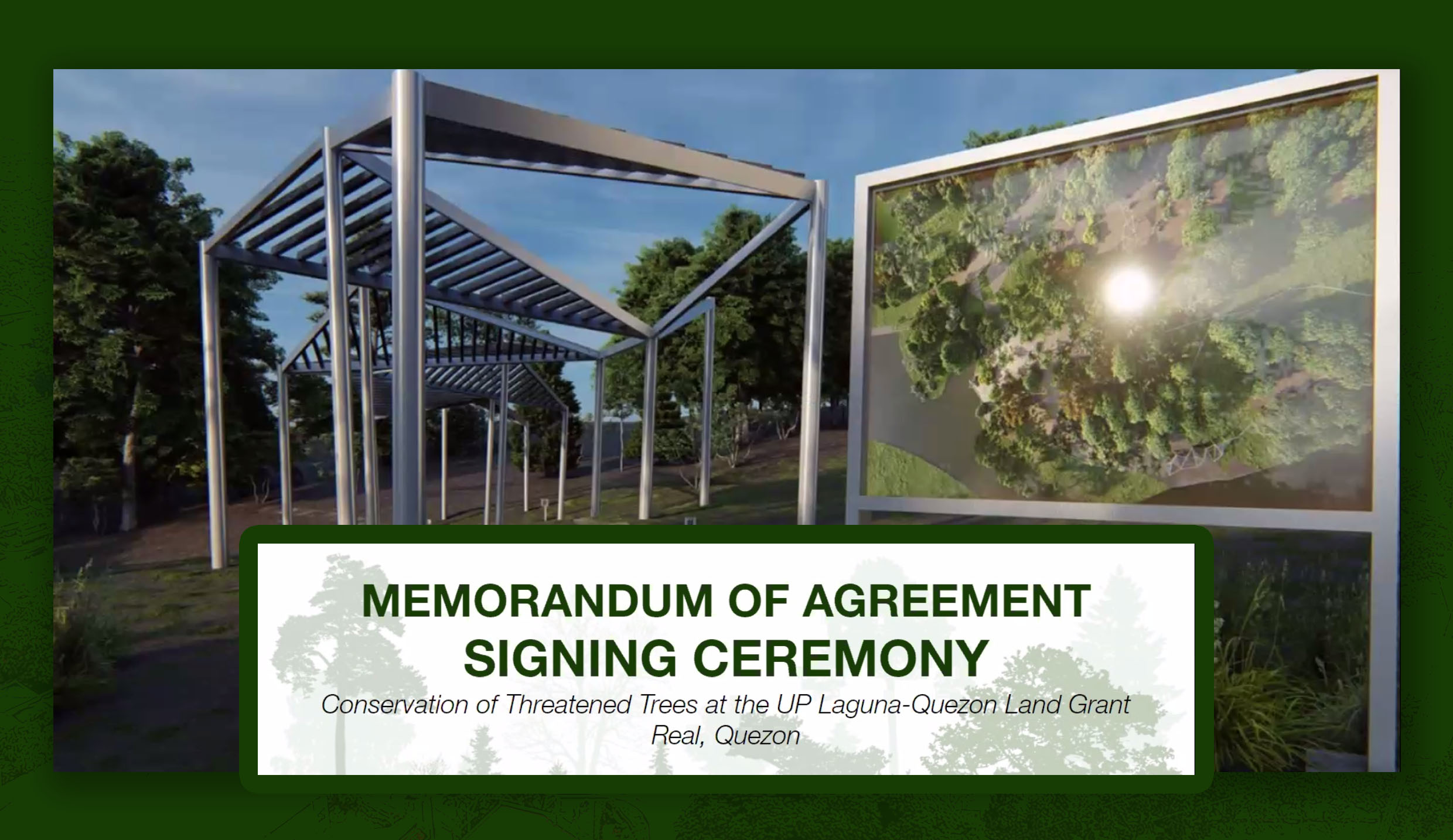 UPLB signs collab for forest conservation project
UPLB formalized a partnership with non-profit organization CleanTech Foundation, Inc. on June 30 to kickstart a project for the conservation of threatened Philippine tree species at the UP Laguna-Quezon Land Grant (LQLG).
Together with the Energy Development Corporation (EDC), they will establish an arboretum of Threatened Tree Species, envisioned to hold collected tree species rescued by the EDC. About 600 trees will be planted in the arboretum, among them the pianga, the population of which was only documented in May this year by EDC.
The memorandum of agreement (MOA) signed by their respective representatives formalizes arrangements regarding the location of the arboretum in the LQLG, the installation of an entrance marker, a path walk leading to different clusters of tree species, and signages containing information about the trees, and the seedlings to be planted, as well as their monitoring and maintenance.
In his message, Chancellor Jose V. Camacho, Jr. said that the arboretum will contribute to climate change mitigation and will be a repository of seedlings to support further conservation efforts. He also recognized the potential of the arboretum to aid future biodiversity and conservation research as a study site for both students and researchers, as well as a field destination for high school students.
He also recognized the remarkable success that the partnership has achieved and looked forward to how the collaboration will conserve hundreds of tree species.
"Together, we can bring back the trees our forefathers knew so future generations can see and appreciate them as well," he said.
Dr. Pastor Malabrigo, Jr., the director of the LQLG, said that this project will help future-proof Philippine forests by conserving unique species in the UP Sierra Madre Land Grants. He also recognized the MOA signing as a big step toward their vision for the Land Grant to become a prime nature tourism destination and living research laboratory and museum that can promote awareness and appreciation for Philippine tree species.
Regina Victoria J. Pascual, assistant vice president of EDC, and Salvador Antonio R. Castro, president of CleanTech, signed on behalf of their organizations.
The online MOA signing was attended by UPLB vice chancellors, namely: For. Roberto P. Cereno (Community Affairs), Dr. Fernando O. Paras, Jr. (Planning and Development), and Dr. Merdelyn C. Lit (Research and Extension).
College deans also witnessed the signing, namely: Dr. Rossana Marie C. Amongo (Engineering and Agro-industrial Technology), Dr. Agham C. Cuevas (Economics and Management), Dr. Ricardo M. Sandalo (Human Ecology), Dr. Jessie A. Acorda (Veterinary Medicine), Marlo D. Mendoza (Forestry and Natural Resources), and Dr. Rico Ancog (School of Environmental Science and Management). Also in attendance was National Scientist Dr. Dolores A. Ramirez.
The establishment of the arboretum at the LQLG will be EDC's second arboretum project with UPLB, following the UPLB-EDC Binhi Biodiversity Park in 2015. (Jessa Jael S. Arana)