UPLB signs MOUs with Bukidnon's SUCs
UPLB formalized its partnership with two Bukidnon-based state universities and colleges (SUCs) – the Central Mindanao University (CMU) and the Northern Bukidnon State College (NBSC) – through signing Memoranda of Understanding (MOU) for future academic and research collaborations with the two institutions.
The MOU with CMU was signed on June 3, while the one with NBSC was inked on June 7, in separate ceremonial signing ceremonies at the Executive Conference Room, BM Gonzalez Hall, UPLB.
"The century-old histories of our respective universities have long intersected and overlapped through rewarding partnerships and sharing of knowledge and human resources across generations," said Chancellor Jose V. Camacho, Jr., in reference to CMU, which was established in 1910 in Maramag town.
"We, at UPLB, also look forward to learning from you," Chancellor Camacho noted in the signing ceremony with NBSC, which was created in 2005 at the municipality of Manolo Fortich. "Perhaps, at this early, your diligence and eagerness to level up will serve as an inspiration for us to dream even bigger – to better serve the youth and our people."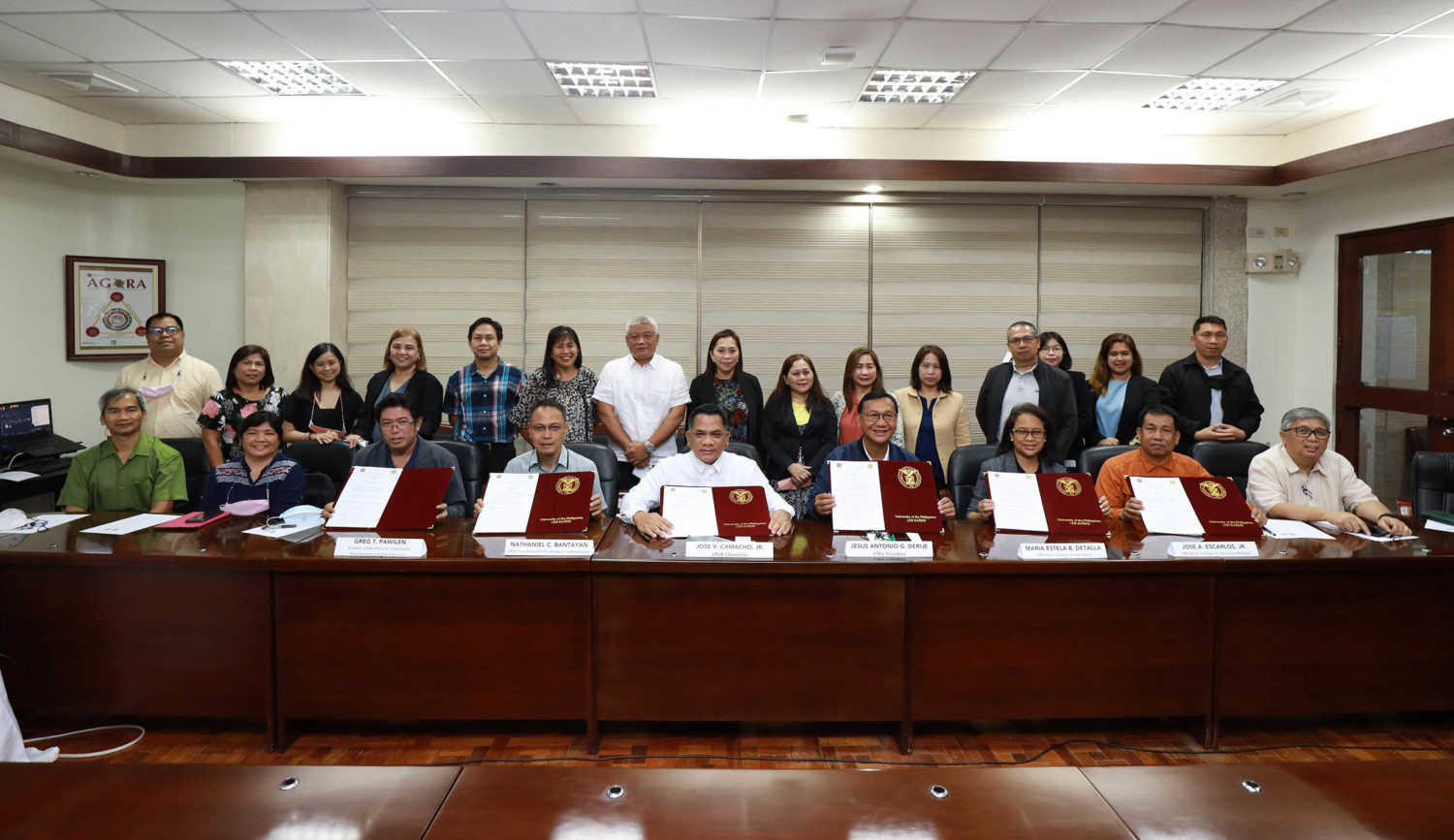 In his message, Dr. Jesus Antonio G. Derije, president of CMU, emphasized the shared advocacies between UPLB and his led University in instruction, research, and extension. He also highlighted the common achievements between the two, particularly the recognition from the Commission on Higher Education as Centers of Excellence in Agriculture, Biology, Forestry, and Veterinary Medicine.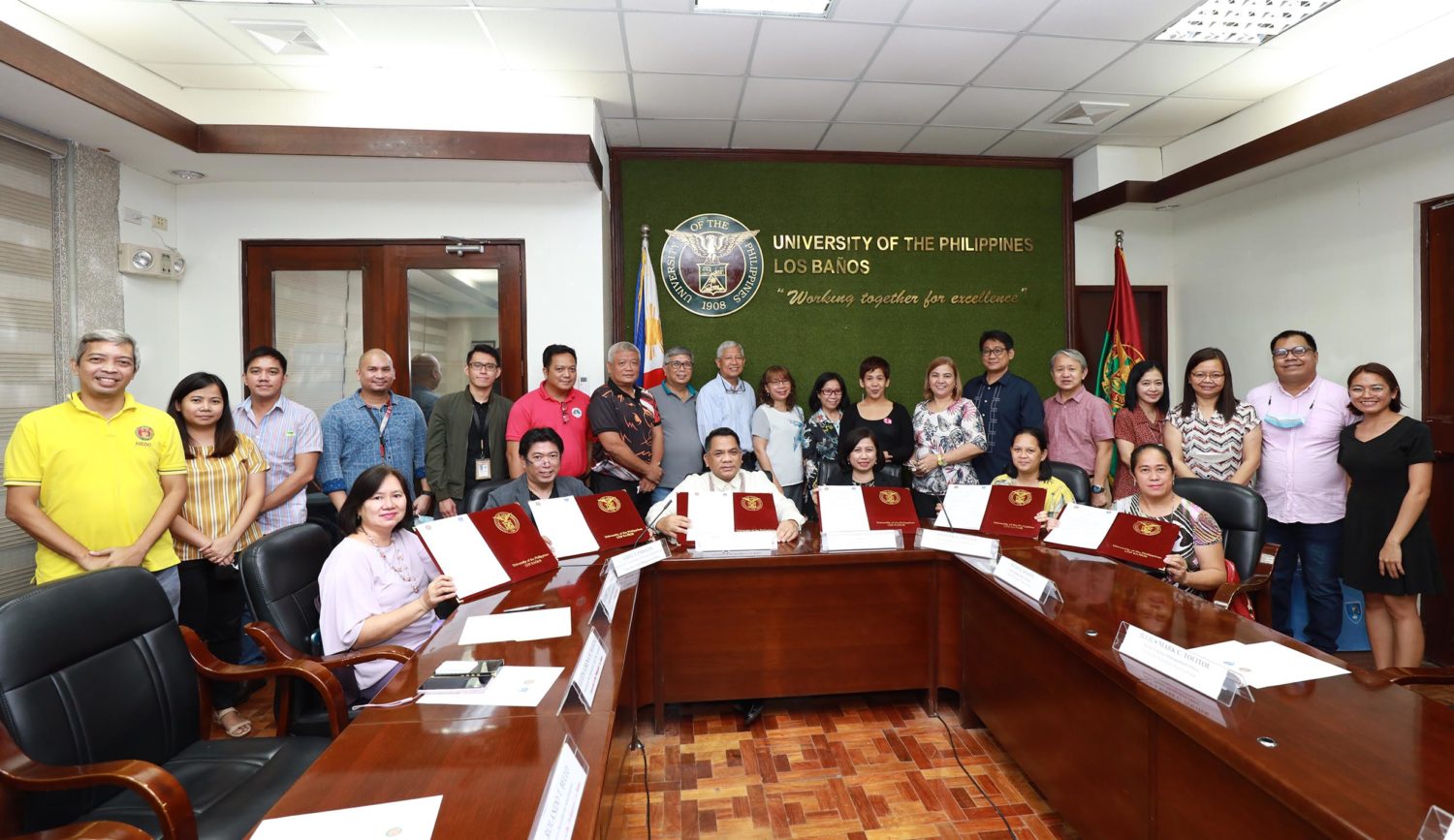 For her part, Dr. Catherine Roween C. Almaden, president of NBSC, expressed her gratitude to UPLB. "As a new state college, we have a lot to learn from UPLB, and I assure UPLB that our growth as a college will be something that you can be proud of," maintained Dr. Almaden, an alumna of UPLB's BS Economics and PhD Development Studies programs.
Dr. Greg T. Pawilen, director of the Office for Institutional Development in Higher Education (OIDHE), the UPLB unit that coordinates the University's linkages and collaborations with local higher education institutions (HEIs), served as UPLB's witness to the two MOUs.
Dr. Nathaniel C. Bantayan, vice chancellor for research and extension, witnessed the signing of UPLB's MOU with CMU. The latter's witnesses were Dr. Maria Estela B. Detalla, dean of the College of Agriculture, and Dr. Jose A. Escarlos, Jr., dean of the College of Veterinary Medicine.
Meanwhile, Dr. Maribel L. Dioniso-Sese, dean of the College of Arts and Sciences, served as UPLB's witness to the MOU with NBSC. Her counterparts from NBSC were Dr. Jovelyn G. Delosa, vice president for academic affairs, and Helen E. Maasin, chief administrative officer.
After the MOU signing, the officials from CMU visited some of the University's research and production facilities. The guests from NBSC, on the other hand, engaged in exploratory discussions with UPLB officials and unit heads on their future academic and administrative pursuits.
The signing of MOUs with CMU and NBSC has brought UPLB's partnerships with local HEIs to 25 since the OIDHE was created in September 2020. (Mark Jayson E. Gloria)