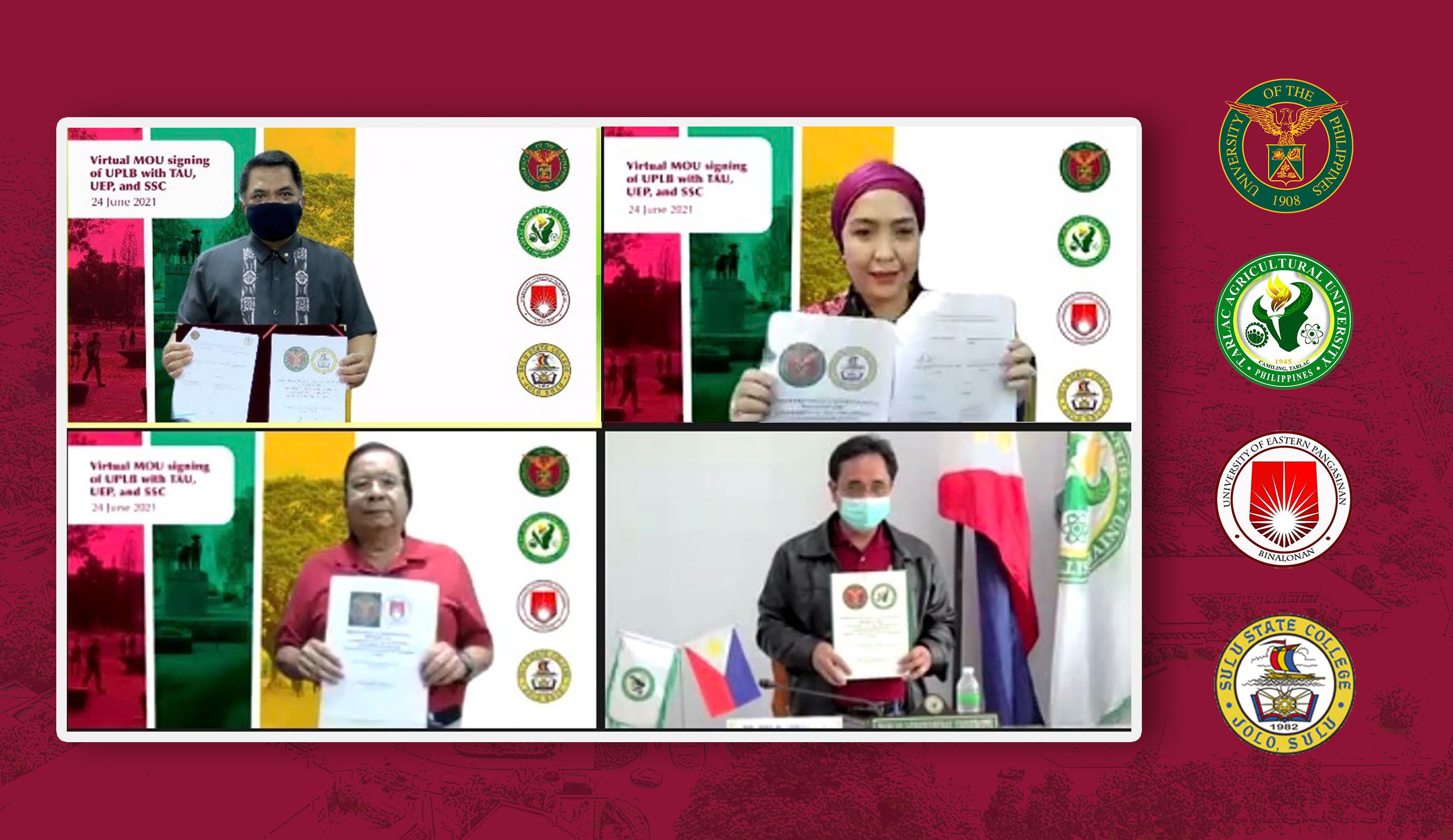 UPLB signs MOUs with three HEIs
UPLB just keeps on expanding its partnerships with higher education institutions (HEIs) from the north and down south of the country.
At the virtual ceremonial signing of three Memoranda of Understanding (MOU) on June 24, UPLB formalized its partnerships with the University of Eastern Pangasinan (UEP), Tarlac Agricultural University (TAU), and Sulu State College (SSC).
UPLB's MOU with each of the three public universities will facilitate human and knowledge resources exchange, collaborative research and extension projects, knowledge sharing activities, and other forms of joint activities.
During the event held via video conference, the top executives of the three HEIs joined Chancellor Jose V. Camacho, Jr. and UPLB vice chancellors and deans.
"The initiative of UPLB is commendable, especially that it will capacitate the Tausug people in addressing different problems today, be it in technology or livelihood," said Dr. Charisma Samparani Ututalum, president of SSC.
"Today, it brings me pride and joy that SSC will be collaborating with one of the top universities in the country – UPLB. This I consider a milestone in achieving [our dream for SSC]," Dr. Ututalum added.
According to Dr. Max P. Guillermo, president of TAU, the MOU will bring positive effects in the Camiling, Tarlac-based state university, which recently obtained from the Quacquarelli Symonds (QS) 3 Stars for its international reputation.
Meanwhile, Mayor Ramon N. Guico, Jr. of Binalonan, Pangasinan, who also sits as chair of the Board of Regents of UEP, a local university, said that the partnership will stimulate research and development in and nurture the knowledge, skills, and talents among the faculty and students of UEP.
Mayor Guico was accompanied by Dr. Evelyn B. Abalos-Tomboc, president of UEP.
For his part, Chancellor Camacho opened the prospects of expanding UPLB's growing off-campus programs through these new partnerships.
"We are pursuing this because of our thrust to forge interdisciplinary collaboration in various areas of specialization to move our university toward internationalization, and to offer programs that are innovative and inclusive," Chancellor Camacho explained.
The UPLB Office for Institutional Development in Higher Education (OIDHE), led by its director, Dr. Greg T. Pawilen, oversees and facilitates UPLB's new and existing partnerships with various HEIs.
UPLB has so far signed five MOUs with new HEI partners this year. The first two were with Central Bicol State University of Agriculture in January, and Pangasinan State University in April. (Mark Jayson E. Gloria)