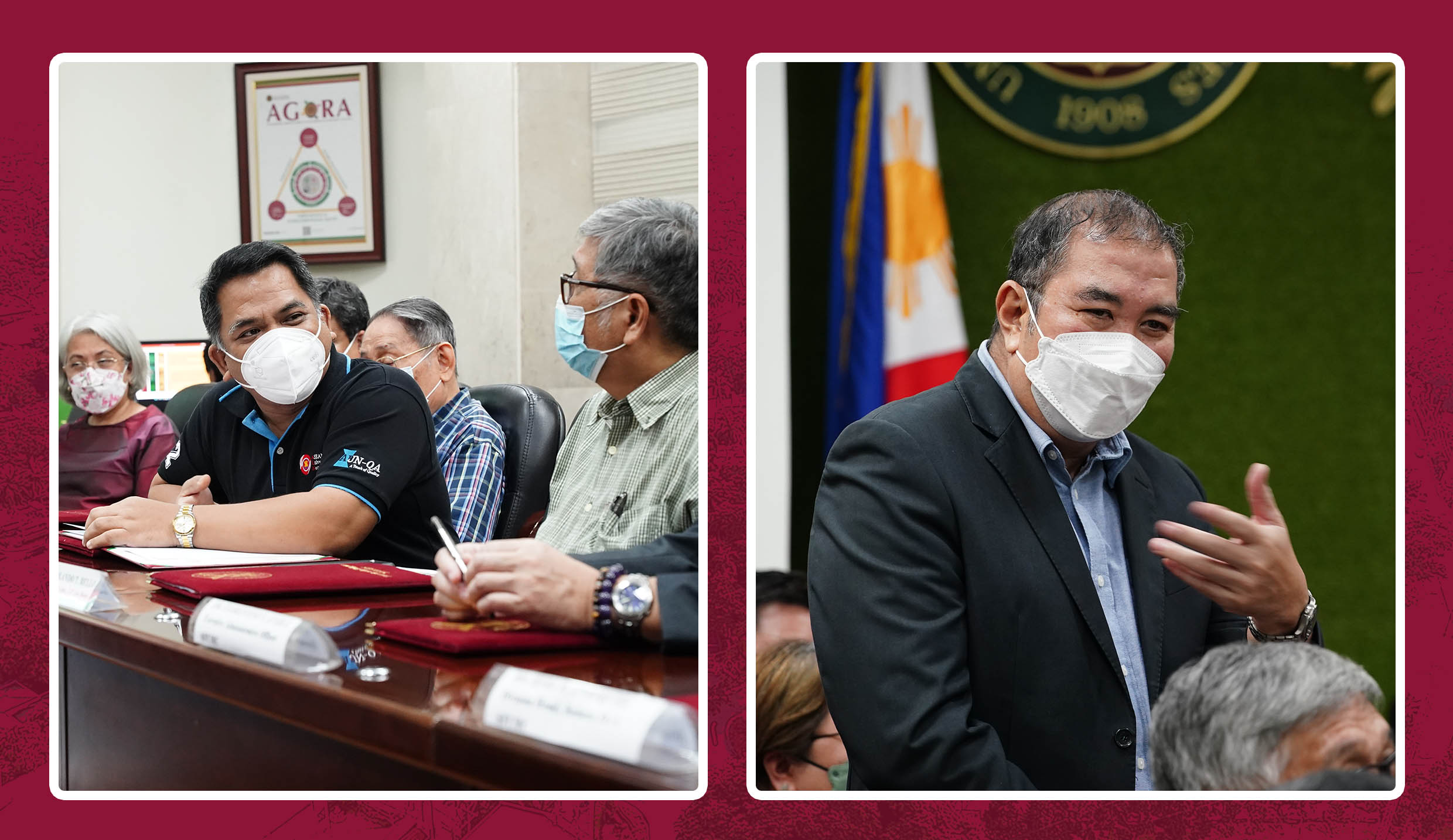 UPLB taps three more hospitals for eHOPE
Three more hospitals from Laguna and Batangas have been added to UPLB's expanding partner medical centers for the "no cash-out" implementation of the University's Enhanced Hospitalization Program (eHOPE).
These are the Calamba Medical Center (CMC) in Calamba City; Laguna Holy Family Hospital (LHFH) in Sta. Cruz, both located in Laguna; and St. Frances Cabrini Medical Center (SFCMC) in Sto. Tomas, Batangas.
UPLB signed the Memorandum of Agreement (MOA) with these hospitals in a ceremony on May 26 at the Executive Conference Room at BM Gonzalez Hall in UPLB.
"In less than two months, UPLB has formalized its concrete partnerships with seven hospitals in Los Baños and neighboring towns to make the health services under e-HOPE more friendly and favorable to our employees," said Chancellor Jose V. Camacho, Jr., who signed the MOAs on behalf of the University.
UPLB earlier signed similar MOAs with the Los Baños Doctors' Hospital and Medical Center, Inc. and Global Care Medical Center of Bay on April 12, and with HealthServ Los Baños Medical Center and San Pablo Colleges Medical Center on April 25.
By having MOAs with these hospitals and medical centers, UPLB employees need not shell out money should they be hospitalized and go through the process of having their expenses reimbursed.
"This will be of great help to lessen the burden of our personnel, and to assist them well on their road to recovery," added Chancellor Camacho, who was joined by Vice Chancellor for Administration Rolando Bello as UPLB's witness of the signing of the MOA.
Representing the three hospitals were Dr. Jose Juliano, CMC president and chief executive officer and Dr. Rhodora Ocampo, medical director; LHFH Chief Nurse Andrew Miranda who is also assistant hospital administrator; and Dr. Florentino Afable, SFCMC executive administrative officer and Myra Enriquez, business development head.
"We will do our best to satisfy the medical needs of your constituents," Dr. Juliano assured the UPLB officials.
Joining the MOA signing ceremony were UPLB officials including Assistant to the Vice Chancellor for Administration Jennifer Marie Amparo; Human Resources Development Office Director Eric Paul Peralta; University Health Service Director Jessie Imelda Walde; Chief Accountant Marie Claire Raymundo; Budget Management Office Chief Ethel Cabral; Internal Control Office Chief Joan Mendoza; and Cashier's Office Chief Elizabeth Eala. (Mark Jayson E. Gloria)