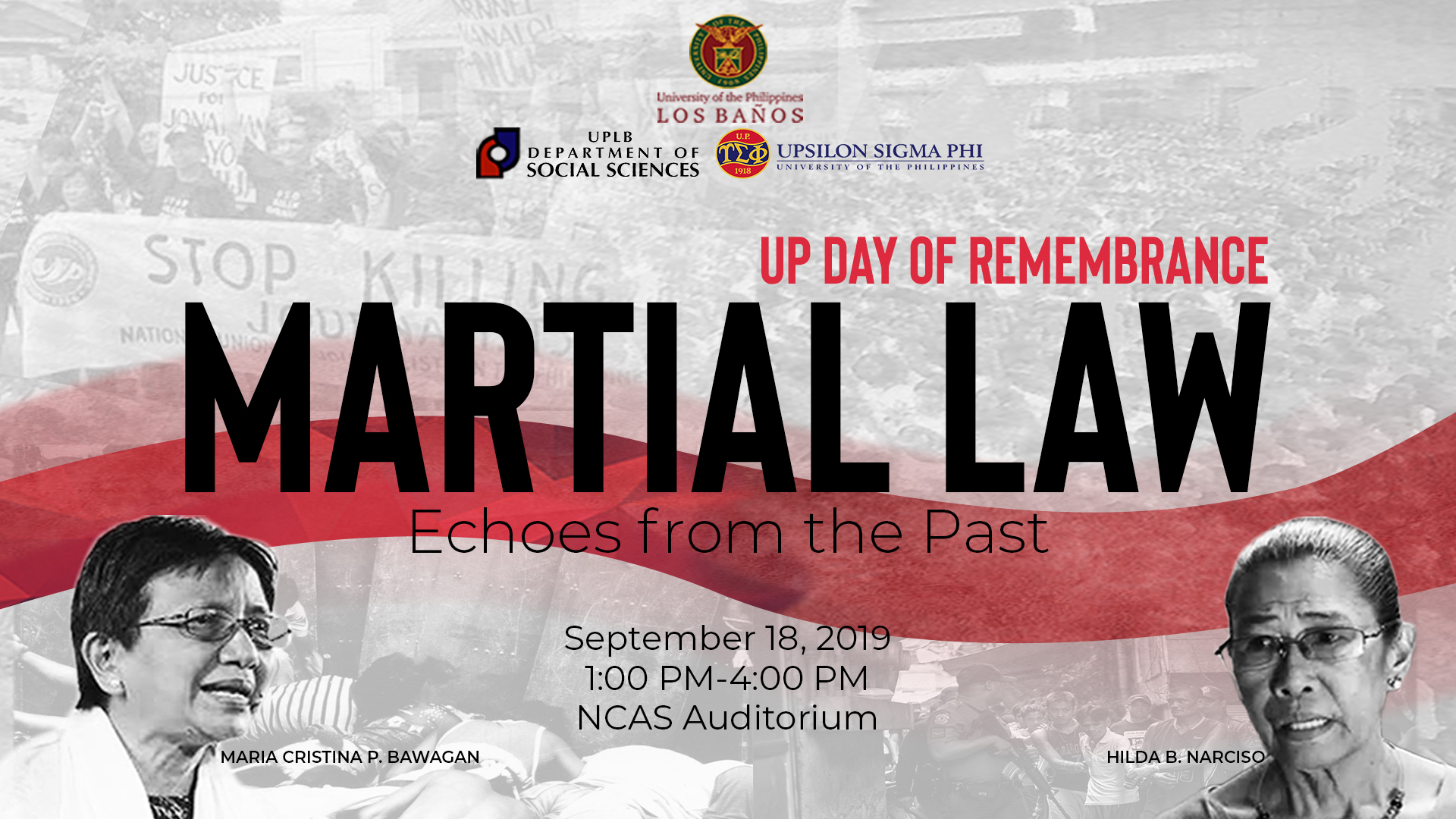 UPLB to celebrate UP Day of Remembrance
In oneness with UP in its celebration of the UP Day of Remembrance, UPLB's College of Arts and Sciences-Department of Social Science (CAS-DSS) is spearheading activities to commemorate UP's participation and sacrifice in the struggle against martial law that was declared by the late president Ferdinand Marcos on September 21, 1972.
According to Eugene Raymond Crudo, faculty member at the History Division, DSS will organize the Martial Law Exhibit which will feature posters about martial law that will be set up around the UPLB Oblation Plaza. The exhibit will run from Sept. 16 until the end of November.
In partnership with the Upsilon Sigma Phi, DSS is also going to hold a symposium entitled "Martial Law: Echoes from the Past" on Sept. 18 at 1-4 PM with martial law survivors Cristina Bawagan and Hilda Narciso as resource persons. The symposium, to be held at the NCAS Auditorium, is going to be open to the public.
Documentary videos will also be shown in 47 sections of various classes at the CAS-DSS from Sept. 23 to Sept. 27. These videos are Batas Militar, Beyond Conspiracy, and Lakad Gunita.
The Lakad Gunita documentary is a video version of the Lakad Gunita tour of the landmarks of activism in UP Diliman.
It is a project of UP to help the youth learn more about the dark days of martial law, what actually happened, and why it is important to never forget. The video will be livestreamed today at 6 PM on TVUP.ph and TVUP's Facebook and Youtube channels.
The annual celebration of the UP Day of Remembrance was declared by UP President Danilo L. Concepcion through Proclamation Number 1 issued at the Quezon Hall in UP Diliman on Sept. 17, 2018.