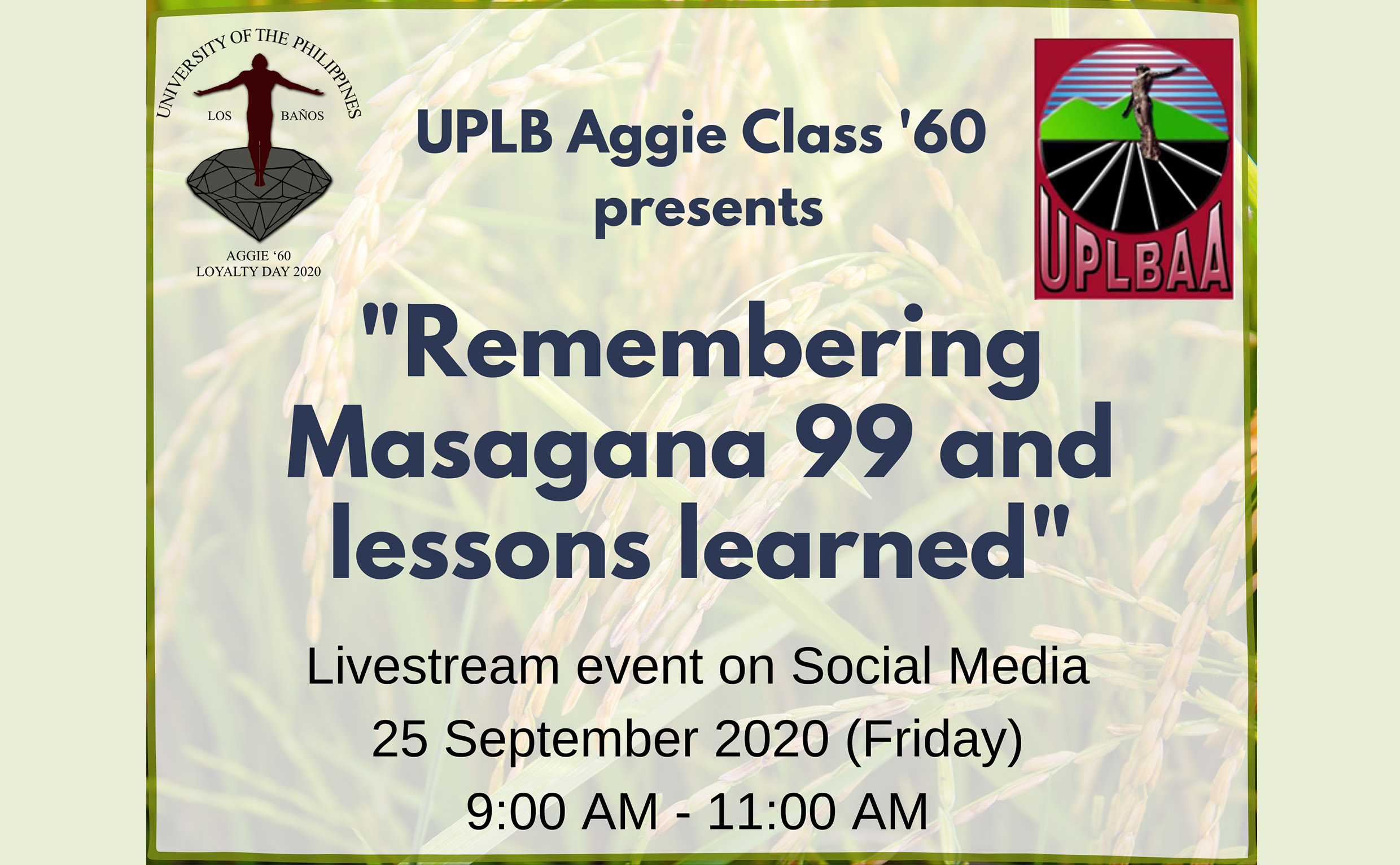 UPLB to hold seminar about Masagana 99 as part of LD celebration
As a part of the 2020 UPLB Loyalty Day celebration, the UPLB Alumni Association alongside this year's jubilarians will be organizing a series of webinars featuring UPLB alumni sharing their experiences and expertise over a variety of topics.
One of the upcoming seminars is entitled "Remembering Masagana 99 and lessons learned" and will be held on Friday, Sept. 25, from 9:00 AM to 11:00 AM. It is being organized and will be presented by the UPLB Aggie Class '60.
The webinar will feature Dr. Edgardo Quisumbing as the lead speaker, and Dr. Orlando Sacay, Domingo Panganiban, Rica Cortez Rentzing, Jose Lustre, and Dr. Santiago Obien as panelists.
Dr. Rogelio Cuyno will be the webinar host, and the webinar's open forum will be moderated by Dr. Ruben Villareal, former UPLB chancellor, and Jim Cano, a teaching associate at the College of Agriculture and Food Science.
National Scientist Dr. Emil Javier will be delivering both the welcoming remarks and the webinar recapitulation.
The seminar will revolve around the Marcos-era national agricultural program Masagana 99, what its vision was and how it turned out, as well as what lessons could be learned from it moving forward.
According to Dr. Villareal, UPLB and alumni played a key role in its conceptualization and implementation, with Class '60 members significantly involved in it in various capacities.
Interested participants may register to join via Zoom, or watch it on Facebook or Youtube. (Albert Geoffred B. Peralta)