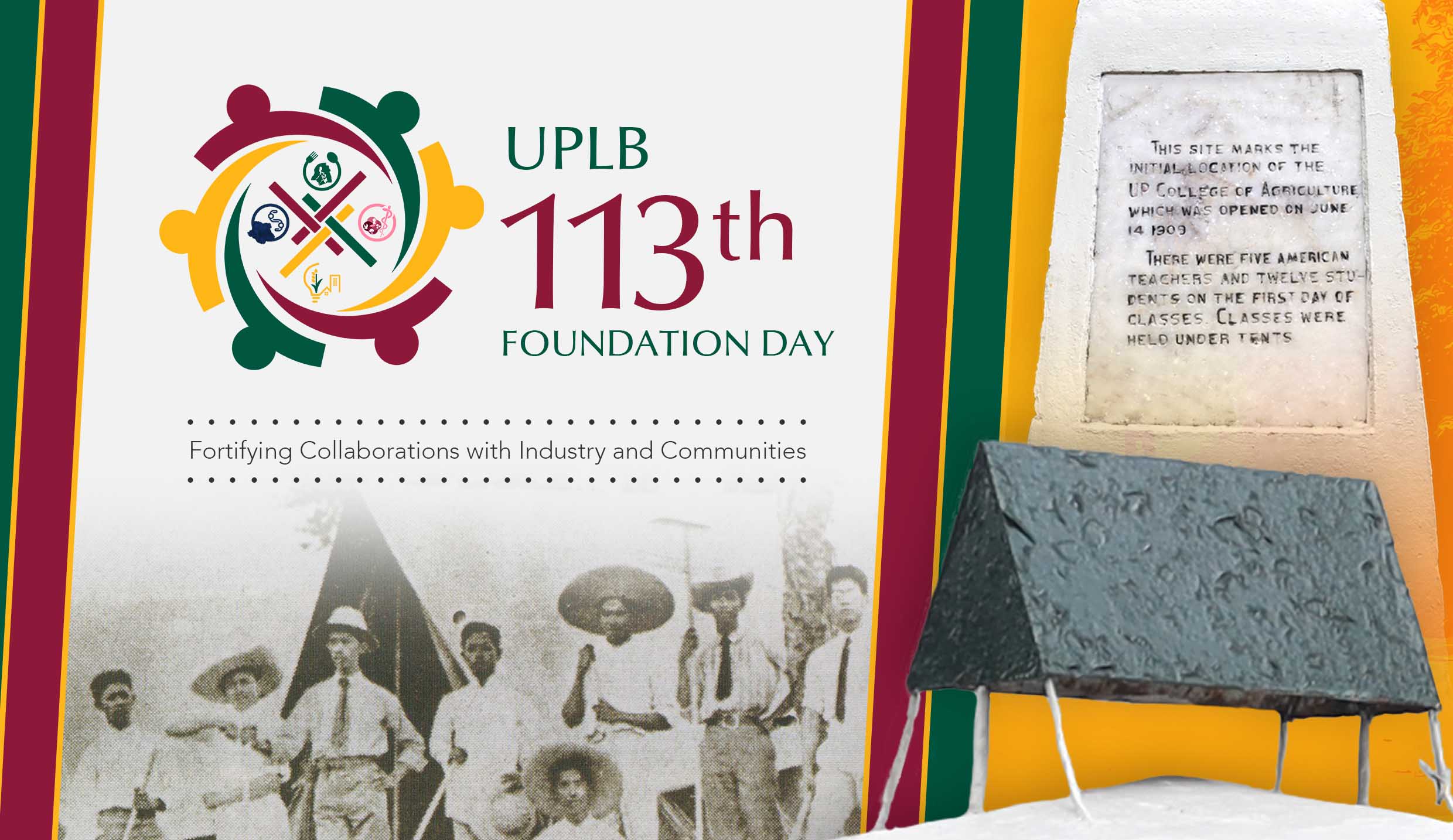 UPLB to mark 113th Foundation Day anniversary
UPLB will commemorate the anniversary of its 113th Foundation Day on March 4-7 with a series of activities to remember its beginnings, celebrate excellence, and to mark milestones in partnership-making and in fortifying its research capability.
The theme for this year's celebration is "Fortifying collaborations with industry and communities."
The first event on March 4 is the inauguration of the new University Health Service- Emergency Room Extension at 8AM, a product of combined efforts of UPLB, UP Medical Alumni Society in America and the UPLB Class of 1971 with the UPLB Alumni Association as conduit.
Simultaneous to this is the opening of the Accelerating Growth through One Research and Extension in Action (AGORA) Hub Exhibit at the TechnoHub/One-Stop Shop beside Baker Hall.
The AGORA exhibit will highlight its four thematic areas, namely, food security and sovereignty, resilience and sustainability, future cities, and One Health.
AGORA is the new R&E agenda of UPLB which envisions UPLB as an agora or marketplace of pioneering and demand-driven R&E for development and innovation through systems thinking solutions-making, and future-proof paradigms.
This will be followed by the Awarding Ceremonies for the Retirees and the 2022 UPLB Outstanding Personnel at 10AM at the Charles Fuller Baker Hall where UPLB will be honoring 12 individuals and a research and an extension team.
In the afternoon at 2:30PM, a groundbreaking ceremony for Phase 3 of the UPLB Fiber Optic Network to improve campus connectivity will be held. Phase 3 consists of the Forestry area, the Institute of Plant Breeding, and the lower campus.
A tour of the Agro-Industrial and Information Technology Park at the UPLB Special Economic Zone will immediately follow.
On March 5 at 9AM, UPLB will sign a new partnership agreement with the Department of Agriculture (DA) through Agriculture Secretary William D. Dar.
UPLB will celebrate the exact date of its foundation day anniversary with a short program on March 6. The program will be live streamed through the UPLB and College of Agriculture and Food Science Facebook Pages and YouTube Channels.
The celebration will be concluded on Mar. 7 with the virtual grand launch of AGORA. Audiences may watch the launch through the Facebook Pages and YouTube Channels of UPLB and the Office of the Vice Chancellor for Research and Extension.
From Feb. 28 to March 11, to show support for small businesses, UPLB through the Business Affairs Office will hold the Foundation Trade Fair at the CDC parking lot. (Jessa Jael S. Arana)