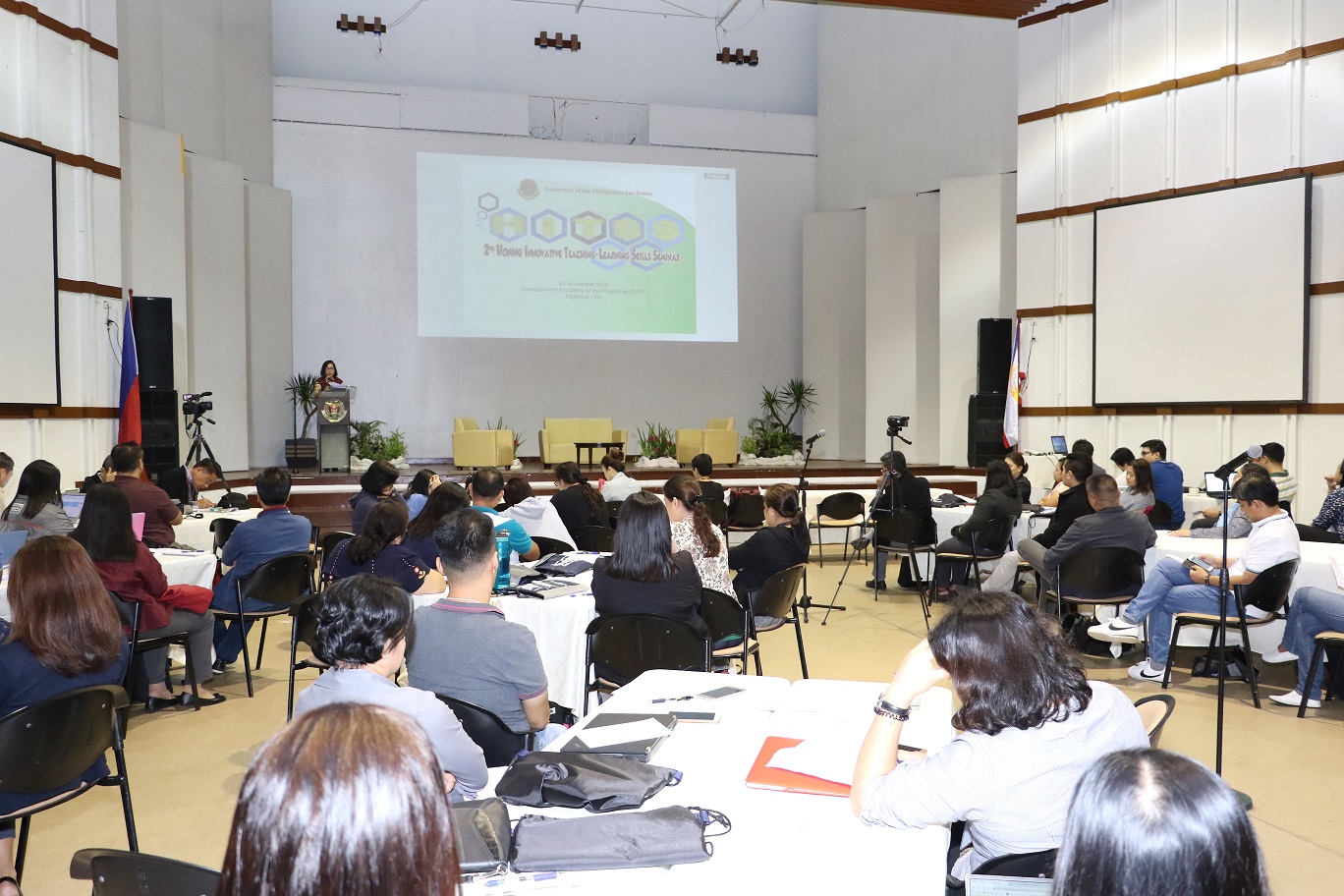 UPLB upgrades skills of "Gen X" teachers
It was the turn of "Generation X" faculty members, aged 37 to 51, to take part in the Honing Innovative Teaching-Learning Skills Seminar (HITSS 2), this time in its second edition held on Nov. 5-7 at the Development Academy of the Philippines in Tagaytay City.
The seminar sought to upgrade the teaching-learning skills of around 60 UPLB faculty members in order to meet the demands of 21st century learning and best teach the "millennials."
HITSS was first introduced in 2017 and had more senior and seasoned faculty members as its first batch of participants.
Interrelated topics that covered both the macro and the micro ecosystems of teaching and learning – from learners' generations, teaching strategies, and classroom dynamics, to the students ' brains and minds – were tackled during the seminar.
Dr. Grace Shangkuan Koo, faculty member at the UP College of Education (UPCEd), explained the learning characteristics of each generation and cited how the digital age has affected the teaching-learning process. She said that there should be a balance between the "old school" and "new school" teaching.
Following her talk were discussions about classic and recent education principles and strategies about student-centered, creative, innovative, and technology-based teaching and learning.
Dr. Greg Pawilen of the College of Human Ecology talked about appropriate learning assessment depending on the expected instructional objectives and course, program, and institutional outcomes.
Maria Vanessa Luzung-Oyzon, also a faculty member at UPCEd, talked about student-centered learning and the relevance of prior knowledge of students, and their context as take-off points in experiential learning.
Teaching, she said, should be "nurturing not torturing; caring not scaring; construction not reproduction; conversation not reception; articulation not repetition; collaboration not competition; and reflection not prescription."
Faculty members, Dr. Juan Carlos Gonzalez of the Institute of Biological Sciences (IBS), Dr. Jean Loyola of the Institute of Mathematical Sciences and Physics, and Mark Lester Chico of the College of Development Communication (CDC) shared to the participants their practices on experiential and student-centered learning.
A panel discussion also focused on the use of educational technology. "We are expected to be using technologies and adapt to the demands of the market," said lead presenter and curricularist Ryan Noleal.
Dr. Edmund Centeno, also of CDC, discussed the E-Learning tools used at the college while Jon Paul Maligalig of UPCEd expounded on game-based teaching. Dr. Jaderick Pabico of the Institute of Computer Science introduced augmented and virtual reality simulation as a way to address the temporal, spatial, and scale problems in teaching.
Dr. Trixie Marie Sison, dean of the College of Education of Miriam College, in her talk about creative and innovative teaching, cited project-based learning as a way to develop critical thinking, collaboration, self-management, and creativity among students while they pursue long-term projects.
"Project-based learning is learner-centered because it emanates from the interest of students," she said. "The students have the autonomy to find means and ways to solve the project."
Panelists Jickerson Lado of IBS, James Roldan Reyes of the Institute of Statistics, and Dr. Mildred Moscoso of CDC introduced their own creative and innovative teaching strategies.
"Mahal natin ang ating mga estudyante kaya gusto natin na matuto sila," Dr. Moscoso said.
This year's HITSS added one timely component in student welfare – mental health. Psychiatrist Dr. Salvador Benjamin Vista of the UP College of Medicine, explained how the brain and the mind works, particularly those of the adolescents.
Dr. Vista urged the participants to "see" or look beyond the students' behavior; "soothe" or talk to the students gently about their poor scholastic performances; and make students feel safe and secure.
He suggested that when a troubled adolescent approaches a teacher, the latter must not focus on the behavior. "Talk about what's going on in his body, mind, relationships, and relationship to God or whatever he conceives to be God," he said.
Richard Philip Gonzalo, UP Assistant Vice President for Student Affairs, recognized the University's emphasis on mental health as he presented the action plan to make UP healthy, nurturing, and transformative.
In their closing remarks, Chancellor Fernando C. Sanchez, Jr. and Vice Chancellor for Academic Affairs Portia Lapitan underscored the roles of the participants in the over-all welfare of the students.
HITSS 2 was organized by the Office of the Vice Chancellor for Academic Affairs. (Mark Jayson E. Gloria, with reports from Dr. Benjamina Paula G. Flor)