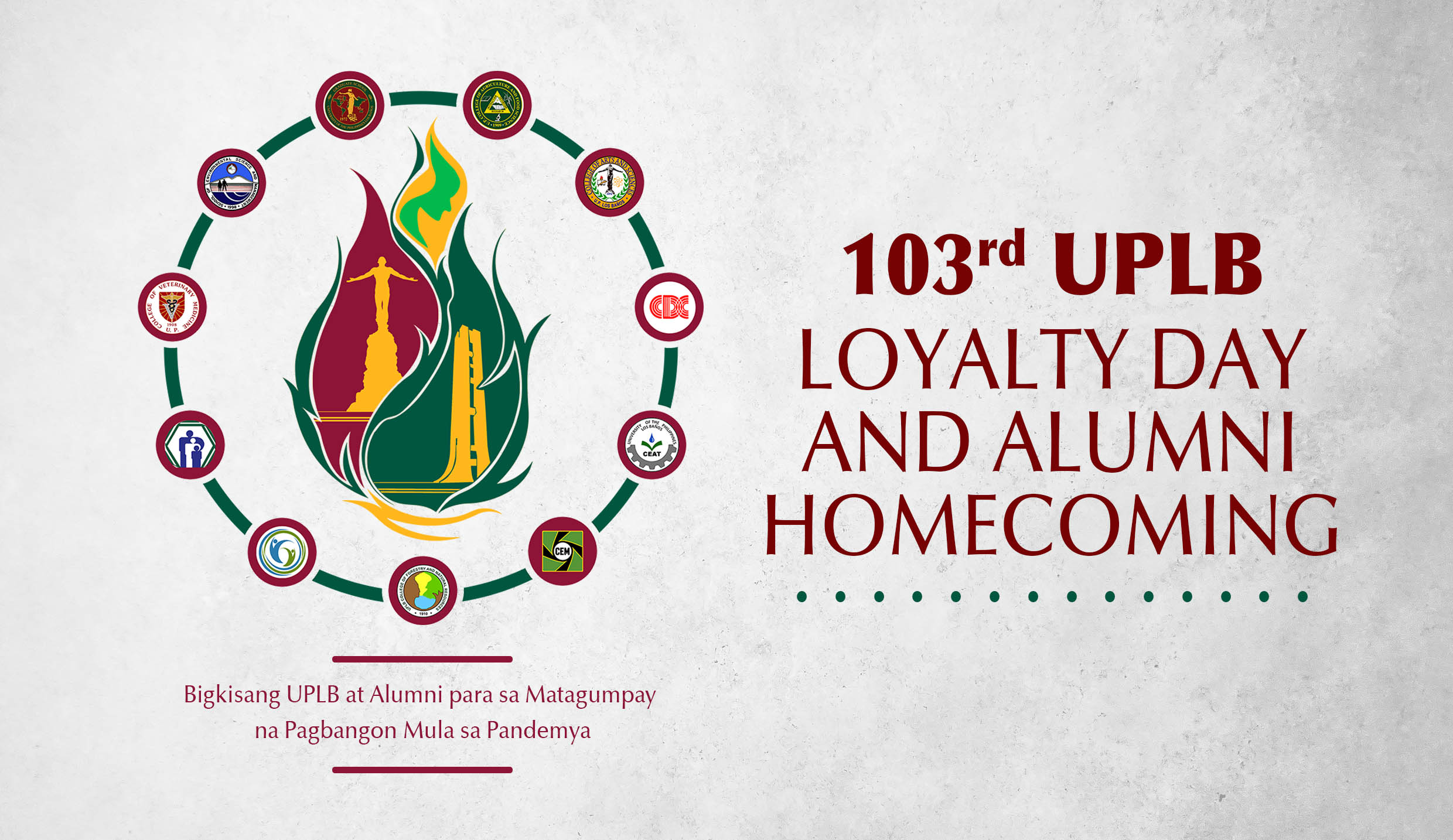 UPLB, UPLBAA to hold 103rd Loyalty Day and Alumni Homecoming
UPLB and UPLB Alumni Association (UPLBAA) have joined forces to celebrate the upcoming 103rd Loyalty Day and Alumni Homecoming on Oct. 10 with the theme "Bigkisang UPLB at Alumni para sa Matagumpay na Pagbangon Mula sa Pandemya."
In the midst of the pandemic, UPLB and UPLBAA aim to reconnect and strengthen the bonds between the University and its alumni, which is important in these trying times.
The celebration kicked off with the launch of the art exhibit "Makiling: Isang Pagpupugay" on Oct. 5. This exhibit honors the mountain and the legend of Makiling through artworks highlighting its biodiversity.
On Oct. 6, the College of Forestry and National Resources alumni held their alumni homecoming with the theme "#MANGGUGUBAT: Handa sa Hamon ng Pandemya."
The College of Development Communication and its alumni association will hold an event at 10 AM on Oct. 8 entitled "Speaking of DevCom: conversations with DevCom's finest."
Following this is a virtual concert on Oct. 9 at 7 PM.
The virtual UPLB Grand Alumni Homecoming will be held on Oct. 10 at 9 AM; and at 10 AM, the various alumni classes will disperse to participate in their respective virtual reunion.
The alumni will once again congregate as one body for the Virtual UPLB Loyalty Day Alumni Awarding Ceremony at 2 PM on that day to recognize those among them who have brought honor to UPLB.
UPLBAA will recognize outstanding alumni also at an online awarding ceremony. This year's awardees are led by Dr. Weerapon Thongma, the acting president of Maejo University who will receive the UPLBAA Presidential Award.
For. Leo R. Ballesfin, former UPLBAA president, will be awarded the Nelia T. Gonzalez Alumni Service Award. Seven alumni will receive the Outstanding Golden Jubilarians Award and 12 will receive the Outstanding UPLB Alumni Award.
Aside from these, 38 individuals have been identified by their college or school as recipients of distinguished alumni awards and five families will receive the Multi-Generation UPLB Alumni Recognition Award.
The 103rd UPLB Loyalty Day's schedule of activities and access links to them are on its events page. (Kyle Ramiel Dalangin).