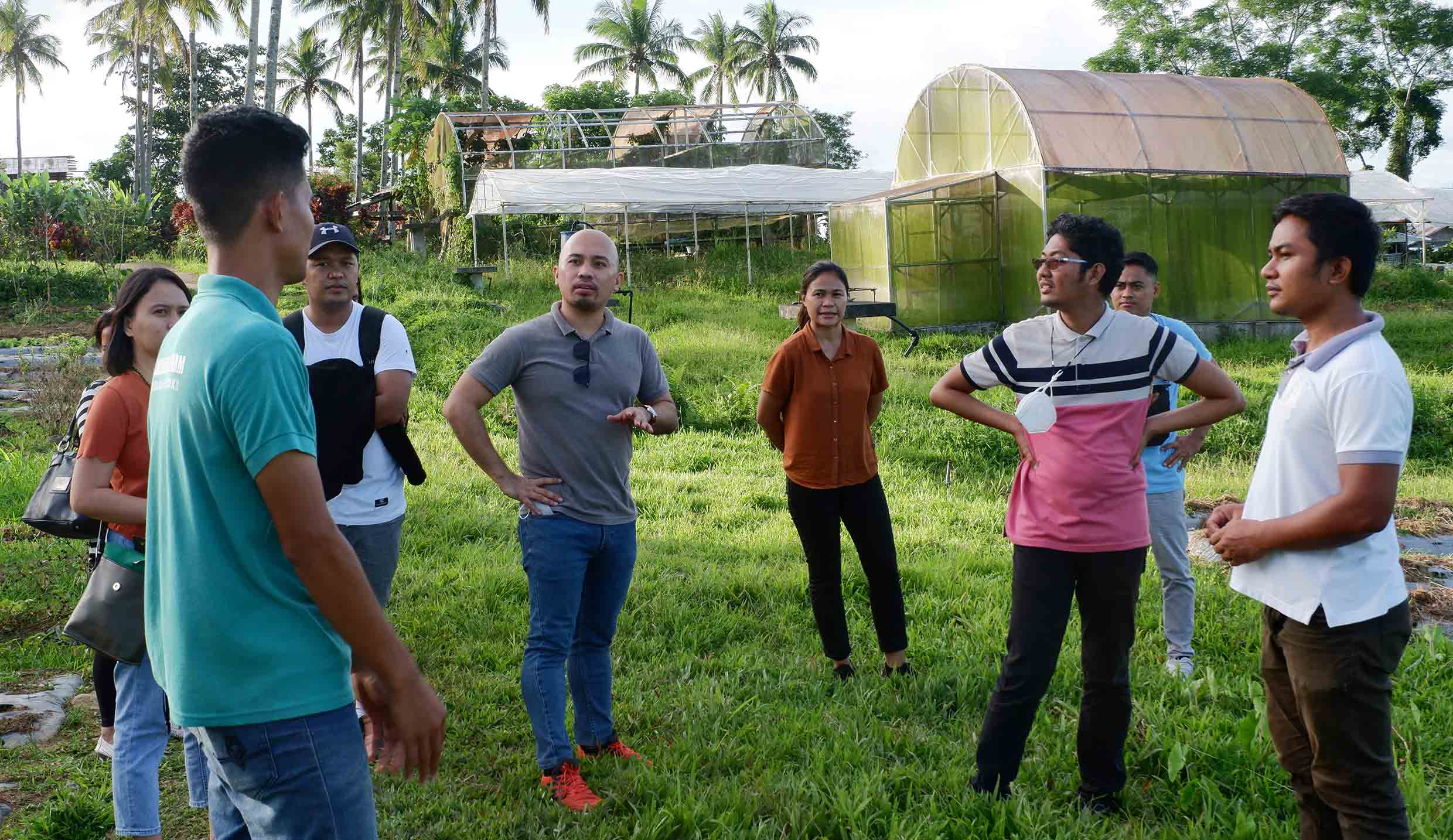 UPLB, VSU collab for agritourism research
UPLB and Visayas State University (VSU) are collaborating on a research initiative to understand the challenges faced by agritourism farms in Eastern Visayas.
The research project titled, "Agritourism Farms as Conduit of the Adoption of Good Agricultural Practices (GAP) in Eastern Visayas, Philippines" is a collaboration between the UPLB College of Public Affairs and Development (CPAf) and the VSU Ecological Farm and Resource Management Institute (Eco-FARMI).
Dhenber C. Lusanta, OIC director of Eco-FARMI, and Dr. Nico Jayson C. Anastacio, assistant to the dean at CPAf, are leading this research initiative.
In Eastern Visayas, no agritourism farms have received the Philippine Good Agricultural Practices (PhilGAP) certification until 2022. PhilGAP certification is awarded by the Department of Agriculture-Bureau of Plant Industry and is valid for two years. It is anchored on the ASEAN GAP standard for fresh fruits and vegetables.
"Being a certified farm means all activities employed in producing fruits and vegetables are aligned with the Philippine National Standards, which directly translates into safe and high-quality foods for consumers, environment protection, and security of farmers' health, safety, and welfare," said Lusanta.
Despite the potential benefits of PhilGAP certification, only two agritourism farms and one demo farm in Leyte are GAP certified. The Mazo Farm, Uy Integrated Farm, and VSU demo farm received their GAP certificate in June 2022. The Mazo Farm and Uy Integrated Farm are privately-owned and managed. The VSU demo farm is a learning site developed under a project funded by the Australian Centre for International Agricultural Research (ACIAR).
While the certification of these farms is a milestone for agritourism in the region, PhilGAP certification remains elusive for other farms and is the subject of inquiry for the research project.
Five Department of Tourism-accredited agritourism farms have served as the locale of the research project since Nov. 1, 2021. These are SofTea Garden and Canaan Hill Farms in Biliran, Villaconzoila Farm in Leyte, and Balsa Kafe & Agri-tourism Hub and La Caridad Farm in Southern Leyte. These case studies in Eastern Visayas will profile the agricultural practices of agritourism farms in the region.
"Agritourism is a potential conduit of GAP certification because it could serve as a platform for information dissemination about the fundamental concepts of GAP and its benefits among farm operators and consumers," Dr. Anastacio explained.
In February 2022, the research team started conducting benchmarking activities in CALABARZON. From these activities, the project team can identify the criteria and requirements for GAP certification of agritourism farms. The parameters are based on the government requirements and actual experiences of selected PhilGAP-certified agritourism farms that served as model sites.
The parameters created from the benchmarking activities will then be used to assess the agricultural practices of Eastern Visayas farms.
Before the project ends this year on Oct. 31, information, education, and communication materials on GAP and the project thrusts will be created and posted online.
Dr. Anastacio shared that the project team aims to provide technical assistance to policymakers to promote and accelerate the adoption of PhilGAP certification among agritourism farms.
Joining the team from UPLB are co-activity leader Jewel Joanna S. Cabardo, a faculty member from the College of Economics and Management, and research assistant Ysabelle R. Vargas.
Their counterparts from VSU are co-activity leader Hadasha N. Bongat, a faculty member of the College of Management and Economics (CME); project staff Gideon Niel D. Tan and Gracielle Dawn L. Gamotin, both faculty members of CME; and research assistant Ludivico B. Rabia.
The project is supported by ACIAR as part of its John Dillon Fellowship. (Stella Concepcion R. Britanico)
Aligned with our commitment to: