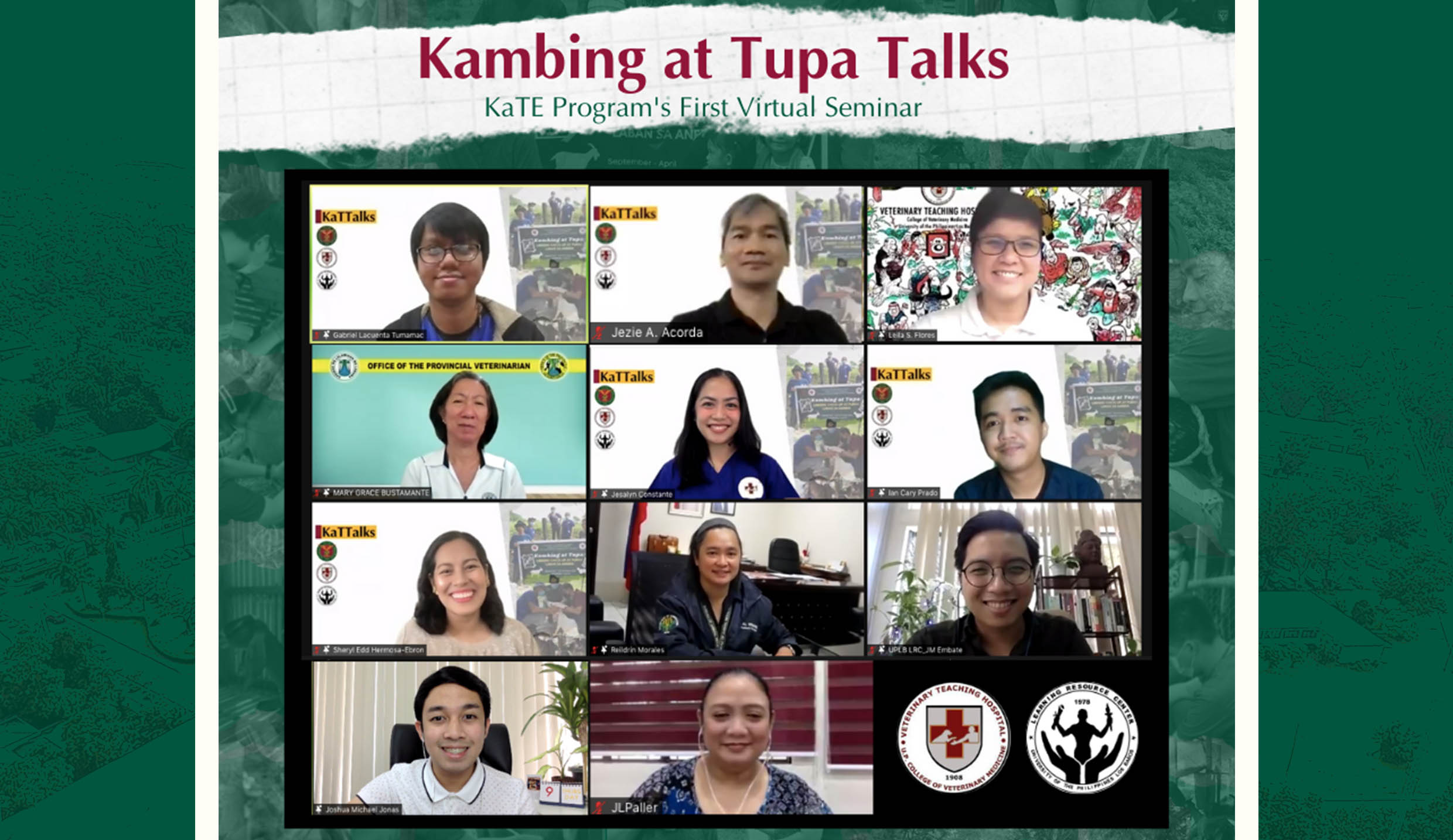 UPLB VTH launches "KaTTalks"
The Veterinary Teaching Hospital (VTH) of the College of Veterinary Medicine (CVM), together with the UPLB Learning Resource Center (LRC), conducted its first virtual seminar entitled, "KaTTalks" or "Kambing at Tupa Talks" on Dec. 9.
This seminar is part of the Kambing at Tupa Extension (KaTE) Program of the VTH.
In his opening remarks, Dr. Jezie A. Acorda, dean of CVM, expressed his gratitude to VTH and LRC for providing learning opportunities such as the virtual seminar despite the challenges of the pandemic.
He also thanked the different institutions and veterinarians for their continuous support to the college especially to VTH.
Dr. Acorda also reiterated the importance of small ruminants such as sheep and goats and that it is a responsibility to know how to properly take care of these animals.
Dr. Gabriel L. Tumamac, resident veterinarian at the UPLB VTH–Farm Animal Section, provided an overview of the history and objectives of the KaTE program.
The program aimed to generate data about small ruminants raised in Los Baños communities and provide lectures and extension services in the form of free check-up, basic laboratory testing, deworming, and vitamin supplementation of small ruminants in these communities.
Likewise, it also serves as training grounds for veterinary student clinicians.
The first session, on "Small Ruminant Emergency Preparedness," was delivered by Dr. Mary Grace M. Bustamante, provincial veterinarian of Laguna.
Dr. Bustamante shared tips on preventing possible emergency conditions in sheep and goats and the immediate medications or interventions that could be done.
She also emphasized the importance of familiarizing oneself with the animals under one's care, keeping records, proper feeding, and maintaining order and cleanliness in the animals' pens and pasture areas.
In the second session, Dr. Daphne Jorca-Rea discussed small ruminant registration, certification, importation, and transportation on behalf of Dr. Reildrin G. Morales, officer-in-charge of the Bureau of Animal Industry of the Department of Agriculture.
Dr. Jorca-Rea enumerated the different steps one must undertake in animal facility registration as well as the small ruminant breeder farm accreditation program.
She also reiterated important procedures for importing live animals and the use of livestock and poultry handler's license and transport carrier registration.
The participants for the session included goat and sheep owners across Los Baños as well as veterinarians and veterinary students of UPLB and other institutions across the country.
The virtual seminar may be accessed at the LRC Facebook Page. (Joshua Michael G. Jonas)