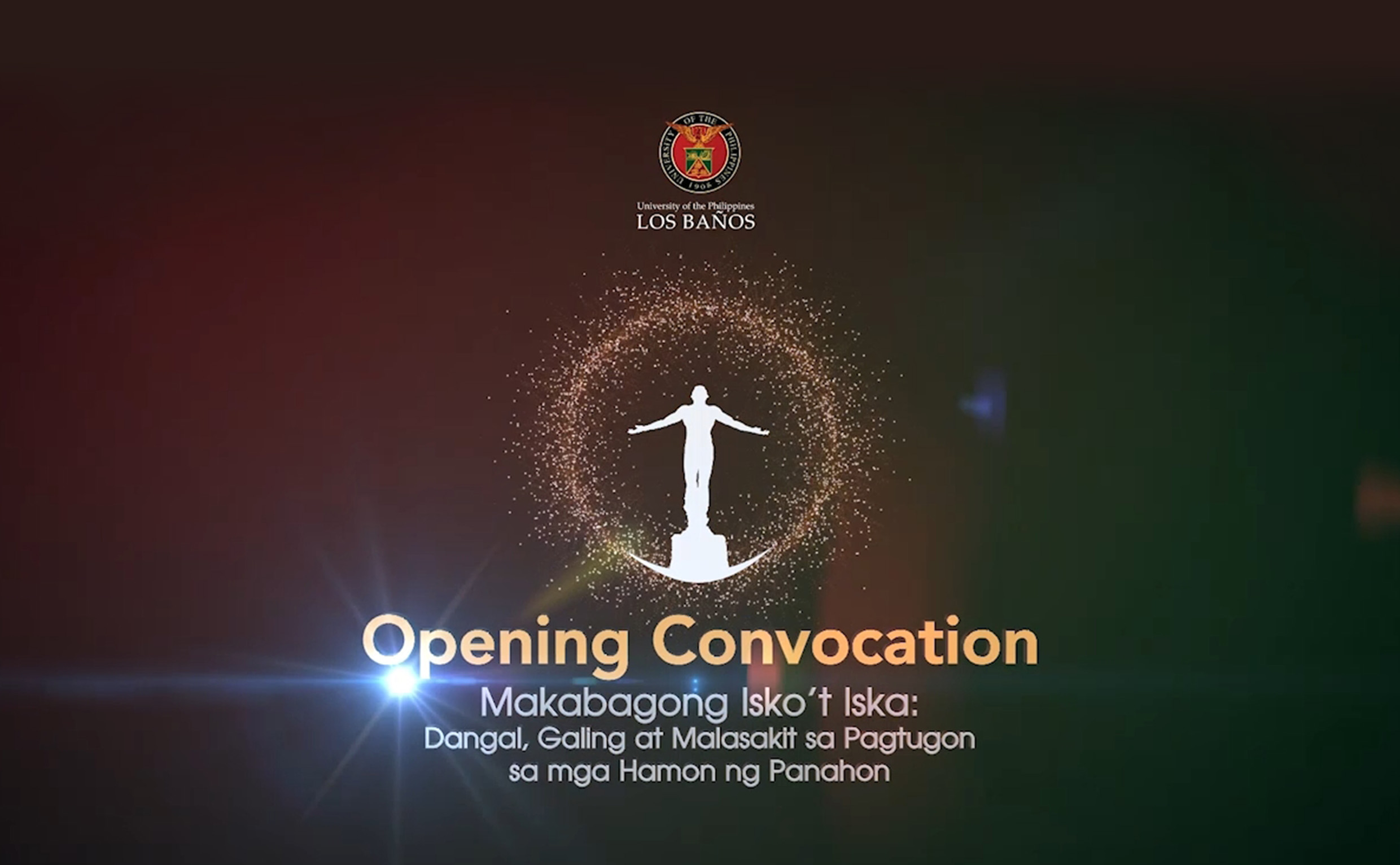 UPLB welcomes Batch 2020 in virtual opening convo
The First Semester of AY 2020-2021 has officially started at UPLB with the virtual Freshmen Convocation that was livestreamed on Facebook and Youtube on Sept. 10.
Batch 2020, together with the upperclassmen, will be studying this semester through remote flexible learning as the COVID-19 pandemic continues to make face-to-face classroom learning risky.
During the virtual convocation, the online version of the traditional freshmen gathering that would usually take place at Copeland Gymnasium, the new freshmen were officially welcomed as the new batch of Iskolar ng Bayan.
In his inspirational message, Chancellor Fernando C. Sanchez, Jr. introduced UP's values of honor and excellence to the new students, and integrated into it malasakit that covers empathy and compassion, in the context of the on-going global crisis.
"In the years that you will spend at UPLB, always remember: be honorable, strive for excellence, be kind and compassionate," Chancellor Sanchez said.
Dr. Portia Lapitan and Atty. Eleno Peralta, vice chancellors for academic affairs and students affairs, respectively, and Rocky Marcelino, assistant vice chancellor for student affairs and director of the Office of Student Activities, joined Chancellor Sanchez in welcoming the Batch 2020.
The roster of university officials and the services provided by the Office of the Vice Chancellor for Student Affairs were also presented to more than 2,000 viewers across the country who tuned in to the livestream.
Serving as this year's guest speaker was Dr. DJ Darwin Bandoy, an assistant professor at the College of Veterinary Medicine who is currently pursuing his PhD Integrative Pathobiology with designated emphasis in Biotechnology at the University of California Davis, USA.
Dr. Bandoy, who is a member of the UP COVID-19 Pandemic Response Team, was among the scientists who developed mathematical models for COVID-19 outlook in the Philippines.
In his message, he encouraged the students to set and write their goals in order to succeed. He reminded them to follow up their goals with preparations and plans; to identify and be guided by their own learning styles; and to start building up their network.
Cresel Lawas, a BS Statistics freshman, enjoined her fellow students to help one another in the face of the challenges brought by the pandemic.
After the UPLB-wide convocation, different colleges also organized their own virtual orientation program for students and parents.
Earlier on Sept. 9, the UP System held the Online Welcome Ceremony for the opening of AY 2020-2021. (Mark Jayson E. Gloria)