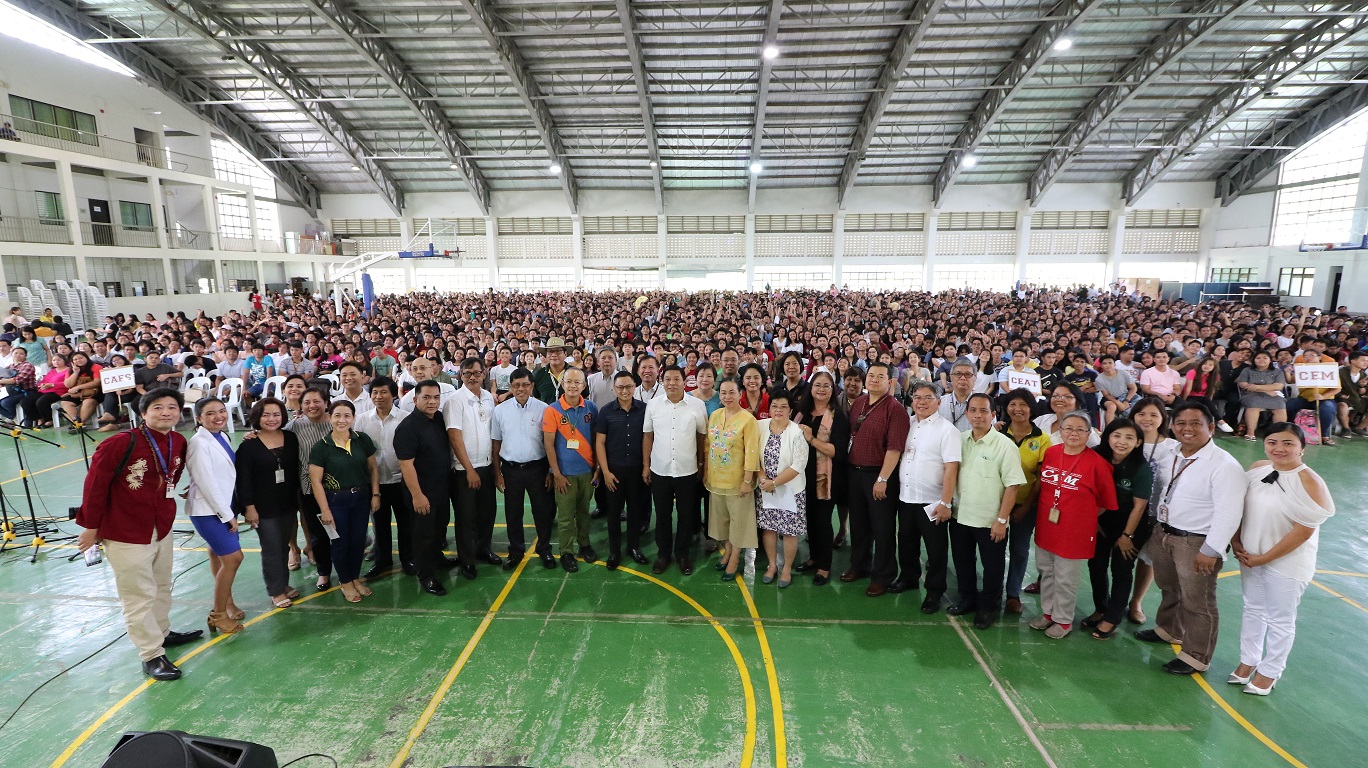 UPLB welcomes more than 2,500 freshmen
The opening of the Academic Year (AY) 2018-2019 brings back a scene that the University had  missed for the past two AYs when UPLB adjusted to the K to 12 Basic Education Program – the sight of crowds of freshmen in the campus, excitedly walking or converging in groups.
But with the first batch of Senior High School graduates entering university, UPLB is once again abuzz with their presence – all 2,532 of them this semester.
The University welcomed them at the Freshmen Convocation held at the Copeland Gymnasium on Aug. 7. In his inspirational speech, Chancellor Fernando C. Sanchez, Jr. guaranteed the students of UP's quality education. "The education that you will get here will put you on par with peers from around the globe, giving you the tools you need to really make a difference."
He also emphasized that UP education comes with a responsibility. "The opportunity to study here and receive the kind of education that many of our less fortunate countrymen are deprived of is a privilege that you must not squander," Chancellor Sanchez said, who also explained UPLB's traditions of academic excellence and public service.
Speaking on behalf of Batch 2018 was Kyla Chantal P. Dela Torre, BS Agriculture, who expressed her batch's gratitude for the warm welcome from the University. She also acknowledged the feelings of doubt and uncertainty that many of her fellow freshmen may have at the moment.
"There is no such thing as an easy start but let us not be [deterred] by our anxieties," Dela Torre said. "[Rather, let us] focus on honing our skills and being the best at the things where we excel at so that when the time comes that the people who funded our education call for [our service], we can take pride in serving them as productive members of the society."
For his part, Atty. Eleno O. Peralta assured the freshmen of UPLB's support and help in their transition to college. Atty. Peralta heads the Office of Student Affairs, a UPLB unit that offers a wide-range of support services and programs.
Serving as this year's convocation speaker was Hon. Aidel Paul G. Belamide, vice mayor of Silang, Cavite and Class 2009 summa cum laude, the first in BA Communication Arts.
Belamide said that the mark of an iskolar ng bayan is being "palaban," which, according to him, means dreaming high and striving hard; being brave enough to freely give and accept love; and serving the country to the best of  abilities.
He referred to the most popular UP icon, the Oblation, as the accurate depiction of an iskolar, to which Belamide described as: "nakatindig, nakatingala, nakadipa, nakabukas ang dalawang kamay… walang pangangatog ng tuhod, walang paninikip ng dibdib. Ang tanging naroroon lamang sa bantayog: labing nakapinid at matang nakatitig; tahimik ngunit dalisay na katapangan, inihanda ng kapalaran para sa laban para sa sariling bayan."
The university and college officials – vice chancellors, directors, deans, and college secretaries – graced the event. Prior to the program, the freshmen were treated to a free breakfast at the AlmOSAlan, which several student organizations sponsored. (Jessa Jael S. Arana)