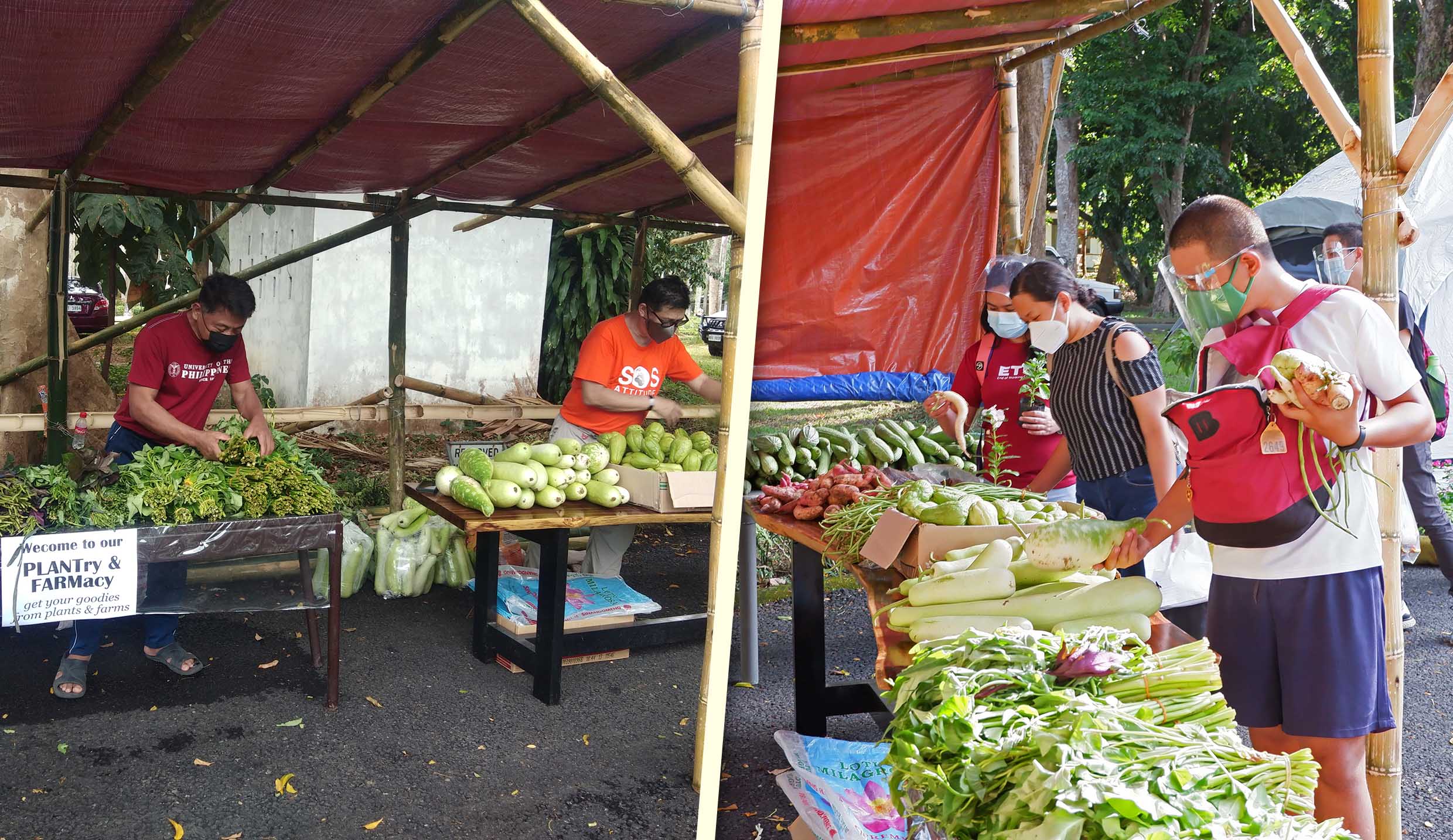 UPLB's community pantry offers plants and local farm produce
UPLB's version of community pantry, wittily called "Plantry and Farmacy," offers plants and fresh farm produce from local farmers. The community pantry was set up inside the campus for UPLB staff who are under Individual Contract of Service and Job Order employment status.
Among these are laborers, skilled and utility workers, agency-hired security guards, housekeeping staff, Junior Security Assistants, and clerical staff.
UPLB faculty members, Dr. Roderick C. Javar and Dir. Jerry Yapo of the Office for Initiatives in Culture and the Arts, organized this community pantry, with the support from the different colleges and units of the university.
Both expressed their gratitude to Vice Chancellor for Community Affairs (VCCA) Roberto Cereno and Dr. Benevieve D. Villanueva, assistant to the VCCA and director of the University Housing Office (UHO), for their immediate response and support for the initiative.
UP President Danilo L. Concepcion said in a statement that community pantries are "laudable, timely, and worthy of everyone's support." Meanwhile, UPLB Chancellor Jose V. Camacho, Jr. believes that such initiatives are proof of UPLB constituents' care and compassion for their colleagues. He thanks the individuals, groups, and offices inside and outside of the university which continue to cooperate and sustain the community pantry.
UPLB's Plantry and Farmacy is located at the open parking lot in front of UHO and is open on weekdays from 4:30 to 5:30 PM.
UHO staff managing the community pantry enjoined everyone to strictly follow health protocols while availing themselves of goods.
Individuals and groups who wish to give in kind donations may contact UHO at (049) 536-4009. Cash donations may be sent to the UPLB Alumni Association (GCash No. 0947-605-4418 or Landbank Account No. 1891-011-446). (JAAquino, photo courtesy of Melvin Cordez and Miguel Victor Durian)