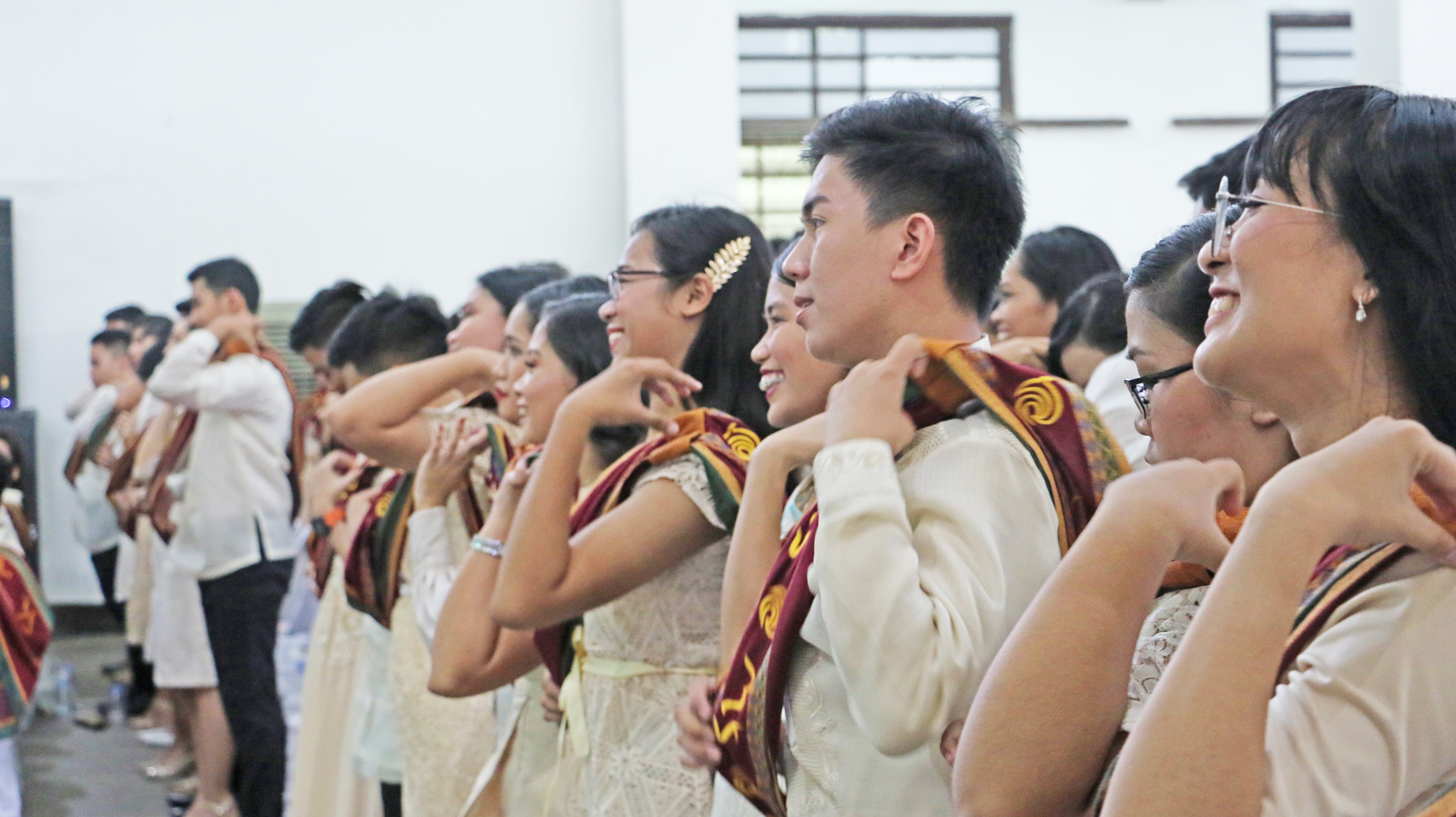 UPRHS grads finally don the UP Sablay
Aside from the class valedictorian making a sweep of the special awards, the UP Rural High School (UPRHS) graduation program is remarkable as the first time for a graduating class to don the UP Sablay, the official academic costume of the university.
James Matthew G. Borines led the 122 UPRHS SHS graduates in ceremonies at Baker Hall on June 14. He graduated with high honors and garnered the most number of special awards, namely: the Academic Excellence Award; Best in Science, Technology and Engineering; Best in Mathematics and Statistics; Academic Excellence in Science; and Academic Excellence in Mathematics.
In his message as class valedictorian, Borines acknowledged how UPRHS taught honor and excellence among its students and enjoined his fellow graduates "to serve the country in any way possible."
"We are the next generation of 'iskolar para sa bayan' and we are grateful and indebted to the Filipinos because we will not be here if not for them," he added.
The UP Sablay milestone took place six years after UPLB adapted the use of the Sablay for its university graduation, and almost 20 years after it was first introduced in UP in 1990. UPRHS, one of the four high schools in the UP System, is an academic unit of the UPLB College of Arts and Sciences (CAS).
Aryan V. Arenas, who bagged the Best in Physical Education award, joined Borines in the elite list of graduates with high honors.
Other 59 SHS graduates finished with honors, including three recipients of special awards: Luke B. Gealogo as Best in Humanities and Social Sciences; Christal Mae R. Villamin as Best in Business Studies; and Angelica Joy R. Camacho as Best in English and Best in Filipino.
This year's guest speaker was Lorna B. Oamar-Garcia, a retired university extension specialist from UPLB, former program leader of BIDANI, College of Human Ecology, and a local business executive.
She shared some of the lessons that she learned from UPRHS on how to be successful in life, and encouraged them to embrace the opportunities that would come their way.
Oamar-Garcia is a member of the UPRHS Class of 1969. Her fellow golden and silver jubilarians were recognized during the event.
UPRHS officer-in-charge Lea C. Garcia presented the graduating students to Dr. Felino P. Lansigan, dean of CAS, who confirmed their completion. Dr. Portia G. Lapitan, vice chancellor for academic affairs, and Assoc. Prof. Ivan Marcelo A. Duka, college secretary of CAS, graced the ceremony.
Dr. Lapitan, who delivered the message of Chancellor Fernando C. Sanchez, Jr., advised the graduates to set and work for their goals, to not fear failures, and to cherish their support system of family and friends. (Mark Jayson E. Gloria, with reports from Lysette Nadine B. Sigua)