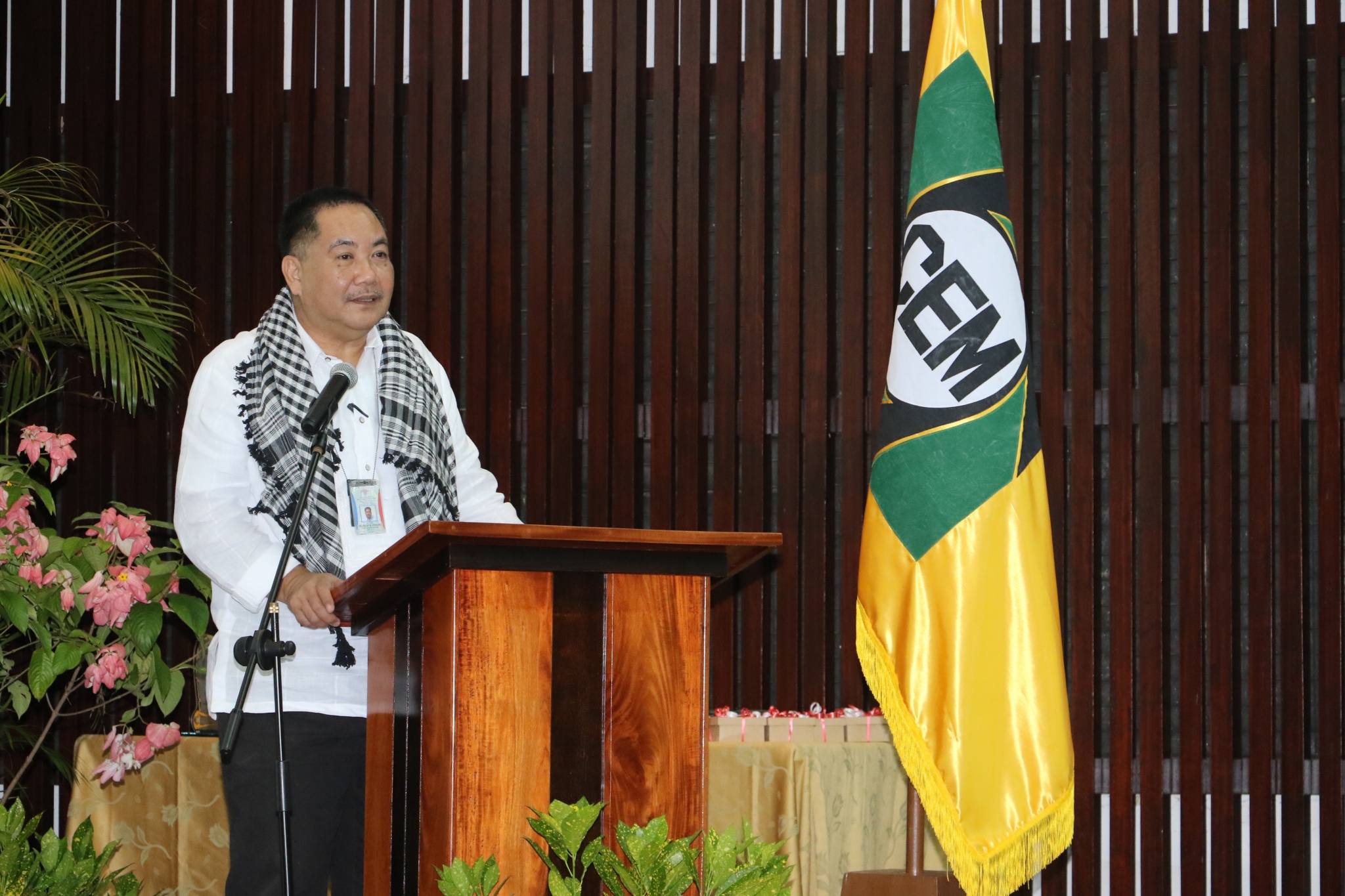 Usec. Serrano shares governance lessons to UPLB-CEM
Views and suggestions on planning, budgeting, and governance from a seasoned bureaucrat highlighted the keynote speech at the 99th Foundation Day Program of the College of Economics and Management (CEM).
Dr. Segfredo R. Serrano, undersecretary for policy and planning of the Department of Agriculture (DA), tackled these topics in his talk at the celebration on July 27 at the REDREC Auditorium.
Dr. Serrano, who completed all his degrees from UPLB-CEM, underscored the need for longer-term planning in the government with the aid of updated tools.
"You cannot talk about economic development or rural development, or address issues like inequality, hunger, or even climate change if your time horizon is only six years. A lot of things require more deliberate and longer than long-term planning," Dr. Serrano said.
Dr. Serrano commended "Ambisyon 2040," the Philippine Development Plan of the current administration, for its goals that extend from 2017 to 2040.
Noting that the biophysical environment of the country would change over the years, Dr. Serrano referred to PAGASA's localized version of the Assessment Report of the Intergovernmental Panel on Climate Change as a planning tool that offers detailed alternative scenarios for climate change in the country.
"We need to be able to develop the protocols for planning, with climate change as an important factor," Dr. Serrano pointed out. He identified CEM as a go-to institution that could help formulate such protocols.
He also called for more researches that would address climate change and urged the University to master the new budget rules to obtain higher allocation for research. "You want to be a world-class university? Then, you should have your own internal research budget," he said.
Dr. Serrano reiterated his long-time wish for the Joint UPLB-DA Research and Development Agenda that would align the priorities of the two institutions in agriculture research.
Present during the event were Dr. Isabelita Pabuayon, dean of CEM, and Dr. Marish Madlangbayan, vice chancellor for planning and development and representative of Chancellor Fernando C. Sanchez, Jr., who both underscored CEM's achievement in producing graduates who are now leaders in various fields.
During the event, CEM recognized four outstanding alumni, namely: Ana Cecilia Palma (BS Agribusiness Management) for agribusiness and entrepreneurship; PO2 Haidelyn Pimentel-Arevalo (BS Agricultural Economics) for public service; Enrico Villanueva (BS Economics) for financial risk management and development; and Carlos Lorenzo Vega (BS Economics) for leadership and corporate governance.
CEM also awarded its outstanding personnel. Faculty members at the Dept. of Agribusiness Management and Entrepreneurship, namely: Nanette Aquino, Mar Cruz, and Nohreen Ethel Manipol were named outstanding senior teacher, junior teacher, and junior researcher, respectively. Dr. Marilyn Elauria of the Dept. of Agricultural and Applied Economics was hailed as outstanding senior researcher; while Alvin Malabayabas of the Office of the College Secretary and Jonalyn Avila of the CEM Library were the outstanding administrative supervisory and non-supervisory staff, respectively.
The "ASEAN Economic Community: opportunities and implications for the agriculture, fishery, and forestry sector" project bagged the outstanding research team honors, while the UPLB Economics Society was recognized as outstanding student organization. Ten personnel were given the Loyalty Awards for serving UPLB for 35 years and up. The parents of Rodger Dennis Valientes received the Posthumous Award given to the late faculty member. (Mark Jayson E. Gloria)