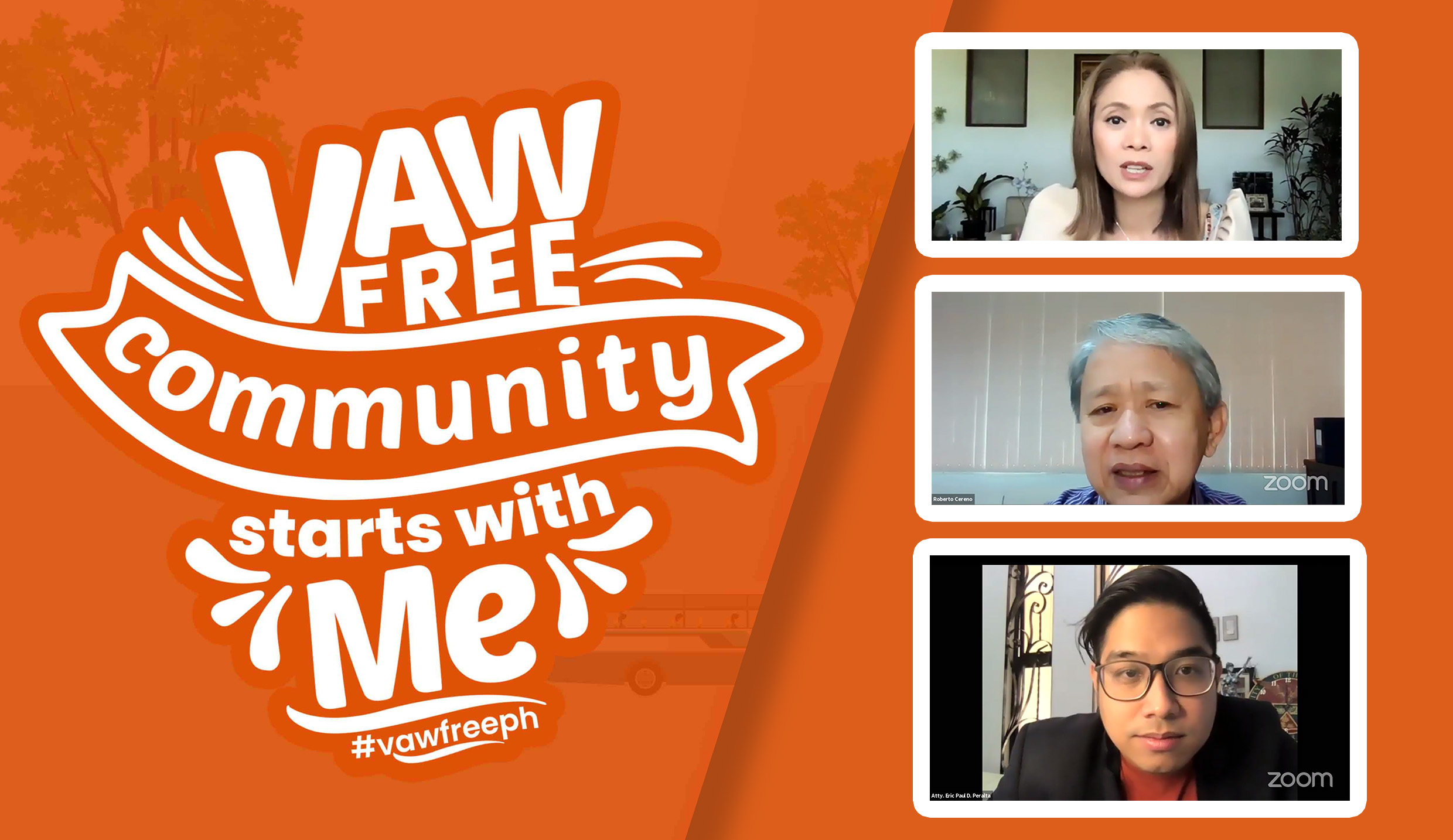 Violence against women, a hidden pandemic
Violence against women is a hidden pandemic and is being exacerbated by the COVID-19 pandemic.
This, in effect, was what Dr. Nathalie Lourdes Africa-Verceles said at the kick-off program of the 18-day campaign to End Violence Against Women and Children (VAWC) that she graced as a guest speaker.
The program was streamed live on the online platforms of the UPLB-Gender Center (UPLB-GC) and the Information Technology Center on Nov. 25, which is recognized every year as the national consciousness day for the elimination of VAWC by virtue of Republic Act Number 10398.
Dr. Africa-Verceles, director of the UP Center for Women and Gender Studies, shared to the audience some data gathered by the National Demographic Health Survey in 2017 showing that it is gender-based or happens to women because they are women regardless of age, class, education, sexuality, ability, or disability.
She also said that it is systemic rather than a phenomenon; and that the COVID-19 pandemic has exacerbated the situation because access to help became limited and mobility lessened during the community restrictions. She said that reports of online sexual exploitation have increased during the period.
"If it is hard to fight COVID-19, it is harder to fight VAWC," she added.
To be effective at fighting VAWC, she said it is important to increase one's knowledge and awareness on gender inequality and VAWC and the immediate response to the needs of the survivors.
According to Dr. Africa-Verceles, there are many laws on the rights of women and that we must make sure that they are being implemented. She encouraged everyone to report violence and end patriarchy beginning with our own homes, community, and the university.
Vigilance in the midst of the lockdown
Chancellor Jose V. Camacho, Jr., who gave the program's opening remarks, lauded UPLB-GC for continuing to take the lead in these activities.
He said that as the national university, UP has the responsibility to uphold gender equality and to advocate to end VAWC.
He further said that UPLB continuously works to ensure that the campus is secure and free from any form of violence.
According to the Chancellor, the campaign is needed more than ever because with the unfortunate reality of the pandemic, many victims are trapped with their abusers during the quarantine.
He expressed his hopes that this activity will reach a wider audience so that current occurrences of abuse will be stopped and future events will be prevented.
According to its director, Atty. Eric Paul Peralta, UPLB-GC remained active and vigilant since the lockdown began in March, conducting activities such as podcasts that addressed gender concerns and emergency responses; and during these activities, dealt with concerns on mental health focusing on family and VAWC.
They also conducted webinars and made the videos available to the public in the UPLB-GC official Facebook page.
In coordination with the College of Human Ecology (CHE), UPLB-GC also launched an electronic book on gender and development for children, which will be produced as a series with the release of one electronic book each month in 23 months.
UPLB-GC's support structure
Atty. Peralta also introduced the staff of the UPLB-GC and welcomed the new vice chancellors and other officials who will make up the UPLB Gender Center Advisory board: For. Roberto P. Cereno (community affairs); Dr. Merdelyn Caasi-Lit (research and extension); Dr. Jean Loyala (academic affairs); Dr. Janett Malata-Silva (student affairs); Dr. Jessie Imelda Foronda-Walde (University Health Service); and Atty. Rosario Rodrigo-Larracas (Legal Office).
He introduced, as well, the Core Administrative Management Team (CAMT), composed of the following administrative heads: Ethel Cabral (Budget Management Office); Marie Claire Raymundo (Accounting Office); Joan Mendoza (Internal Control Office); Maria Cielo Lampa (Supply and Property Management Office); Liza G. Custodio (Records Management Office); Nelson Jose Vincent Querijero (Human Resource and Development Office); and Elizabeth Eala (Cash Office).
New UPLB GC Gender for Rural Development Office (GRDO) committee members representing their colleges and departments were also presented: Daphne Gonzales, College of Agriculture and Food Science (CAFS); Ana Katrina de Jesus, Dr. Mark Oliver Llangco, and Elizabeth M. Segura-Krueger, all from the College of Arts and Sciences (CAS); John Mervin Embate, College of Development Communication(CDC); Luisito Abueg, Remund Jordan Labios, and Alicia Quicoy, all from the College of Economics and Management (CEM); Angela Limpiada, College of Forestry and Natural Resources; Divine Grace Domingo and Christine Joyce Mendoza, both from CHE; Nico Jayson Anastacio, College of Public Affairs and Development (CPAf); Dr. Joseph dela Cruz, College of Veterinary Medicine (CVM); Analyn Rapas, Office of the Vice Chancellor for Student Affairs (OVCSA); Kathe Lyn Tamisin, Ugnayan ng Pahinungod; and Dr. Mary Ann Ingua, University Library.
New members under the Reproductive Health Office (RHO) were also welcomed: Wella Absullo, CAFS; Faith Allyson Buencosa, Dr. Jea Agnes Buera, and Marjorie delos Angeles, CAS; Dr. Liza Cabrera and Louise Antonette Villanueva, CDC; Prof. Annie Liza Capili-Pintor, College of Engineering and Agro-Industrial Technology (CEAT); Dr. Normahitta Gordoncillo, Sarah Jen Paccarangan, Fevi Rose Paro, CHE; Stoix Nebin Pascua, CPAf; Jiselle Villamin, OVCSA; and May Kathleen Montenegro, Ugnayan ng Pahinungod.
Atty. Peralta took the opportunity to recognize the members of the UPLB Men Opposed to Violence against women Everywhere (UPLB MOVE), numbering more than 40, including its officers, led by its president, Vladimir G. Amatorio.
VAWC also a health concern
Dr. Emilia A. Lastica-Ternura, coordinator of the UPLB Office of Anti-Sexual Harassment (OASH), in a message that she delivered to close the program, expressed agreement with the guest speaker that VAWC is a shadow pandemic and that it is important to acknowledge the fact that as COVID cases increase, VAWC cases will also increase.
She said that VAWC is a health concern and that a person experiencing VAWC is not in a state of well-being.
"As a community, we should acknowledge that while COVID-19 is a global concern, VAWC is a much sinister pandemic, one that requires us to reeducate ourselves as well as encourage a culture of change within our ranks and personal lives," Dr. Lastica-Ternura emphasized.
For. Roberto Cereno, vice chancellor for community affairs (VCCA), expressed agreement that the issues on VAWC must be acted upon and said that he looked toward helping UPLB live up to the concept of the campus as a caring community as the UPLB GC will now be under his office (OVCCA).
Also attending the event were VCRE Lit; Dean Raden Piadozo of CHE; Dean Jezie Acorda of the College of Veterinary Medicine; Christine Joyce Mendoza, chair of the CHE Department of Community and Environmental Resource Planning; Clarice Pulumbarit, chair of the CHE Department of Social Development Services; Dr. Teri-Marie P. Laude, RHO coordinator; Dr. Evelie Serrano, GRDO coordinator; and Dr. Jea Agnes T. Buera, head of the International Student Relations under the Office of the Vice Chancellor for Student Affairs.
With every Nov. 25 recognized as the national consciousness day for the elimination of VAWC, government agencies are mandated to raise awareness on the problem of violence and elimination of all its forms. The day also commemorates the start of the of END Violence Against Women and Children Now (END VAW Now) campaign, which runs from Nov. 25 to Dec.12. (KEAraguas)