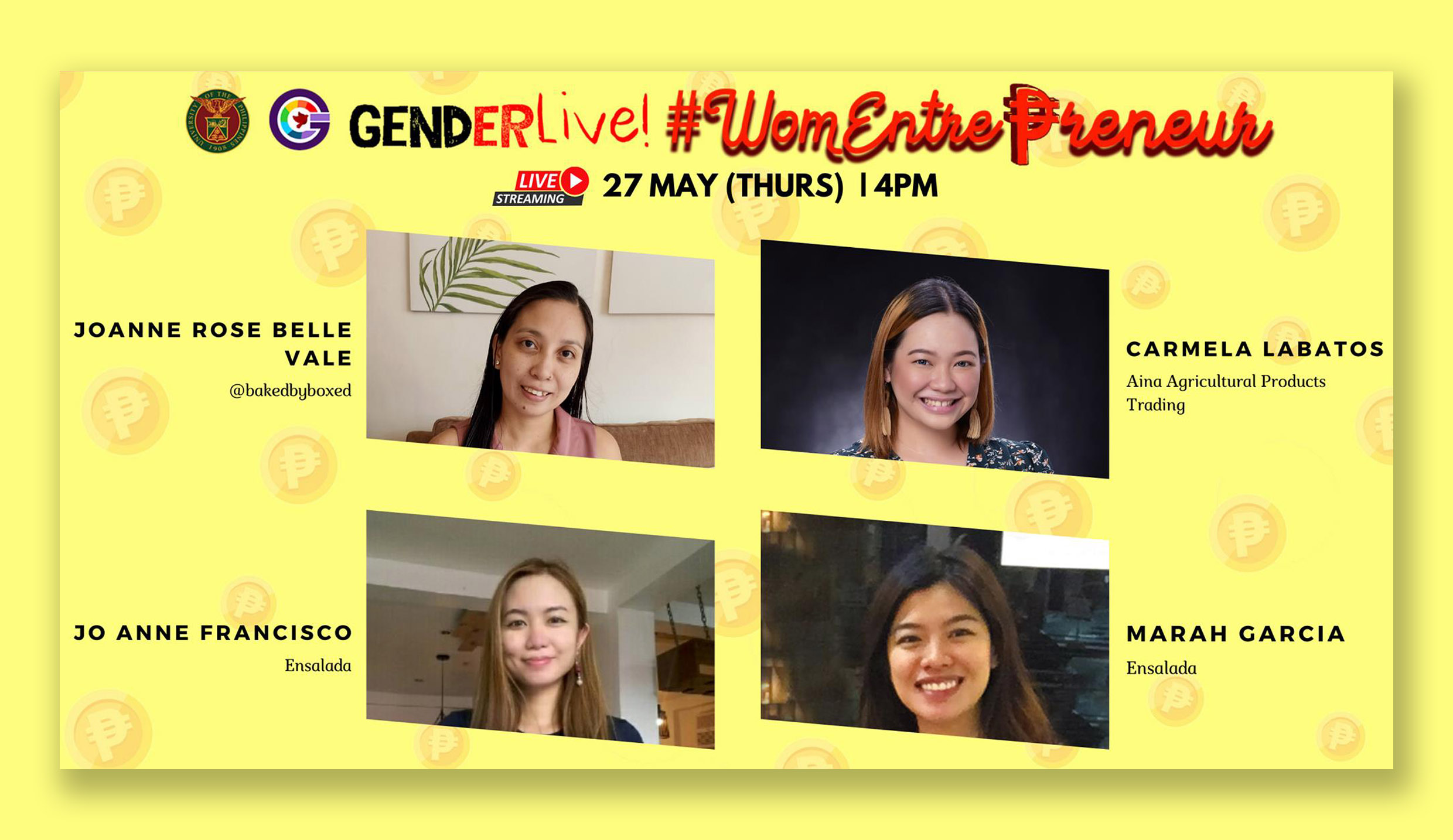 "Womentrepreneurs" take the spotlight on UPLBGC's GendER Live
Women entrepreneurs shared their valuable experiences in maintaining and making a business survive at the GendER Live series, an online show that shares stories of people in relation to women's rights and LGBTQIA+ communities.
The show, which was launched a few weeks after the imposition of community quarantine in 2020, is produced by the UPLB Gender Center (UPLBGC).
The episode, streamed live on May 27, was attended by over 30 participants, and viewed by more than a thousand online audience.
The focus on women entrepreneurs is significant as pointed out by Dr. Dina Pura Depositario, faculty member at the Department of Agribusiness Management and Entrepreneurship of the College of Economics and Management (DAME-CEM) and a speaker in the show.
Dr. Depositario cited a 2021 business school article on women entrepreneurs facing a disproportionate impact from the COVID-19 pandemic.
She said that women-owned businesses are more likely to operate in sectors that require in-person interactions such as service industries, retail, tourism, and are 10% more likely to close than those owned by men.
The self-isolation and stay-at-home orders, Dr. Depositario said, often equate to more work in the home, a burden that largely falls on women, as they, including women entrepreneurs, are responsible for over two times more unpaid domestic work than men.
Dr. Depositario added that six months into the pandemic, the average married women entrepreneurs was at least 10% more likely to report spending six hours or more on domestic and care activities every day while still operating her business, compared to the male entrepreneur.
Despite all the challenges women entrepreneurs face, Dr. Depositario said that they remain undaunted and continue to persist, with quite a number developing new business models, carving out new pathways to funding, and devising new ways to keep their businesses afloat.
Four women entrepreneurs were invited to share their stories in maintaining their businesses despite the on-going pandemic.
Joanne Rose Belle Vale, of Baked by boxed, an online-based baking shop, shared how her baking business, which she manages with her daughter, was born out of a weekend baking hobby which eventually turned into a business venture offering delivery of baked goods during the pandemic.
Marah Garcia and Jo Anne Francisco, business partners and owners of Ensalada, a start-up salad restaurant, which sells a fusion of healthy and Filipino comfort food, also guested on the program.
They shared to the audience how their business was born out of the need to provide affordable and healthier food options in place of the usual fast food fare.
Maria Carmela A. Vargas-Labatos, owner of Aina Agricultural Products, offers garden essentials and fresh produce.
Even before the pandemic, she, together with her husband, have been delivering products to their customers who are mostly working moms and senior citizens.
These four lady bosses shared their fears and challenges during the establishment of their business.
Vale cited her initial fear of not being able to realize a return on her investments and the difficulty in juggling between her work and home life. She found a solution in establishing and following a proper schedule for everything that she needed to do.
Garcia and Francisco, both first-time business owners, shared their initial fears and how they overcame these by seeking help from professionals and maintaining a healthy expectation toward the possible movement of their investments.
The pandemic also affected their business as their target consumers declined in numbers. However, they found ways to survive by establishing patronage with the locals who are based in the community.
Labatos was concerned about whether their products are going to sell as they are highly perishable. They found a solution by banking on their individual strengths in running the business.
One of the biggest challenges that she and her husband encountered was experiencing adjustment disorder brought about by the large demand caused by the community quarantine.
They overcame the challenges by seeking professional help, team work, and setting of priorities and proper scheduling.
The four women also credit their support system for helping keep their businesses afloat.
Vale said that she is grateful for the work-at-home setup of her husband and members of their extended family because this helped her cope with the situation and responsibilities in balancing home and business.
Garcia and Francisco shared responsibilities among their business partners through task delegation and staff empowerment.
Labatos credited her staff and said that she values their concerns, as well as their customer's feedback.
When asked for advice by those who want to start their business, Vale said that they need to have faith while Francisco advised them to innovate, take calculated risks, and to not wait until one is ready to start.
Garcia encouraged them to identify a problem that the business can solve and Labatos shared that it does not matter if the business is run by a man or a woman. "What matters is your faith in your products and that your business provides employment opportunities, pays taxes, and contributes to nation building, she said.
"Womentrepreneurs" is the fourth episode of the second season of the GendER Live series. This episode is available for public viewing at the UPLB Gender Center's official Facebook page. (KEAraguas)