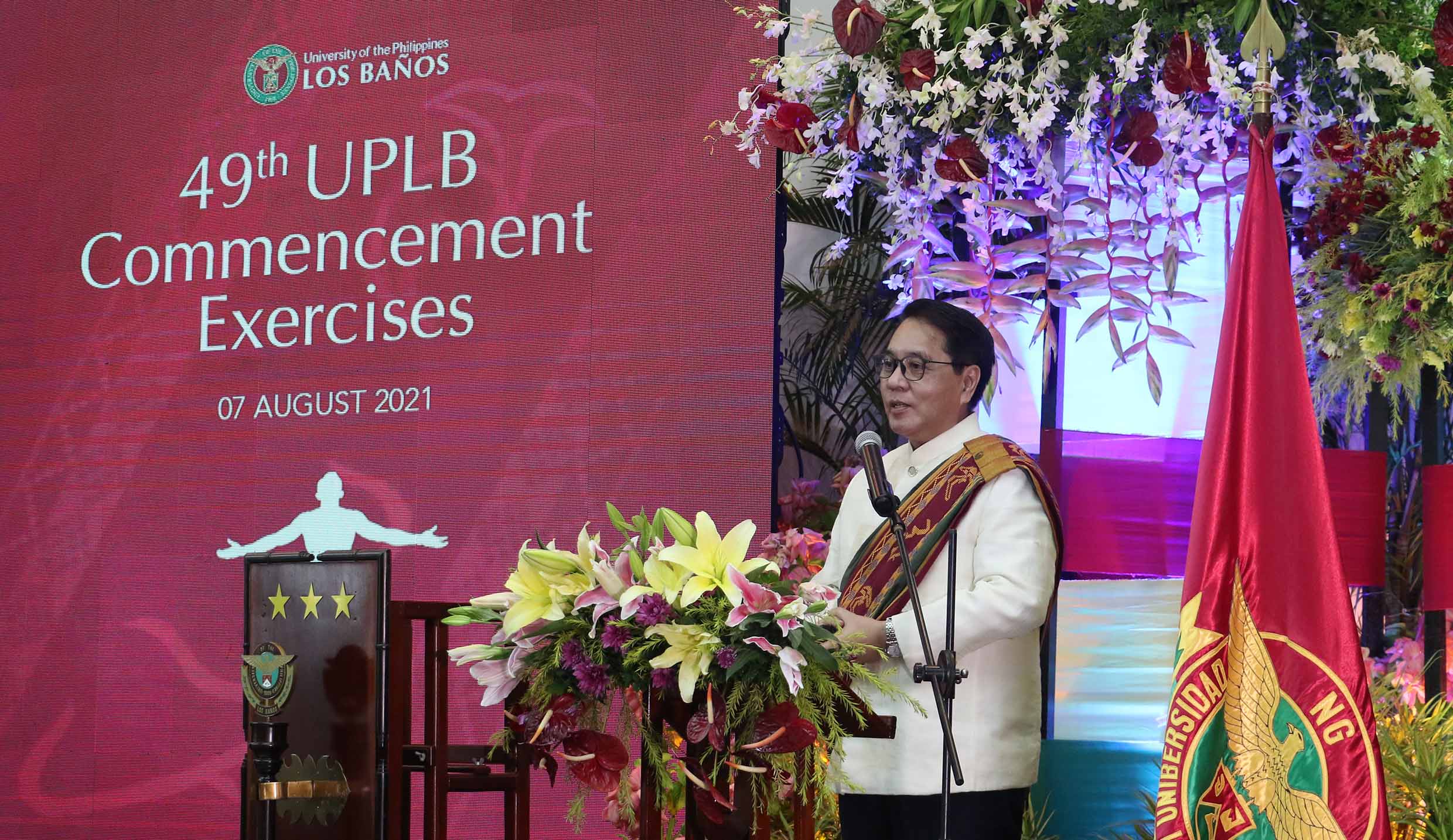 "Your character is your destiny" -- Mascariñas, 2021 commencement speaker
As the graduating class of 2021 donned their Sablay at the virtual 49th UPLB Commencement Exercises on August 7, guest speaker and BS Agriculture '82 alumnus Ronald Daniel Mascariñas gave them a message to brave life's challenges: strength of character will make you thrive in adversity.
Mascariñas is the man behind well-known roasted chicken brands that have outpaced traditional brands in the market.
Mascariñas spoke from experience, as he shared how his family struggled financially when his father died leaving his mother as the sole breadwinner.
He also spoke of the travails he has as a student, working odd jobs as a student assistant to augment his allowance as a COCOFED scholar.
Mascariñas told the audience of how through grit and determination, he hurdled the trials he encountered before becoming the president and general manager of Bounty Agro Ventures, Inc. (BAVI), the company that owns the ubiquitous chicken brand, Chooks-to-Go.
Through his experience before his current success, Mascariñas illustrated how hope and perseverance kept him going despite major setbacks, a dilemma all too familiar to anyone who has been derailed by the on-going pandemic.
From seemingly reaching the pinnacle of success during his 19-year stint at Purefoods, to building his own company from the ground up and overcoming new challenges along the way, Mascariñas's story as an entrepreneur showed how setbacks launched their company to new heights.
Obstacles that threatened their place in the industry became opportunities, such as the flood of cheaper imports in the market prompting them to expand from traditional poultry integration to retailing roasted chicken, thus creating the Chooks-to-Go brand.
The same strength of character guided him and his company as the COVID-19 pandemic reached the country and sales came to a sudden halt and threatened to push them into bankruptcy.
Despite these fears, they pushed on, and were rewarded. Amidst the pandemic, BAVI continues to thrive in the industry and even contributes through public service.
"We have faced many difficult challenges in our journey, and time and again, we have shown to ourselves that we not only survive, we thrive on them. The crisis may be different today or in the future, but we are the same men and women of unflagging tenacity and boundless courage," he said.
From these experiences, Mascariñas gave reminders to the graduates as they navigate a new world beyond the university. First among these is to serve and give back to the country.
"Dahil kayo ay may angking talino, inaasahan na kayo ang pag-asa ng bayan. Tumaya ang bayan na kayo ay magiging tapat sa pagtaguyod ng kapakanan ng mamamayang Pilipino. Kaya kayo ay tinatagurian kong mga manok ng bayan," he said.
("Because of your skills, you are expected to be the hope of the nation. The country put its bet on you to uphold the well-being of the Filipino people.")
He encouraged the graduates to use the skills they have learned and developed in the university to ensure that the gains they will reap in the future will not just be for themselves, but also for the Filipino people.
"Hindi man naniningil, umaasa ang ating sambayanan sa atin," said Mascariñas. "Ipinapaalala ko lang na may malaki tayong utang na loob sa bayang nagpaaral sa atin sa pag-asang lilingon at maaalala natin silang bitbitin sa ating pag-angat sa buhay," he emphasized.
("They may not demand for it, but our people are pinning their hopes on us," said Mascariñas. "We owe it to the nation that paid for our education with the hope that we will remember to take them with us as we achieve success in life.")
Lastly, Mascariñas reminded the graduates to always put honor before excellence.
"Ano mang karangalan o kayamanan na inyong makamit ay nawawalan ng kabuluhan kapag nadungisan ang respeto sa inyong pagkatao… Ika nga nila, 'Guard your reputation like a glass, because a glass that is broken cannot be mended,'" he said.
("Whatever fame or riches you achieve lose their meaning when the respect to your character has been diminished.")
With new challenges up ahead, the future for UPLB graduates is intimidating and uncertain, but Mascariñas leaves them with encouraging words, "In this volatile, uncertain, complex, and ambiguous world, your character is your destiny." (Jessa Jael S. Arana)