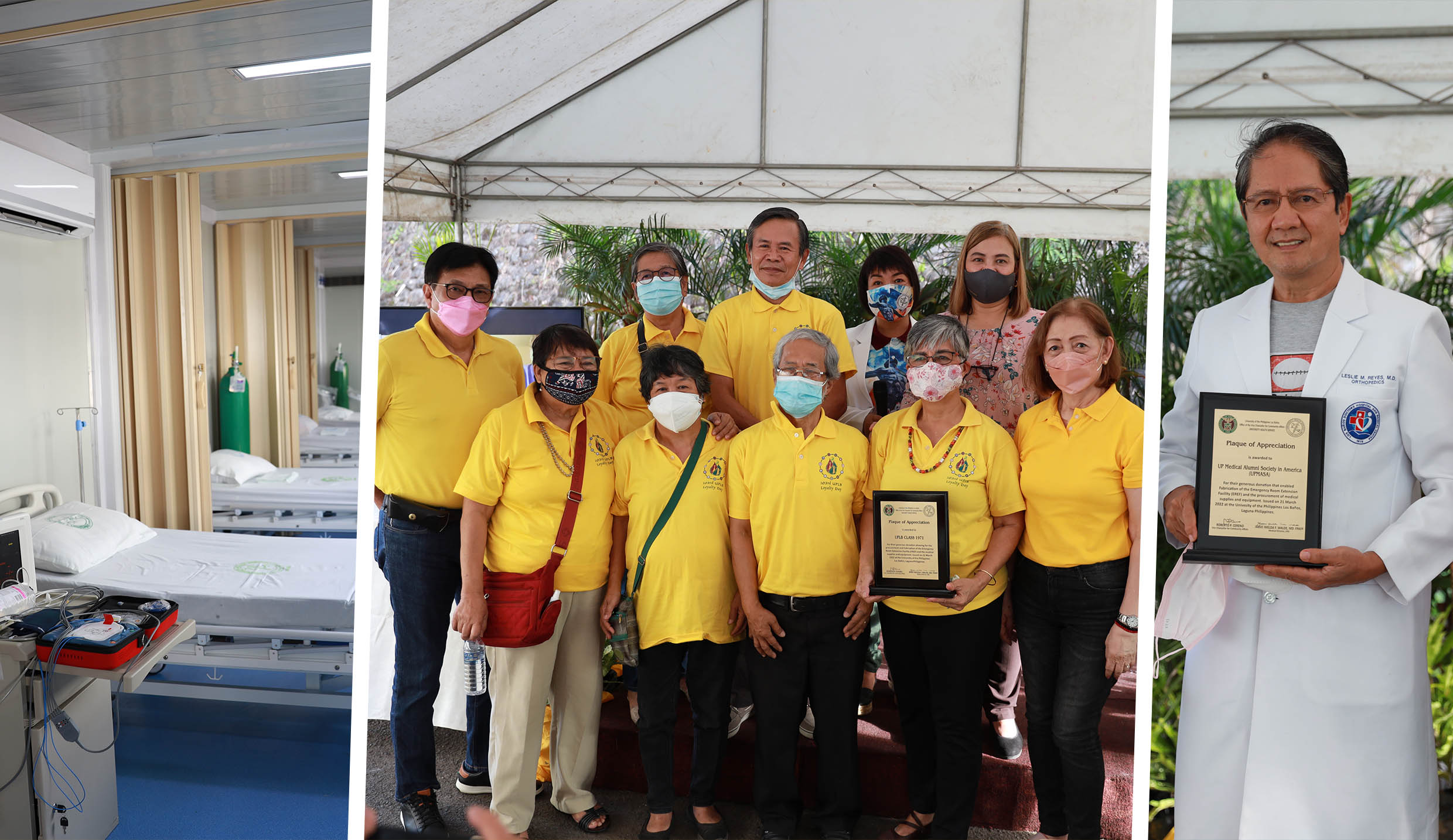 Class 1971 and UPMASA turn over UHS-EREF to UPLB
The University Health Service-Emergency Room Extension Facility (UHS-EREF) was turned over to UPLB in a program held at the UHS grounds on March 21.
Made possible through a donation from UPCA Class 1971 and UP Medical Alumni Society in America (UPMASA) with the help of UPLB Alumni Association (UPLBAA), the UHS-EREF was completed in 53 days at a cost of PhP2.2 million.
The groundbreaking ceremony for the facility was earlier held on Jan. 6, while its inauguration took place on March 4 as one of the highlights at the 113th Foundation Day anniversary celebration of UPLB.
Before the turnover program, a video entitled "Ang Kwento ng UHS" was shown chronicling the struggles and difficulties experienced by UHS due to challenges brought about by COVID-19.
Although not a COVID-19 referral facility, UHS found itself handling some patients who were later found to have been infected by COVID-19.
It also served as a swabbing facility for the collection of samples that were tested at the UPLB COVID-19 Molecular and Diagnostic Laboratory.
Ninety patients served in 17 days
Dr. Jessie Imelda Foronda-Walde, medical director of UHS, said that the facility was able to accommodate 90 patients in 17 days. 
She recounted how resources were provided to the facility through the passion and drive of the donors. "Without them, nothing would have happened," Dr. Foronda-Walde added.
Moreover, she reported that since the facility is safer than the other areas of the hospital because it is fitted with negative pressure air exchange, Operation Tuli (Circumcision) will be held at EREF on the five Saturdays of April to cater to 250 boys aged 12-14 who had to skip circumcision due to the pandemic.
Dr. Foronda-Walde thanked UPMASA led by Dr. Lourdes I. Publico and represented by Dr. Leslie Reyes, an orthopedic surgeon based in Los Banos, and Class 1971 headed by Dr. Rosalina M. Lapitan.
She also acknowledged the "special role" of Dr. Arelyne Pacho-Ramos who served as their bridge to Class 1971 and UPMASA. Dr. Ramos is a member of both organizations.
Dr. Foronda-Walde thanked UPLBAA president, Capt. Mauro W. Barradas, and vice president, Dr. Cristino M. Collado, for their valuable assistance; Chancellor Jose V. Camacho, Jr., who linked UHS to the donors and "opened the doors of opportunity" for them; and Dr. Eileen Lorena M. Mamino, assistant to the chancellor and director of the Office of Alumni Relations, for giving guidance with the procurement process of such a facility. "Their wisdom made things easy for the UHS," she said.
Also among those whom Dr. Foronda-Walde included in her message of gratitude were personnel of the University Planning and Maintenance Office who gave their technical assistance in the completion of the project.
More resources for UHS-EREF
"Much money was infused into the UHS," Dr. Foronda-Walde said, adding that she thought she could already say "mission accomplished" after the inauguration of UHS-EREF, only to find out that more resources were going to be contributed to the facility and UHS.
She narrated that days after the inauguration, Dr. Lapitan and Dr. Candida B. Adalla who is also a member of Class 1971 and a former dean of the College of Agriculture and Food Science, and Dr. Fernando C. Sanchez, Jr., former UPLB chancellor, visited UHS with the information that the latter had been commissioned to do the landscaping for the facility.
She also said that Tom Lugod, also of Class 1971, had bred a Hibiscus hybrid and donated it to be named in honor of the late Dr. Vivencia Fernandez Banzon, a medical doctor at UHS who "exceptionally and selflessly served the UPLB community for a long time."
Dr. Fernando O. Paras Jr., vice chancellor for planning and development, delivered a message on behalf of Chancellor Camacho congratulating UHS on the successful project.
Dr. Publico, UPMASA president, also gave a message wishing the UHS staff love, patience, and fortitude and also presented UPMASA's other projects. UPLB Class 1971 President Dr. Rosalina M. Lapitan gave her message of support and narrated how fellow alumni have been generously supporting the project.
New project of Class 1971
Dr. Lapitan thanked the donors for helping them complete the UHS-EREF roof and ramp and introduced a new project of Class 1971, entitled "Dra. Banzon Memorial Balikbayan Project for UHS," which aims to continuously solicit contributions of hospital supplies and equipment for UHS from alumni based abroad.
The Hibiscus rosa-sinensis 'Vivencia Fernandez-Banzon' was presented to the Banzon family whose lead representative gave a short speech thanking Lugod and Class 1971, saying that the late physician loved gardening and that she would be happy to know that a plant had been named after her.
An actual ER on-action demonstration was then shown led by Dra. Maria Giselle Reyes-Alcantara of UHS.
The ceremony ended with the video presentation entitled "Ang Kwento ng UHS: Ikalawang Yugto," which highlights the growth and development that UHS went through and the state where they are now.
The program was also attended by members of UPMASA via virtual conferencing.
The turn-over ceremony can be viewed on the official Facebook page of UPLB UHS. (Kyle Ramiel Dalangin)