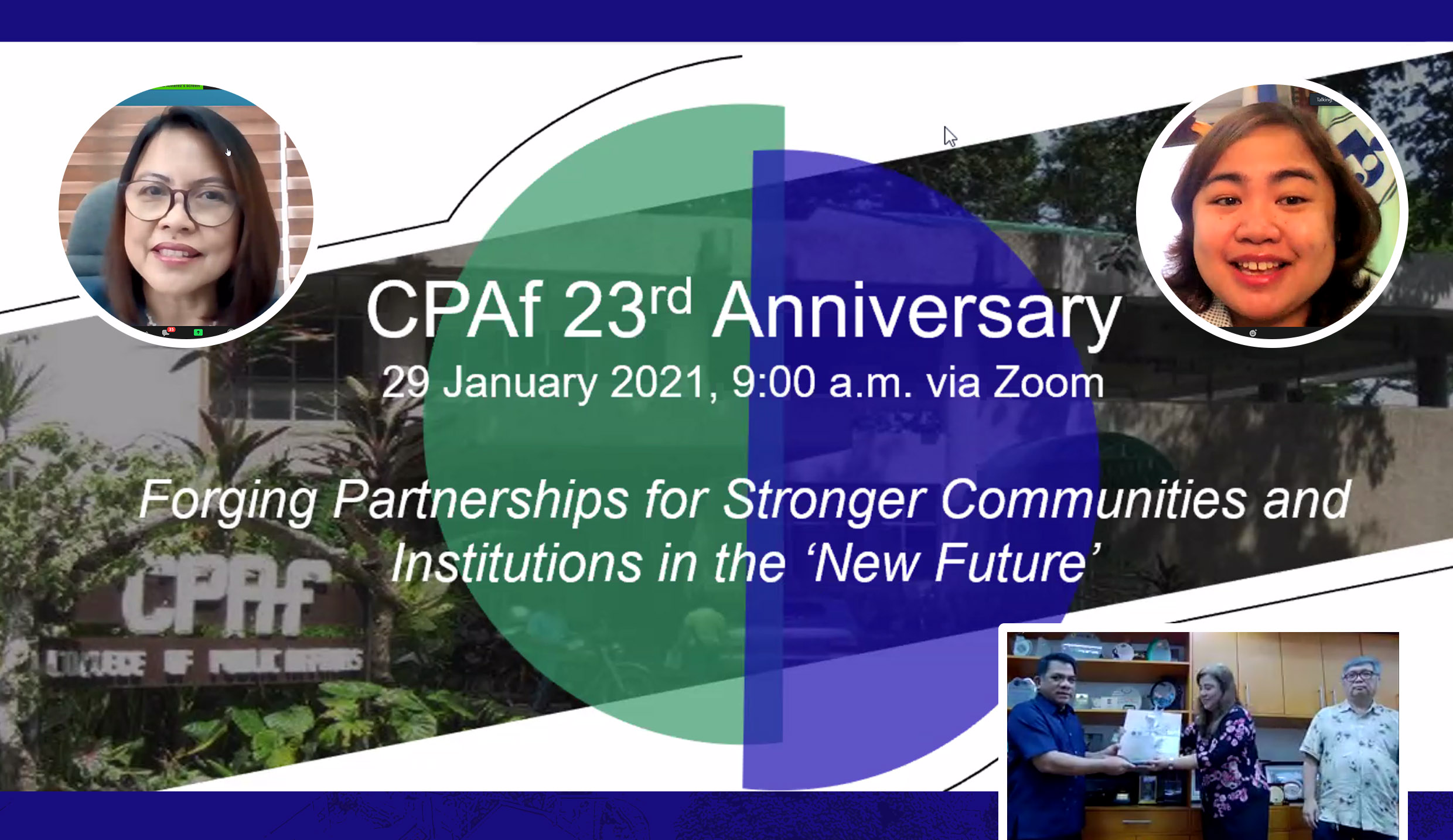 CPAf celebrates 23rd year online
The College of Public Affairs and Development (CPAf) reaffirmed the importance of empowering individuals and organizations for development through collaboration at the online celebration of their 23rd founding anniversary on Jan. 29.
With the theme "Forging partnerships for stronger communities and institutions in the new future," CPAF celebrated its new milestone by recognizing the services of its researchers, staff, and faculty.
The foundation anniversary program featured a short recognition ceremony during which they awarded service and recognition awards to outstanding members of CPAf.
They honored retiring CPAf staff, namely, Rosita L. Velasco, university research associate, and Rosemarie A. Cornista, administrative assistant, who served for 42 and 29 years, respectively.
They also recognized the service and leadership of Dr. Jaine C. Reyes, former director of the Institute for Governance and Rural Development and Vice Chancellor for Administration Rolando T. Bello, former dean of CPAf. Dr. Josefina T. Dizon was recognized for her appointment as UP Scientist III from 2019 to 2021.
The college then gave special awards to their outstanding personnel. Atty. Damcelle T. Cortes bagged the Outstanding Teacher Award, while Dr. Aileen V. Lapitan received the Outstanding Extension Personnel Award. Named as Outstanding Researchers were Dr. Maria Ana T. Quimbo (Senior) and Francis John Faderogao (Junior).
The Outstanding Research Team Award went to the team behind the "Development of Innovation Approaches in the Context of Selected Small Island Municipalities in Southern Luzon," while the Outstanding Extension Project award was given to the project "Developing Strategies Toward More Resilient Fishing Communities: The Case of Major Lakes in Luzon."
In a special message, Chancellor Jose V. Camacho, Jr. said that CPAf has been instrumental in promoting good governance and inclusive development in the country and acknowledged their role in the many community partnerships that UPLB has cultivated in the past years.
He encouraged CPAf to continue helping UPLB in linking with local government units and civil society organizations as part of future-proofing UPLB.
"Moving forward, UPLB hopes to harness those relationships to further our knowledge dissemination, research, and public service efforts and partner them with the resources and experience of the LGUs," he said. (Jessa Jael S. Arana)