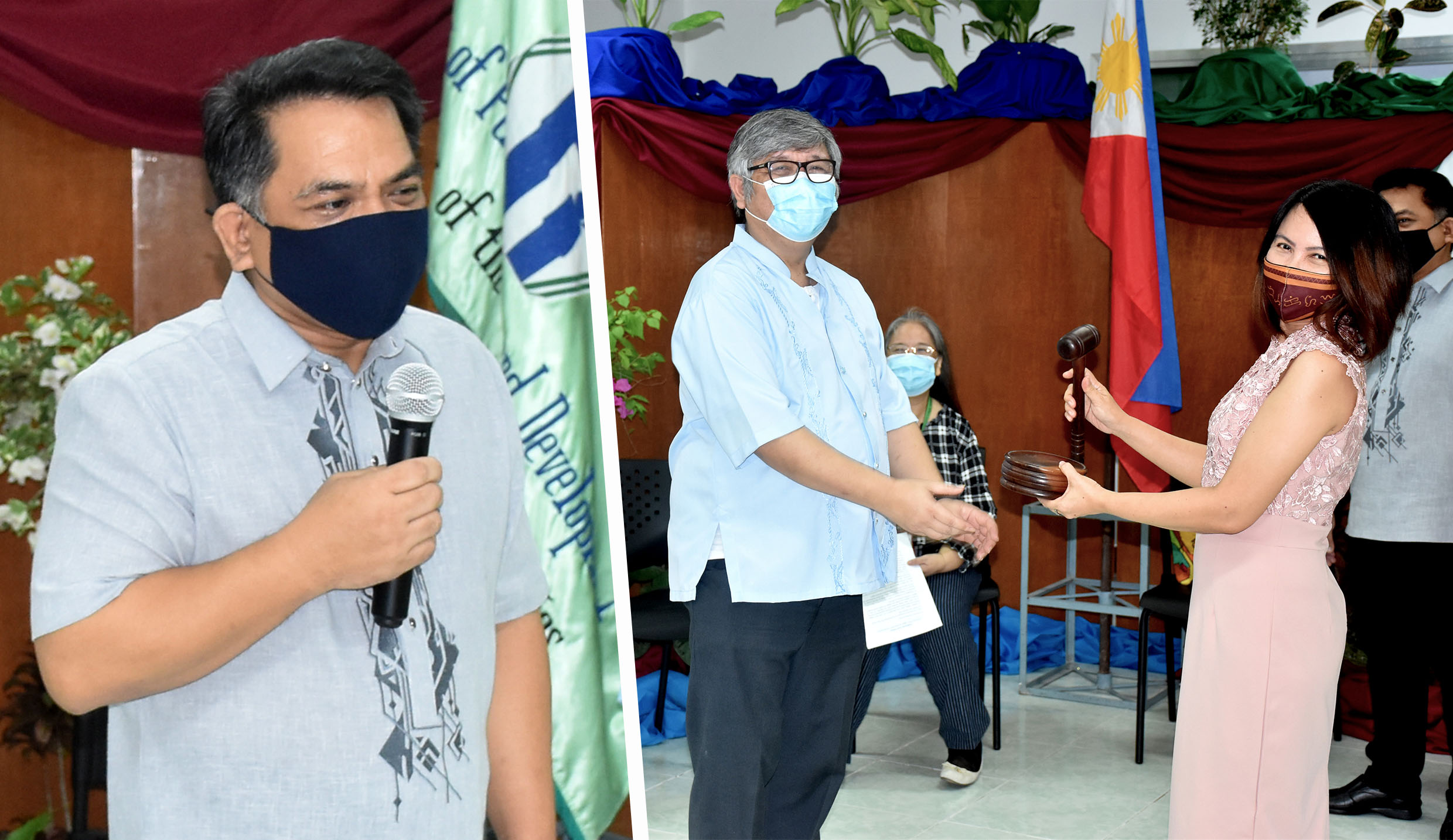 CPAf holds turnover rites and oath taking ceremony for its new set of leaders
Dr. Rowena DT. Baconguis took her oath as the new dean of the College of Public Affairs and Development (CPAf) during the Turnover Rites and Oathtaking Ceremony held on May 17 via video conference. Other new members of the CPAf Executive Committee were also recognized during the said event.
Chancellor Jose V. Camacho, Jr. formally opened the event by highlighting the crucial role the leaders of an organization have in responding to challenges and in moving forward to a more resilient CPAf.
"As the pandemic has made the coming years uncertain and dark, it is now more important than ever that academic institutions, and leaders of said institutions, shall serve as points of illumination. We must be carriers of the messages of hope, truth, innovation, resilience, and trust in the human spirit," Chancellor Camacho said in his welcome message.
The event's theme, "Keeping the Torch Ablaze: Upholding CPAf's Legacy for Inclusive Information," honors the valuable contribution of the former CPAf administrators and how its new set of leaders will continue its legacy in community building.
In her acceptance speech, Dr. Baconguis emphasized the need to shape the future by seizing opportunities even with the current challenges that we are facing.
"The challenges can only be faced head on if we have a common understanding of things that matter; [if] we can institute innovations and better processes to achieve our targets; [if we] continuously improve our capacities; and [if we have] a shared vision," she noted.
As a central part of the program, former dean and current Vice Chancellor for Administration Rolando T. Bello and Dr. Baconguis took part in a ceremony where the former passed a gavel to the latter to symbolize the turnover of responsibility.
Dr. Baconguis then introduced the new members of the management committee of the college. These are Dr. Aileen V. Lapitan, director of the Center for Strategic Planning and Policy Studies (CSPPS); Dr. Evelie P. Serrano, director of the Institute for Governance and Rural Development; and Ms. Samantha Geraldine G. De los Santos, head of the Knowledge Management Office.
The event also honored the retirement of Dr. Merlyne M. Paunlagui, CPAf professor, who served as CSPPS director since 2012 until her retirement in April 2021. The value of Dr. Paunlagui's mentoring and leadership was highlighted in the messages given by CSPPS staff.
The event was facilitated by Dr. Miriam Caryl DL. Carada, a faculty member at CPAf, and Mr. Siege A. Camba, a PhD student of the college. (Nico Jayson C. Anastacio)