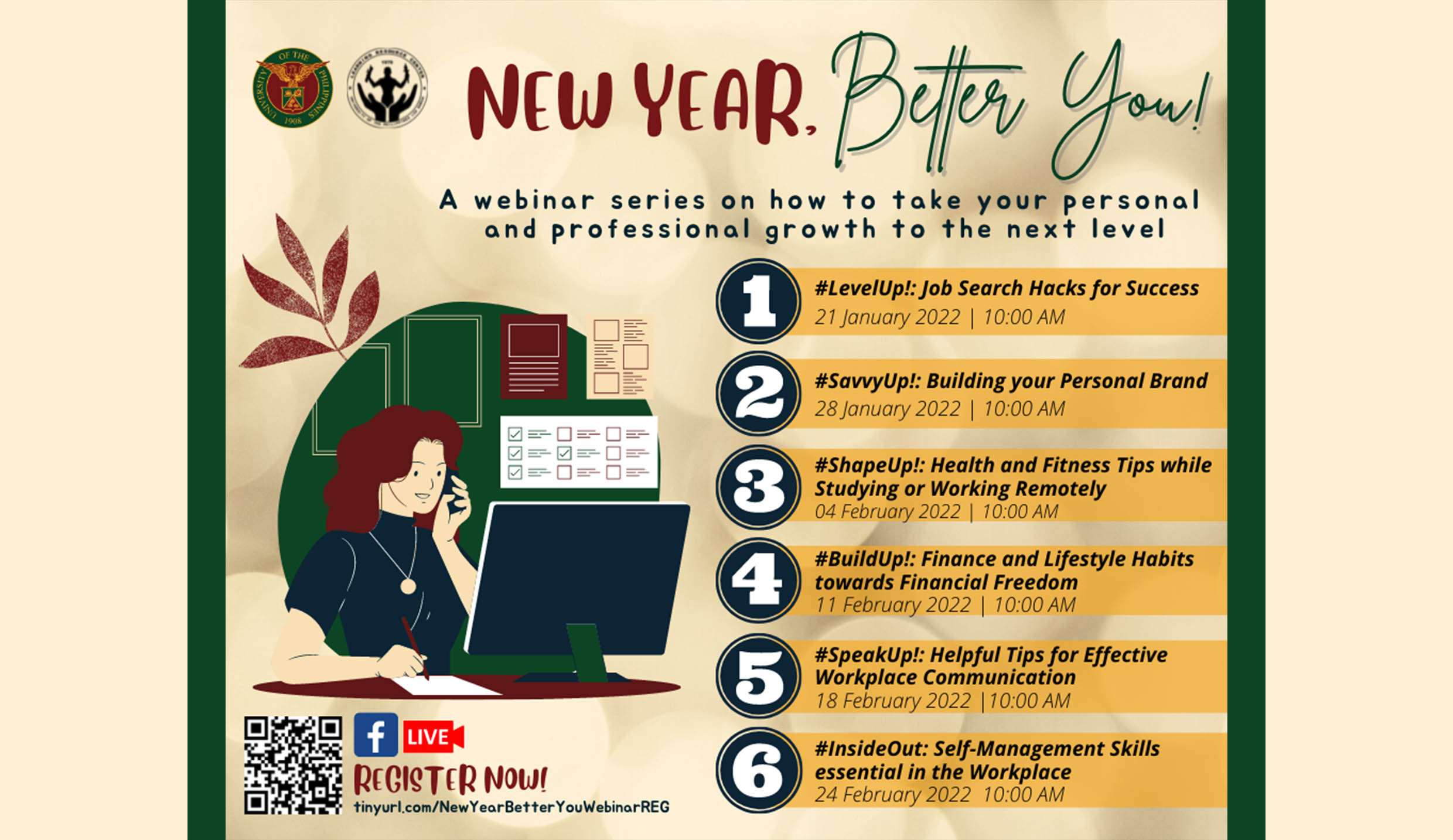 LRC to kick off "New Year, Better You!" webinar series
New Year. New Season. New Goals.
To start the year right, the UPLB Learning Resource Center (LRC) will stage a six-part webinar dubbed as "NEW YEAR, BETTER YOU!: A webinar series on how to take your personal and professional growth to the next level."
The webinar series, which is free and open to all, aims to provide students and young professionals helpful tips and strategies to level up their personal and career growth.
The sessions intend to equip learners with knowledge on the following topics: resume writing, job interview tips, personal branding, health and fitness, finance and lifestyle, workplace communication, and self-management.
The first session entitled, "#LevelUp!: Job Search Hacks for Success" is scheduled on Jan. 21 with Brian Carlo Hipolito, human resources officer of the Asian Infrastructure Investment Bank as the resource speaker.
The second session entitled, "#SavvyUp!: Building your Personal Brand" is going to be held on Jan. 28 and will have for its resource person, Brylle James Galang, communications consultant of the United Nations Green Climate Fund.
The third session will be on maintaining good health even while people are cooped up at home. Entitled "#ShapeUp!: Health and Fitness Tips while Studying or Working Remotely," this webinar is going to be held on Feb. 4 with Jacky Ong, marketing manager of PH Anytime Fitness Asia as speaker.
The fourth session, "#BuildUp!: Finance and Lifestyle Habits towards Financial Freedom" on Feb. 11 will feature Rand Jester Poquiz, a licensed financial advisor and trade and strategic channels solutions manager of Viu Philippines.
The fifth session on Feb. 18 entitled, "#SpeakUp!: Helpful Tips for Effective Workplace Communication" will feature Linus Van O. Plata, an assistant professor at the Department of Humanities of UPLB College of Arts and Sciences as resource speaker.
The last session which will be held on Feb. 24, "#InsideOut!: Self-Management Skills Essential in the Workplace" will feature Dr. Monica Walet, a registered psychologist and a faculty member at the College of Public Affairs and Development, UPLB.
The webinars will be streamed live through LRC's Facebook Page (www.facebook.com/uplblrc/live).
To join the sessions, interested participants must register using this link: https://tinyurl.com/NewYearBetterYouWebinarREG. Certificates will be given at the end of each session.
LRC continues to foster self-directed learning among UPLB students and constituents and aims to provide more learning opportunities that might be useful to them not just as online learners but as young professionals in the future, and especially as lifelong learners. (Sheryl Edd P. Hermosa Ebron & Joshua Michael G. Jonas)