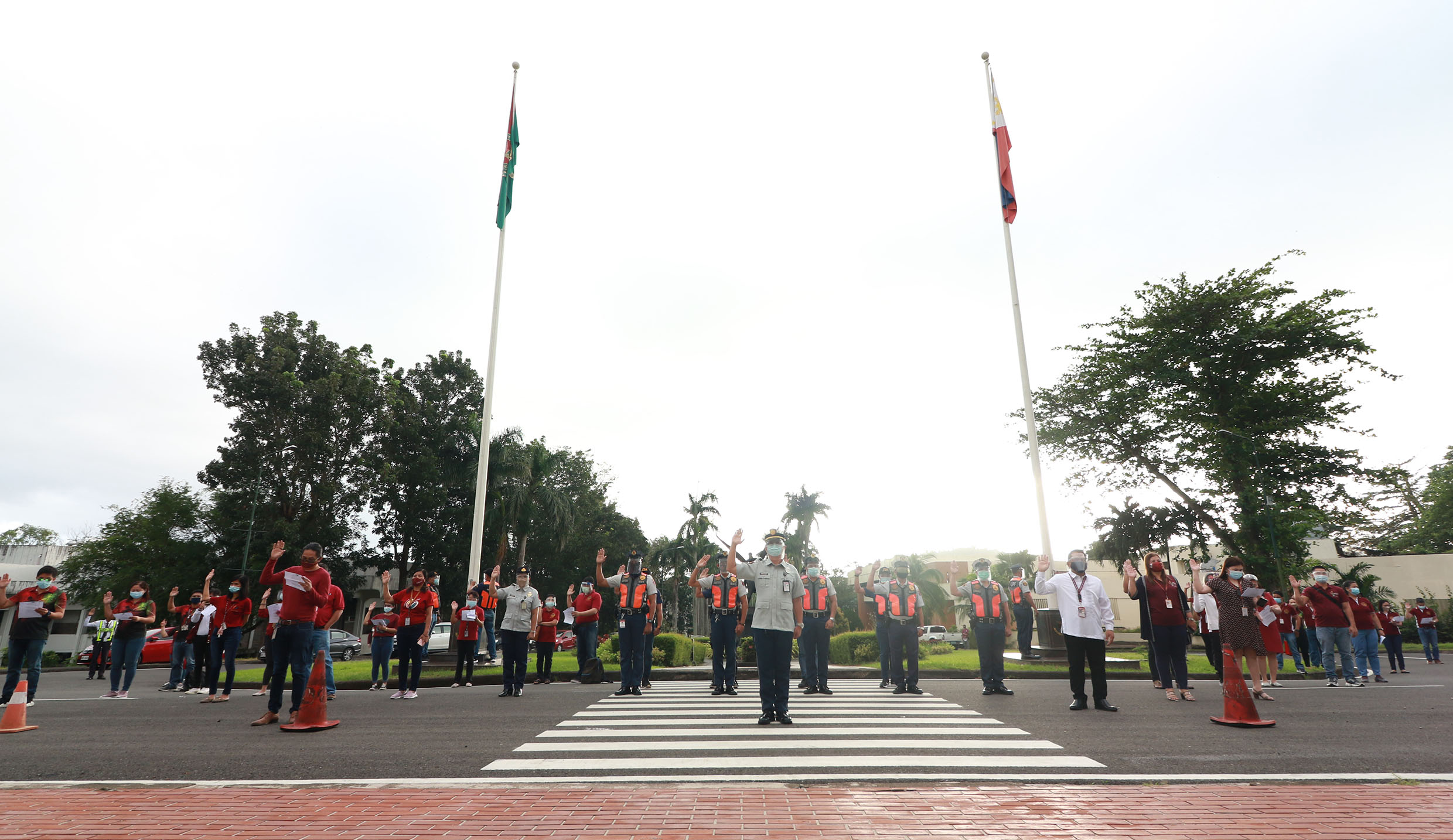 OC welcomes returning WFH staff to UPLB
The second Monday of 2021 is significant for two reasons:
It marks the first time that UPLB held an in-person flag raising ceremony and the first day that UPLB staff who had been on work-from-home arrangement returned to their respective workplaces since enhanced community quarantine due to COVID-19 was implemented in the country on March 17, 2020.
The ceremony was hosted by Chancellor Jose V. Camacho, Jr., who took the opportunity to welcome the "returning" staff.
Seventy-three days into his administration, Chancellor Camacho took the lead in marking the start of 'new normal' operations in the campus with a call to the staff to take to heart the service that the university needs to give to the public.
He thanked the UPLB community for their service and cooperation in dealing with the pandemic and assured the returning employees of the university's plans to overcome the pandemic.
He said that with or without the pandemic, UPLB is ready to serve.
He underscored the importance for UPLB to be future-proof and prepared to take on the challenges that disasters, typhoons, and the on-going pandemic bring.
Chancellor Camacho also reported about the visit of UP President Danilo L. Concepcion to UPLB on Jan. 9 to administer the oath of the new UP faculty regent, Dr. Aimee Lynn Barrion-Dupo, a faculty member and UP Scientist II at the Institute of Biological Sciences.
According to him, President Concepcion sees the big challenge that UPLB is currently facing in the midst of the pandemic.
Chancellor Camacho further expressed gratefulness that it is not only UPLB officials, but also the UP system administration that is helping UPLB in facing these challenges.
The flag raising ceremony was attended by the staff from the OC cluster of offices, namely: Office of Public Relations, Office of Alumni Relations, Internal Control Office, Ugnayan ng Pahinungod, Legal Office, Office of International Linkages, Office for Institutional Development in Higher Education, Office of Anti-Sexual Harassment, Academic Assessment and Development Unit, as well as directors, vice chancellors and the University Police Force (UPF). (KEAraguas)