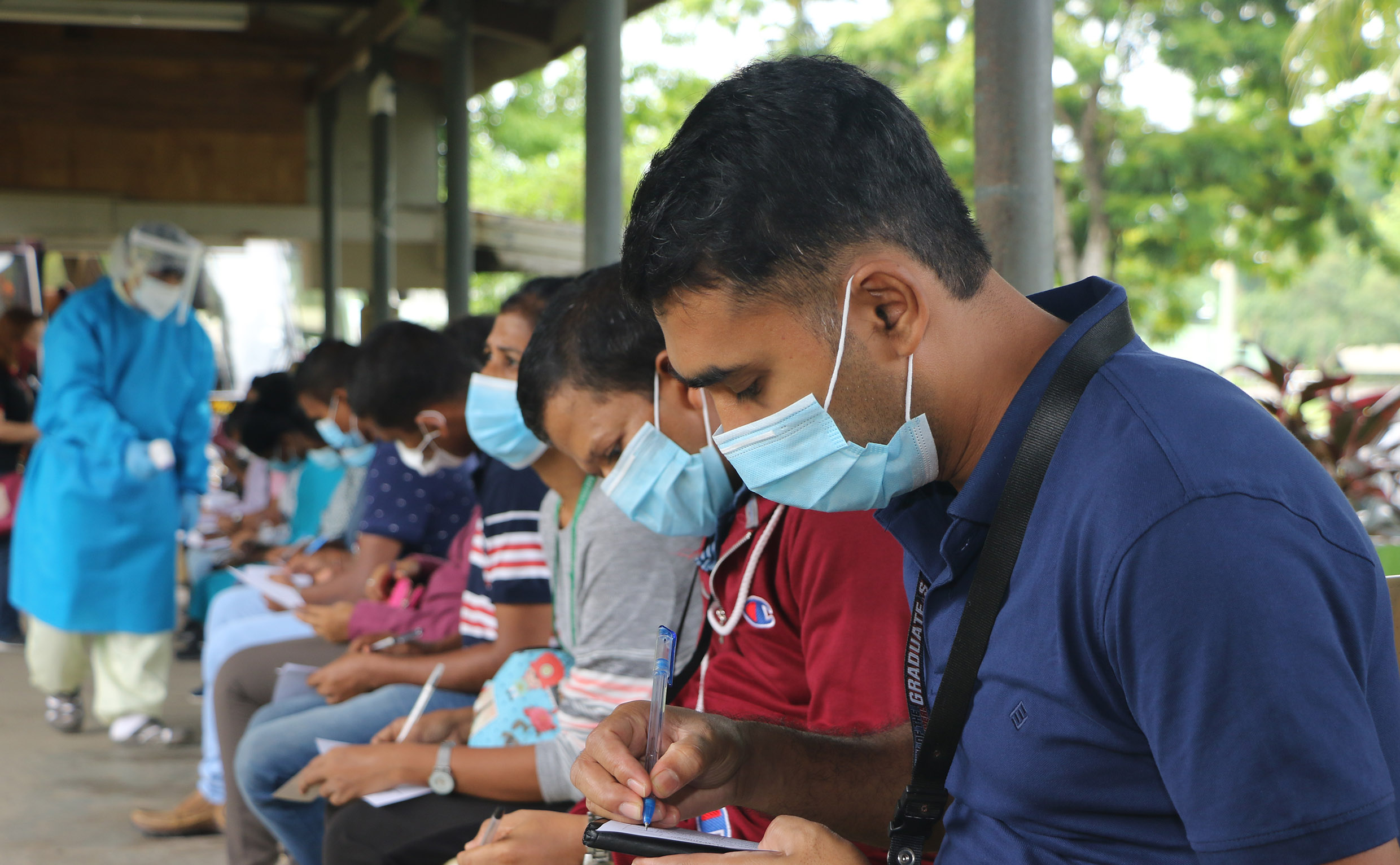 Oplan Hatid makes 1000th mark in students served
UPLB's Oplan Hatid has made it to the 1,000th mark in the number of students it has served since the enhanced community quarantine (ECQ) was implemented in Luzon on March 16.
Oplan Hatid is a program conceptualized by a group of UP Rural High School alumni and the Office of the Vice Chancellor for Student Affairs (OVCSA) to ensure that local and foreign UPLB students who are stranded due to the enhanced community quarantine (ECQ) would be reunited with their families.
Led by Rocky Marcelino, director of the Office of Student Activities of the OVCSA and concurrent assistant to the vice chancellor for student affairs, Oplan Hatid has completed 41 operations to ferry local students to parts of Luzon, Visayas, and Mindanao, as well as, international students to their home countries.
Its latest international operation was staged on June 11 for 24 postgraduate students from Sri Lanka, the biggest batch of foreign students from UPLB so far that benefited from the program.
This Oplan Hatid was carried out in coordination with the government of Sri Lanka through their embassy in Manila and with the Office of International Linkages, UPLB Graduate School, and the International Student Relations (ISR) of the Office of the Vice Chancellor for Student Affairs.
Prior to this, 16 foreign graduate students of various nationalities had been flown to their respective countries in six separate Oplan Hatid operations.
A total of 960 local students had also been ferried or flown to their respective home provinces in different parts of the country through 34 different Oplan Hatid operations.
According to Marcelino, each Oplan Hatid was unique in nature because of the different requirements of the students' local government unit (LGU) or country.
Most challenging, Marcelino said, was the need to secure transportation on land, sea, and air, especially for interisland destinations.
In fact, according to Marcelino, Oplan Hatid suffered a setback when commercial flights were declared exclusive to overseas Filipino workers, removing air travel from the options.
This prompted Chancellor Fernando C. Sanchez to request the Department of National Defense for help.
Defense Secretary Delfin Lorenzana and Armed Forces Chief of Staff Gen. Felimon Santos, Jr. promptly approved his request for the mercy flight to be made.
Thus, on June 6, 35 students, a part-time student, and 3 faculty members who acted as chaperones flew to Iloilo on board a C-130 plane of the Philippine Air Force.
To ease the fears of the receiving LGUs, especially on the returning students possibly causing the spread of COVID-19, Marcelino assured the receiving LGUs that the students had been on strict lockdown since the ECQ was implemented and had not been in contact with COVID-positive cases.
Indeed, the UPLB COVID-19 Response Committee headed by Dr. Robert Visco, assistant to the vice chancellor for community affairs, who also supervises security personnel in the campus enforced strict ECQ protocols in the campus.
These protocols are implemented closely with the University Health Service, headed by its director, Dr. Jessie Imelda Foronda-Walde, who had already put in place a protocol for infectious diseases including COVID-19 as early as January.
The UHS, having been designated by the Los Banos Medical Health Office, conducts a strict medical assessment on the students as they are about to board the vehicle that will take them from UPLB to their point of destination.
"If the students exhibited the slightest symptoms, they are not allowed to make the trip even if they were pre-listed," Marcelino said.
Marcelino said that overall, implementing Oplan Hatid has been gratifying and rewarding despite the difficulties.
Most heartwarming and comforting, and enough to keep the Oplan Hatid team going, Marcelino said, are the simple expression of thanks from the students or their parents.
No wonder then when barely had the "ink dried" on this article, Oplan Hatid had already completed four more operations to bring the students back in their homes and is finalizing the details for others. (JMBo with reports from JJS Arana and AGB Peralta)
Aligned with our commitment to: