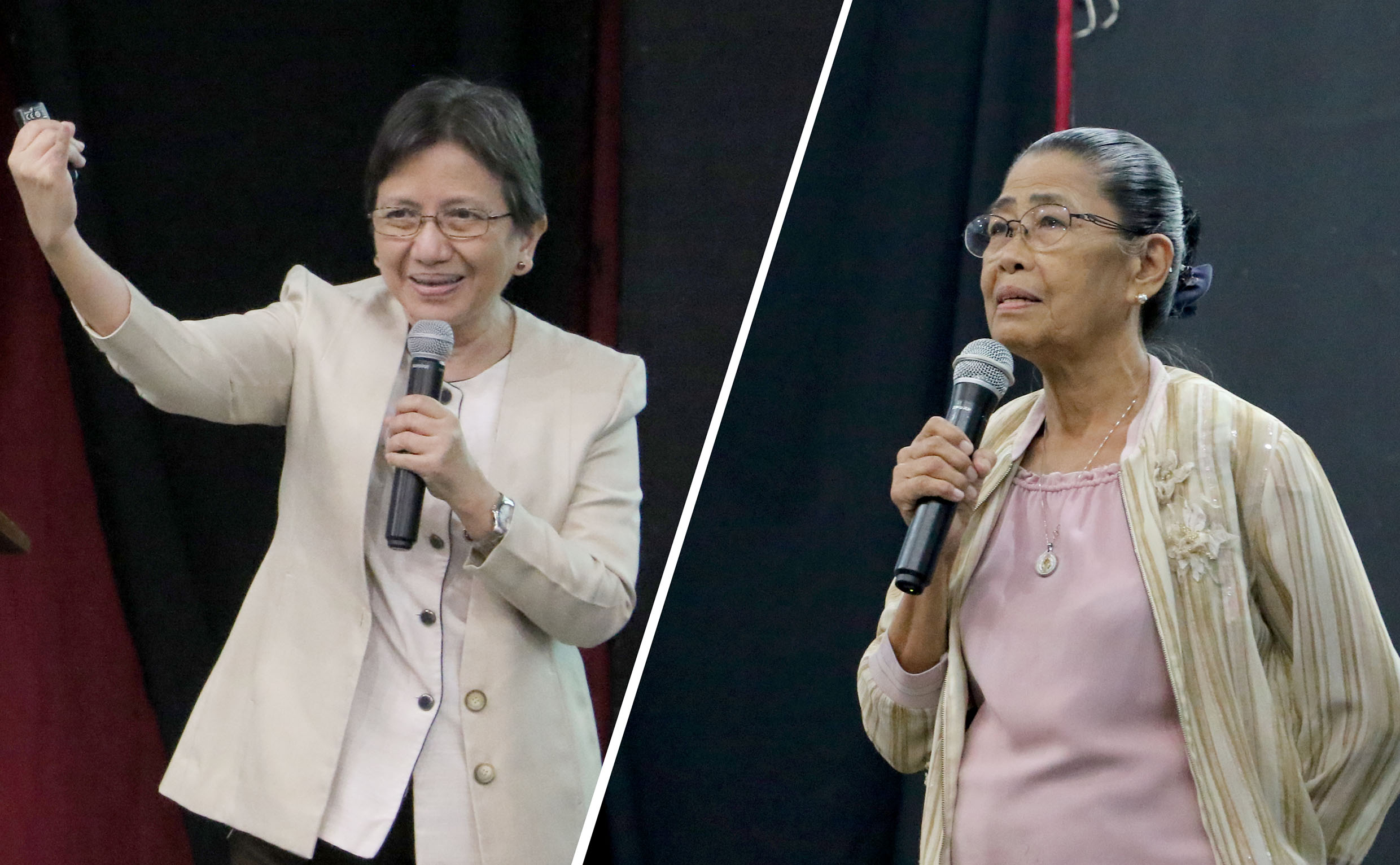 Survivors recall Martial Law ordeal
"We are here bringing with us a torch. Keep the light burning and pass it on to the next generation."
Thus, said Martial Law survivor Hilda Narciso to UPLB students as she recalled her personal story and sufferings as a political prisoner during the dictatorial government of former President Ferdinand Marcos.
Through signing the Proclamation No. 1081 on Sept. 21, 1972, Marcos put the entire country under Martial Law.
According to Narciso's fellow survivor Maria Cristina Bawagan, illegal arrest, torture, salvaging, and enforced disappearances took place during this period.
"Maging mayaman ka, maging mahirap, basta taliwas sa kagustuhan ni Marcos ang iyong ginagawa, pwede kang mamatay," Bawagan said.
Narciso and Bawagan headlined the symposium "Martial Law: echoes from the past" at CAS Auditorium on Sept. 18, three days before the 47th anniversary of the declaration of Martial Law.
Both belong to the speakers' pool of Bantayog ng mga Bayani, a memorial center dedicated to the martyrs and heroes of Martial Law.
During the symposium, Narciso and Bawagan talked about the tortures and abuses that they and fellow victims experienced during this episode of contemporary Philippine history.
Some of the forms of tortures that Martial Law victims suffered from, Bawagan recalled, included electric shock, water cure, dunking of head in a toilet bowl full of excrement, "Russian roulette," being buried alive, being stripped naked, being hung upside down, and sexual abuse.
"Bakit tayo nagtuturo about this? Hindi dahil sa may hatred sa puso natin; hindi dahil sa gusto nating gumanti. Gusto lang natin na ang katotohanan ay lumabas at matuto mula sa nakaraan, magkaroon ng values, magkaroon ng respeto sa karapatang pantao, at magsakripisyo para sa kawsa na ito," Bawagan explained.
Narciso added: "Sinasabi namin sa inyo ang katotohanan because it is the truth that will set you free."
As she recalled her painful memories, Narciso still lifted lessons from her ordeal. "It was quite a symbolic way to live a life inside the jail. You will learn so much, you will love each other more. You will know how people live and survive," she said.
In the open forum, Bawagan encouraged the students to help spread facts about Martial Law through legitimate online sources. She also urged them to help document Martial Law stories through interviewing the remaining survivors.
The learning event is one among the series of activities that the UPLB Department of Social Sciences (DSS) is holding in the campus from Sept. 16-27 in solidarity with the whole UP System.
Since 2018, UP has officially dedicated Sept. 21 of every year as the UP Day of Remembrance "to commemorate and honor the memory of the university's best and brightest who struggled against dictatorship and despotism."
This UP-wide commemoration was made official through Proclamation No. 1, Series of 2018 signed by UP President Danilo L. Concepcion.
Present during the symposium were DSS Chair Zoilo Belano, Jr., DSS-History Division Head Eugene Raymond Crudo, DSS history faculty members including Gloria Melencio, who gave an introductory lecture about Martial Law, and the members of the Upsilon Sigma Phi, the co-organizer of the event.

Aligned with our commitment to: