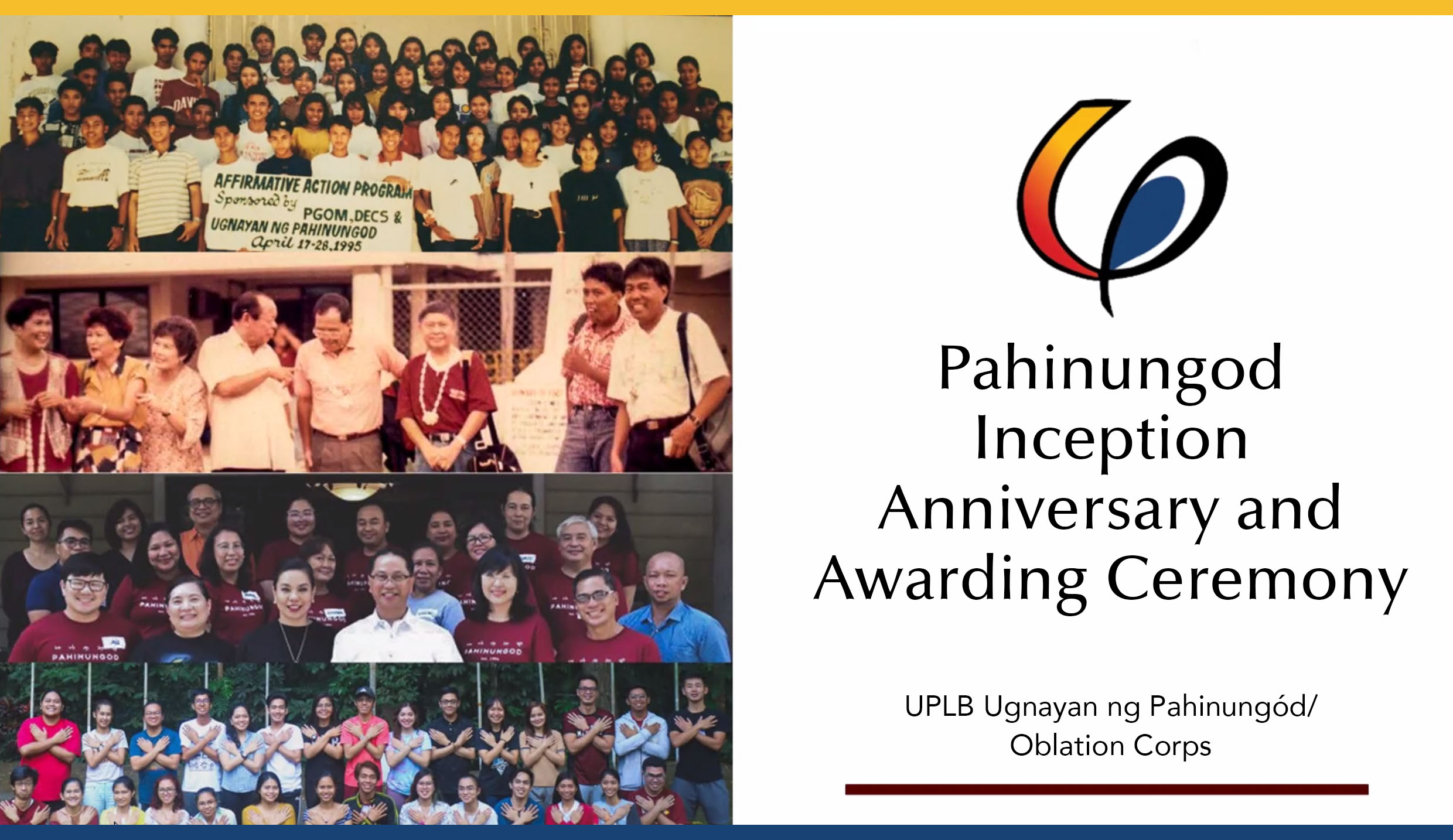 Ugnayan ng Pahinungod marks anniversary, introduces new volunteers
The Ugnayan ng Pahinungod/Oblation Corps, the flagship volunteer service program of UP, celebrated its 28th anniversary on Sept. 30 via video conference.
Twenty three graduates of the Online Volunteer Training Course under the Volunteer Development Program (VDP) were also recognized during the event. Held on Sept. 18-25, the training aimed to provide the new Pahinungod volunteers basic skills needed in community engagement, and in organizing and managing community projects.
Since 1993, the Pahinungod has provided various volunteer service opportunities for over 5,000 students, staff, and alumni while assisting more than 20,000 individuals in remote areas and from marginalized sectors.
Chancellor Jose V. Camacho, Jr. expressed his appreciation of volunteerism even during these times of a pandemic.
"Despite the pandemic and the physical distance between the university and students, we continue to have students sign up. It is heartening to know that the work of the Pahinungod and the dedication of its team members and volunteers remain unwavering even in the most challenging times," says Chancellor Camacho.
In her message, Dr. Marie Therese Angeline P. Bustos, director of Ugnayan ng Pahinungod System, narrated the events that led to the formation of the Pahinungod program.
According to her, it began with a study in 1991 by Maria Luisa C. Doronila and Ledevina V. Cariño which found that UP students prioritized leadership ability, work ethics, intellectual capacity, over social orientation and ethical and moral uprightness.
In 1993, the Philippine Daily Inquirer published an article alleging that UP had lost its "soul" or the "pro-people or maka-masa attitude, identity, and commitment."
It was in response to this, she said, that then UP President Emil Q. Javier launched the Ugnayan ng Pahinungod in all UP-constituent universities (CUs).
The program was devolved to the CUs in 2001, but in 2019, President Danilo L. Concepcion signed EO No. PDLC 19-01, reinstating the Ugnayan ng Pahinungod as a system-wide initiative of the University.
"Many good things come from critique and the Ugnayan ng Pahinungod is one good thing that resulted from a critique of the University. So, every September every year, we ask ourselves, have we kept our soul? Have we been true to what UP stands for?" said Dr. Bustos.
Dr. Bustos pointed out to the volunteers that contrary to the study by Doronila and Cariño, they can hone their leadership skills, develop their work ethic, and exercise their intellectual capabilities and do this with a social orientation in mind.
The program concluded with the launching of the official website of UPLB Ugnayan ng Pahinungod at https://pahinungod.uplb.edu.ph/.
Jose Limbay Lahi O. Espaldon, director of UPLB Pahinungod encouraged visitors of the website to provide their feedback in order to improve the online platform. (JGS Sarol)