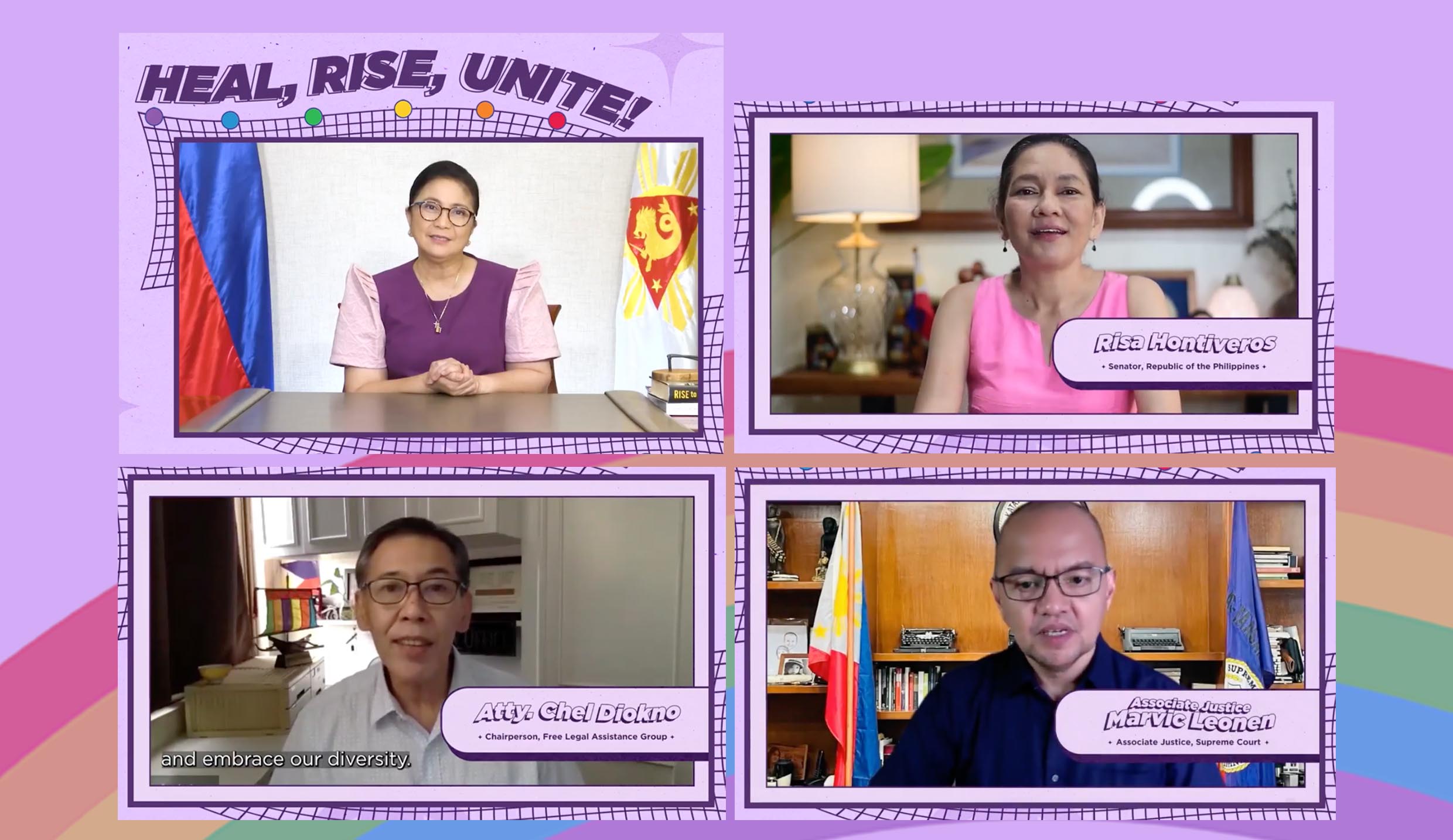 UP holds month-long Pride celebration to "heal, rise, and unite"
October is a busy month for UP Pride, filled as it is with programs and activities led by various organizations and offices in the UP System, and by its supporters, as well.
UP Pride, which began as an annual week-long celebration of LGBTQI Pride in 2008, was institutionalized in UPD in 2016. This year, it became a UP-wide and a month-long celebration.
The celebration theme across the University is "Calling the community to heal, rise, and unite."
The celebration was opened in UPLB by Chancellor Jose V. Camacho, Jr., who expressed his excitement that UP Pride is now being celebrated in all UP campuses.
He said that UPLB is a proudly ally of the LGBTQ plus community, and expressed his support for the call for a university-wide policy on protecting persons with diverse sexual orientation, gender identity, and expression and sex characteristics or SOGIE SC.
"It is high time that we develop and implement such a policy not only to protect the members of the LGBTQ plus community against acts of discrimination but also to achieve real gender equality and equal opportunity among UP's diverse constituents, Chancellor Camacho said. He enjoined the UP community to lead by example and to inspire others to do the same.
The highlight of the celebration was a program on Oct. 8 that was headlined by influential personalities who sounded the clarion call for inclusion, namely: Vice President Leni Robredo, Senator Risa Hontiveros, Associate Justice Marvic Leonen, and Atty. Chel Diokno who each expressed their support through videotaped messages.
Sen. Hontiveros, for her part, said that as the pandemic drags on, the community needs what the LGBTQIA plus community preaches and braves every day as the undeterred and unshakable force of love. She, however, reminded the community of the need to rest.
"Every year, we talk about the resounding need to carry on, to be brave, to be resilient, take this Pride as a reminder to rest. Rest will allow you to stay the course, recharged, and energized. Rest is also freedom that despite all the hate hurled at you, you are allowed to step away from it, even in small ways, to live life not defined by your pains. That is the spirit of pride. Rest is a part of your revolution," Sen Hontiveros said.
Atty. Diokno expressed his agreement on the choice of the celebration theme and echoed the sentiment that it's time to heal, rise, and unite.
He encouraged the public to join the community to push for equality and human rights for all, and to be against discrimination. "Let us open our hearts and embrace our diversity," Diokno said.
AJ Leonen expressed his support for the celebration of UP Pride. He advised the community to always take pride in who they are and also emphasized the importance of promoting understanding diversity.
"Every day, in every engagement, we should seek to enlighten and assist others to understand. When others understand the diverse identities we have, our society can become a kinder and more compassionate space. This is when we will really heal," AJ Leonen added.
VP Leni Robredo expressed solidarity with UP in its celebration of UP Pride. In her message she said that Philippines takes pride in being one of the gender-forward nations in the world, quoting a 2019 report saying that 73% of Filipinos agree that homosexuality should be accepted by society.
VP Robredo also praised members of the LGBTQIA+ community who are successful in various fields, and because they inspired and gave countless others reason to hope.
She said that despite these achievements, there is still a long way to go to establish a fair society that truly respects the dignity of each individual.
"I recognize the efforts to push for the SOGIE equality bill; until now we are pushing for its fruition. Even though the majority in the country accepts the LGBTQIA+, the government and institutions cannot yet guarantee their equal rights which means our country still has a long way to go to become a progressive country, a society that celebrates diversity and embraces the community for what it stands for," VP Robredo added.
She encouraged the members to channel their frustrations to ignite greater passion and deeper resolve to forge on and said that that they should seek to build greater solidarity in their community.
"Dahil ngayon, ngayong may momentum tayo, ngayong dumadami ang nahahawa sa ating tapang, ngayong lumalawak ang hanay ng matatawag nating allies, ngayon ang best time para mag kapit bisig, para humugot ng lakas sa isat-isa, at itulak ang pagbabago na matagal na nating ipinaglalaban. Patuloy na makiisa, makilahok, at wag magsawang rumampa, sa ngalan ng prinsipyo at paniniwalang nagbibigkis sa inyo, kaisa ninyo ako sa pagtupad ng pangarap na ito. Isang lipunan kung saan lahat nasisilungan, lahat natutulungan, lahat naaruga, ano man ang kasarian o katayuan sa buhay. Kung saan itinuturing natin ang isa't isa bilang kapatid, bilang kapwa tao, as fellow human beings with the same rights and dignity who are worthy of love, celebration, and pride."
(Now that we have the momentum, that many are infected by our courage, and our ranks have increased, now is the best time to unite, to draw strength from each other in order to fight for the changes that we have long fought for. Let us continue to unite, to take part and be involved, to not tire of fighting in the name of principles and unifying beliefs. I am one with you in fulfilling this dream of one society where everyone can take shelter, given help, cared for, no matter their gender and station in life. One where everyone treats each other as fellow human beings with the same rights and dignity who are worthy of love, celebration, and pride.)
Joining the month-long celebration were different representatives from the UP constituents, student community, and LGBTQIA+ allies across the country. The video of the event as well as the scheduled activities of UP Pride is available at the UP Pride official Facebook Page. (KEAraguas)