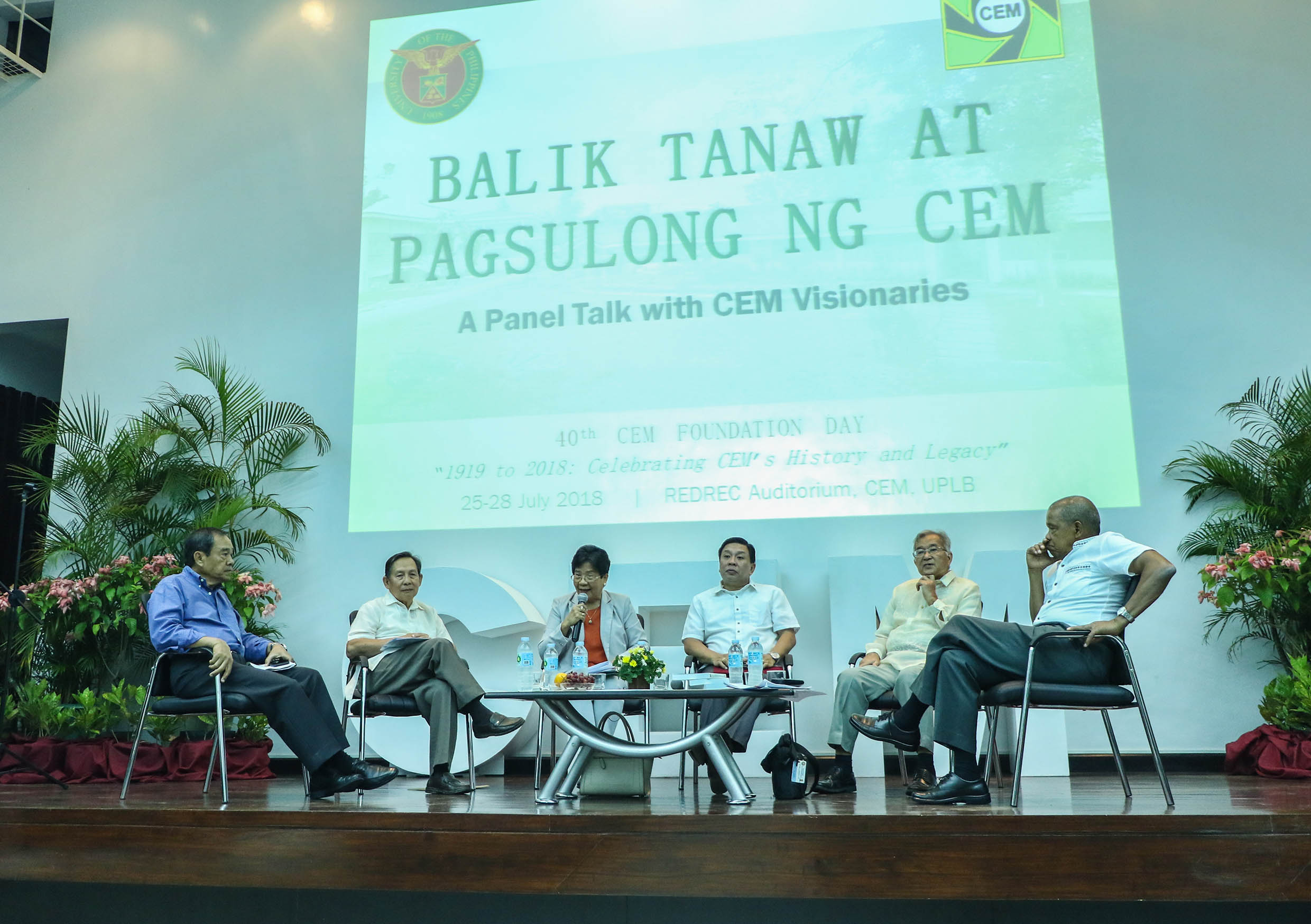 UPLB-CEM looks back on its 99-year history
The College of Economics and Management (CEM) took a trip down memory lane a year before its centenary.
Its past administrators and retired professors looked back at CEM's 99-year history and shared insights on the future direction of the College during a panel talk on July 26 at the REDREC Auditorium.
Dr. Isabelita Pabuayon, dean of CEM and moderator of the panel talk, recalled that CEM started as the Department of Rural Economics (DRE) in 1919 before becoming a college in 1978. The DRE was eventually renamed as the Department of Agricultural Economics, and was recently rebranded as the Department of Agricultural and Applied Economics (DAAE).
The College has three other units – the Department of Economics (DE), the Department of Agribusiness Management and Entrepreneurship (DAME), and the Institute of Cooperatives and Bioenterprise Development (ICOPED).
According to Dr. Liborio Cabanilla, former dean, the evolution of CEM was "a natural consequence" of what was happening in the society. "We know as students of agriculture and economics that through time, the significance of agriculture will naturally decline," he said.
He called the creation of DE in 1975 as a "smart move" amid the anticipated phenomenon, a fact that Dr. Pabuayon elaborated on. "Probably during that time, the share of the agricultural sector to the Philippine economy was 30-40%, as compared to about 10% now," she said.
Dr. Eulogio Castillo, former director of ICOPED, looked back on UPLB's leadership in agricultural economics and rural development. He underscored the role of cooperatives in addressing inequalities, calling it a "grassroots program dealing with people" that is necessary for national development.
Dr. Castillo also called for further expansion of agricultural economics and hoped for professionals with higher level of confidence and certainty about particular commodities, such as coconut. "That expert in coconut economics should understand the fats and oil markets in the world, the technical specifications for coconut, and the products development in coconut," he explained.
Meanwhile, Dr. Tirso Paris, Jr., past dean, shared his opinion about CEM's emerging fields – entrepreneurship and environmental, energy, and food and nutrition economics to the audience. He said, "these new fields are very important and relevant. If we will pursue our traditional and add-on these new fields, then we have to grow in terms of personnel and degree programs."
Adjunct Professor Jimmy Williams of DAME recalled how the agribusiness program of CEM responded to the changes in agriculture in the 1970's. "Now, when you talk about value chain, it is agribusiness system – from the production to consumers," he said.
He added that CEM should focus on helping solve current issues on energy, fresh water, and food production. Doing so, he said, would also maintain the enthusiasm of alumni in supporting the College, one thing that it enjoys, as Dr. Cabanilla and Chancellor Fernando C. Sanchez, Jr. affirmed.
"The evidence is clear now: this building that we are using, the REDREC, is through one of our alumni; the building that we'll be getting very soon is through one of our alumni, too," said Dr. Cabanilla, who is also the executive director of the CEM Alumni Foundation, Inc.
"You have a very good relationship with your alumni that every time they come back to your College, they think of the help that they could give to you," Chancellor Sanchez noted. He also underscored the role of CEM in incorporating entrepreneurship in the revised undergraduate curricula of UPLB, a step that aims to produce employers among future UPLB graduates. (Mark Jayson E. Gloria)