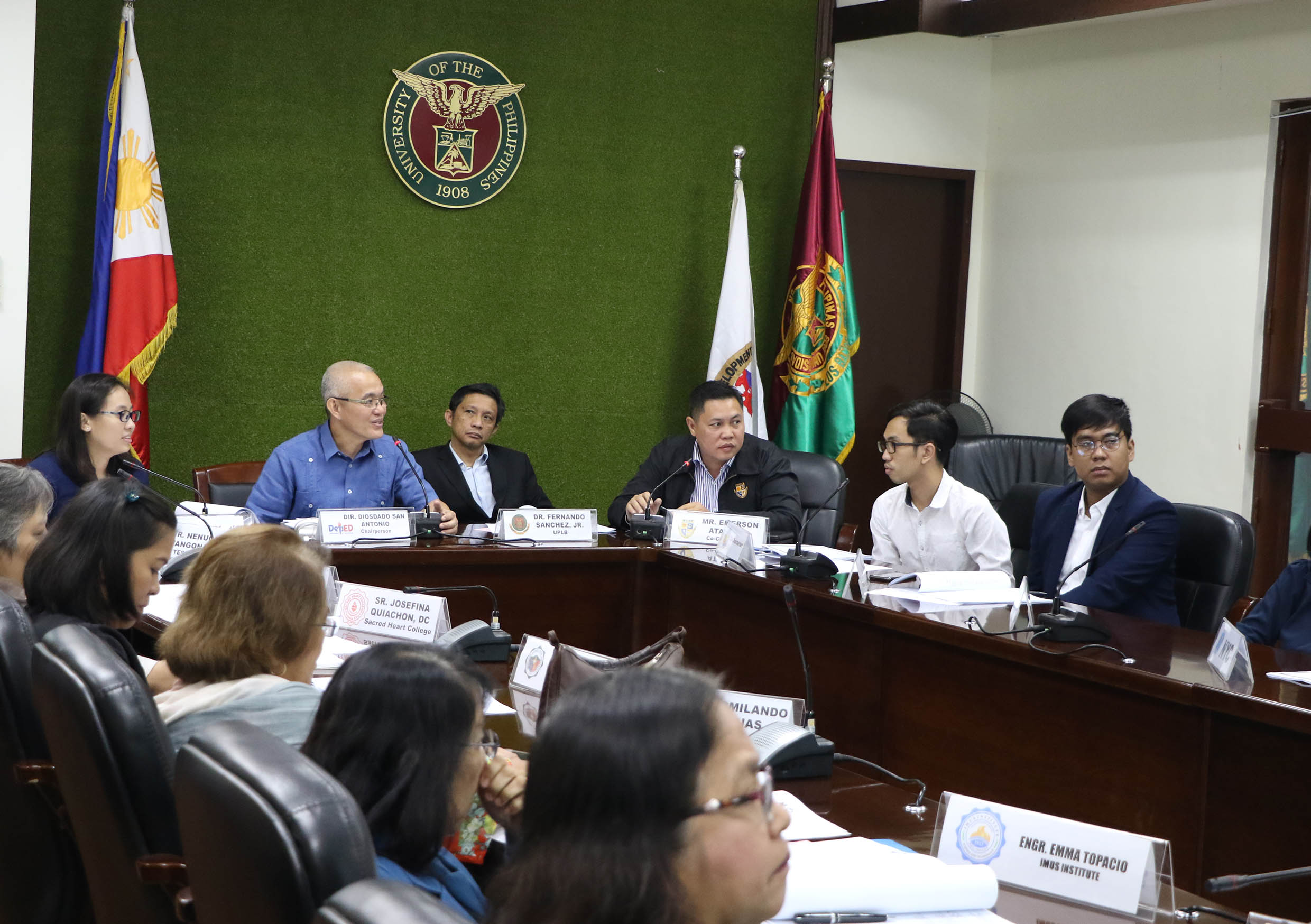 UPLB hosts CALABARZON's educ meeting
UPLB joined fellow members of the CALABARZON Regional Committee on Quality Education for All (RCQEFA) to tackle the status of Region IV-A's education sector on July 17 at the Executive Conference Room, BM Gonzalez Hall.
As host of the RCQEFA's 3rd Quarter Meeting, UPLB welcomed the representatives from line agencies, state universities and colleges (SUCs), higher education institutions (HEIs), and local government units from Cavite, Laguna, Batangas, Rizal, and Quezon.
They discussed the construction of Senior High School (SHS) buildings, provision of learning materials and facilities, and teacher to classroom and classroom to student ratios in CALABARZON. Presiding the meeting was Dr. Diosdado San Antonio, committee chairperson and regional director of Department of Education IV-A.
Updates on the Unified Financial Assistance System for Tertiary Education Act (UniFAST) and its provision on voucher system and career guidance program were also presented by Jason Roque, senior regional coordinator of UniFAST CALABARZON, during the meeting.
Representatives of five SUCs also presented their preparatory activities for incoming SHS graduates. These SUCs are Cavite State University, Laguna State Polytechnic University, Batangas State University, University of Rizal System, and Southern Luzon State University.
Dr. Serlie B. Jamias, vice chancellor for community affairs, on behalf of Chancellor Fernando C. Sanchez, Jr., ensured that UPLB's goals and priorities are fully aligned with those of the committee and the HEIs in the Region.
"We are dedicated to ensuring that education in all levels of CALABARZON can be as developed and responsive to the changing needs of our society," she said.
The RCQEFA is a subcommittee of the Sectoral Committee on Social Development (SCSD) under the Regional Development Council. The SCSD is mandated to coordinate and promote social development and evaluate major development issues and concerns of the CALABARZON. (John Glen S. Sarol)