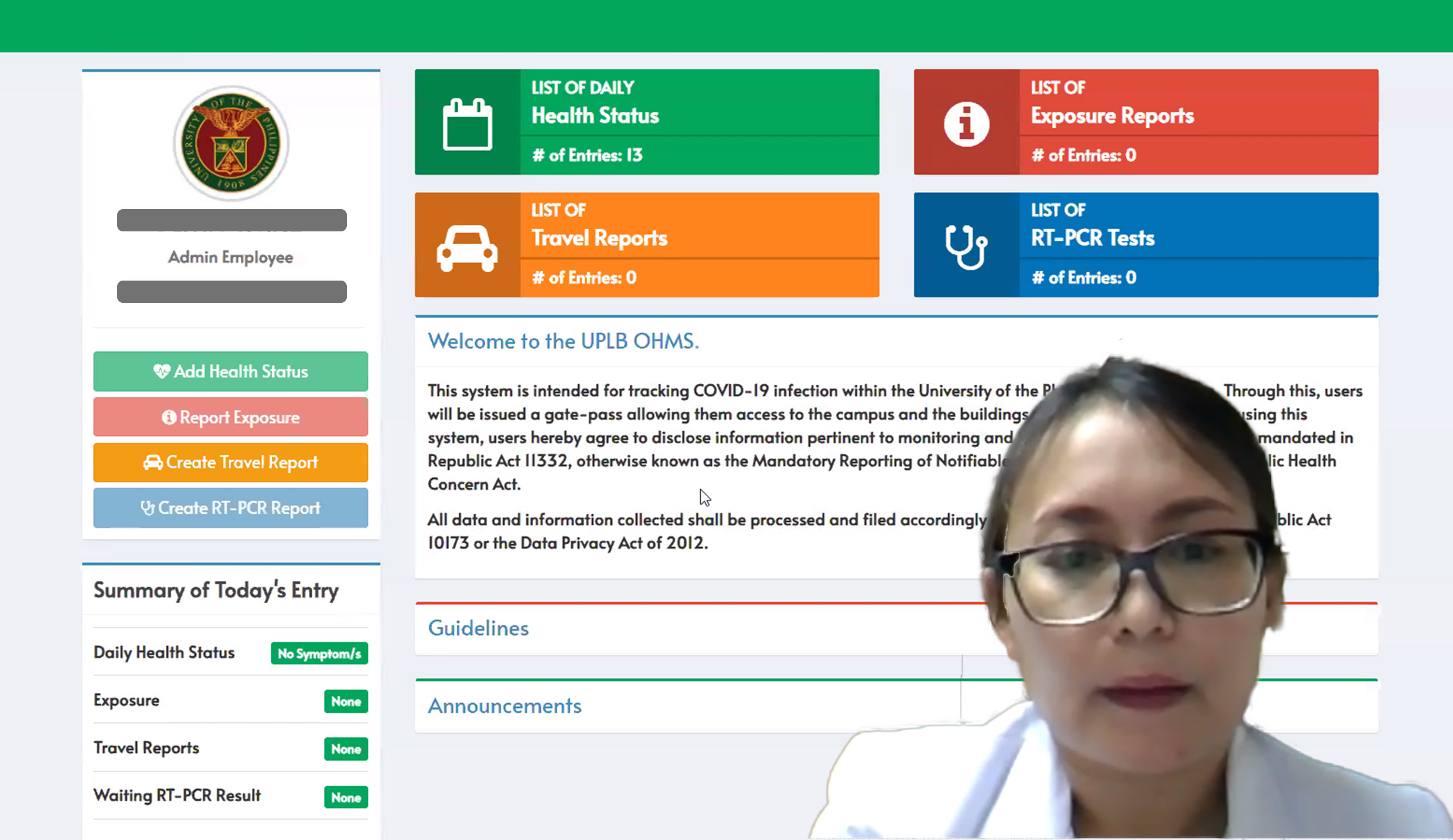 UPLB to roll out internal contact tracing system
A digital contact tracing and monitoring system will soon be implemented in the UPLB campus to prevent the spread of COVID-19. This was announced in an orientation webinar on Nov. 27 led by the University Health Service (UHS).
Dr. Myla Lourdes R. Avena, deputy director of UHS, said that UPLB's Online Health Monitoring System (OHMS) is now on a test run at UHS. It collates information on UPLB employees' health status and their office designation to make contact tracing in the campus more efficient. It also keeps a database of the employees who can report to work physically to monitor the maximum number of people allowed at each unit.
Once rolled out in the campus, UPLB employees can use the OHMS to generate a unique daily gate pass to gain access to campus buildings.
OHMS is a joint project of UHS and the UPLB Information Technology Office.
The webinar also introduced the QR-Code Contact Tracing System that the Municipal Government of Los Baños (MGLB) began implementing in October.
Dr. Alvin Isidoro, municipal health officer and vice chair of the task force for COVID-19 at MGLB introduced the program, called the "Ligtas Ang Bayan (LAB) Laban sa COVID-19." The contact tracing system lets Los Baños residents register online to generate a QR code or "LAB ID" which they can use to enter public establishments.
The LAB ID can also be used to monitor those with quarantine restrictions and implement the scheduled odd-even schemes in public markets.
Dr. Avena said that the LAB ID will be implemented in the campus with UPLB's OHMS, as part of preparations being made for the gradual reopening of the campus. (Jessa Jael S. Arana)