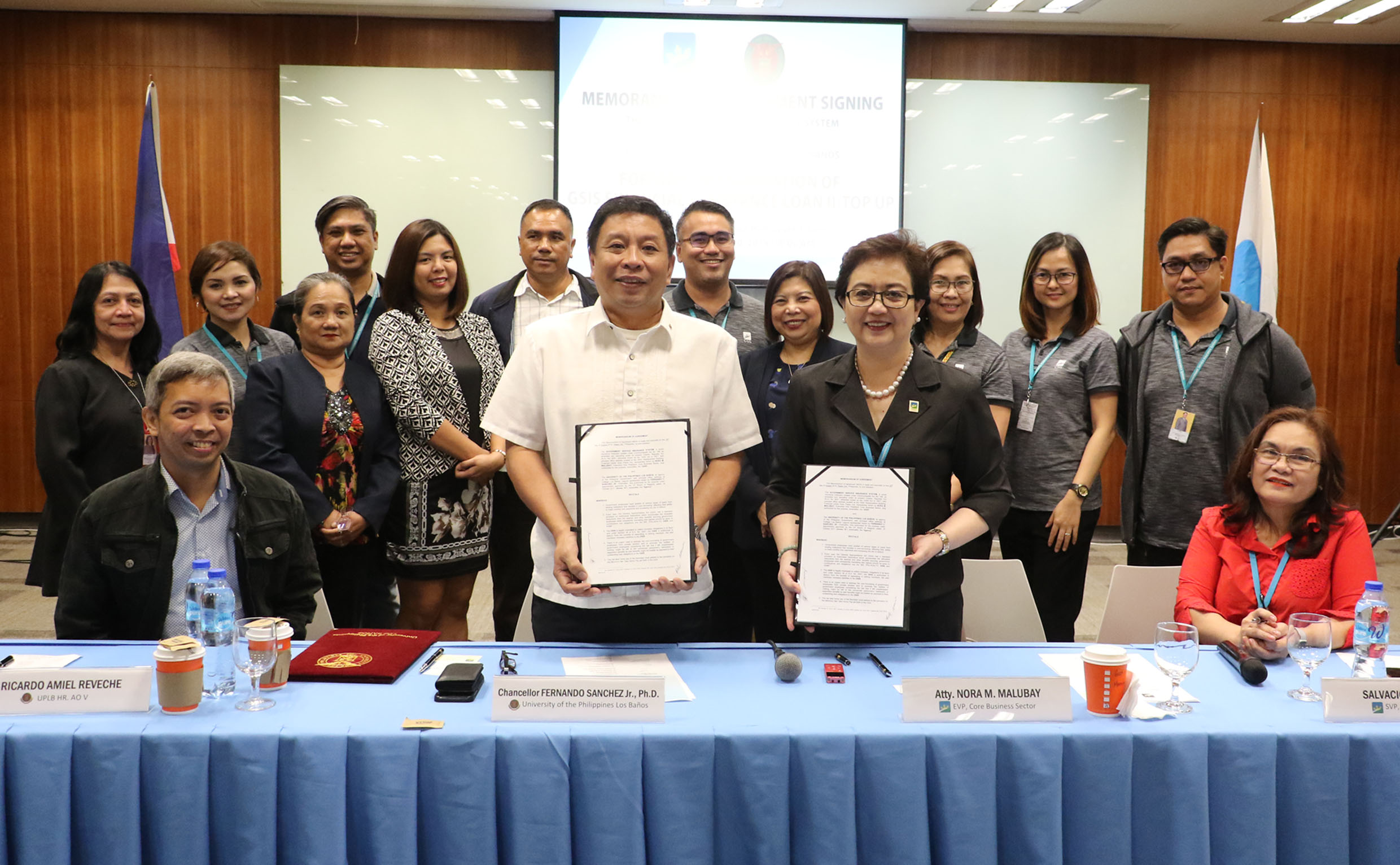 GSIS loan transfer, top-up program is now available to UPLB employees
UPLB employees can now transfer their loans of up to PhP500,000 from accredited lending institutions to the Government Service Insurance System (GSIS) through the GSIS Financial Assistance Loan (GFAL) II/Top Up program.
Through GFAL, GSIS will directly pay lending institutions, this time with a lower interest rate of 6% per annum and longer repayment period of six years.
If a member's total loan is below PhP500,000, the balance may be applied for as a Top-Up Loan, and will be directly payable to the borrowers through check.
GFAL aims to improve financial capacity of members and help refinance outstanding loans with lending institutions.
UPLB and GSIS signed the Memorandum of Agreement (MOA) signifying the availability of the said loan facility for qualified university employees on Aug. 30 at the GSIS Head Office, Manila.
Qualified to apply for the loan program are active regular or special GSIS members who have permanent employment status, have no pending administrative case or criminal charge, and are not on leave without pay.
They should also have at least three years of period with paid premiums, have no due and demandable loan account with GSIS, and have a take-home pay not lower than PhP5,000, which is required under the General Appropriations Act after all monthly obligations have been deducted.
Borrowers may apply for GFAL and Top-Up Loan only once.
In his message during the occasion, Chancellor Fernando C. Sanchez, Jr. shared his enthusiasm over the opportunity for the UPLB workforce to consolidate their loans and make their loan payment much more straightforward and manageable.
"We are confident that many UPLB employees will see the availability of GFAL II/Top Up a more practical and sustainable option to go about their existing loan and eventually be debt-free," he said.
Present during the MOA signing were Atty. Nora Malubay, executive vice president for GSIS Core Business Sector and Salvacion Mate, GSIS Luzon Group senior vice president.
Also present were UPLB's Ricardo Amiel Reveche, chief of Employee Benefit Section, Human Resource Development Office; and Margarita Maghirang, officer-in-charge of the Payroll Section, Accounting Office. (John Glen S. Sarol)