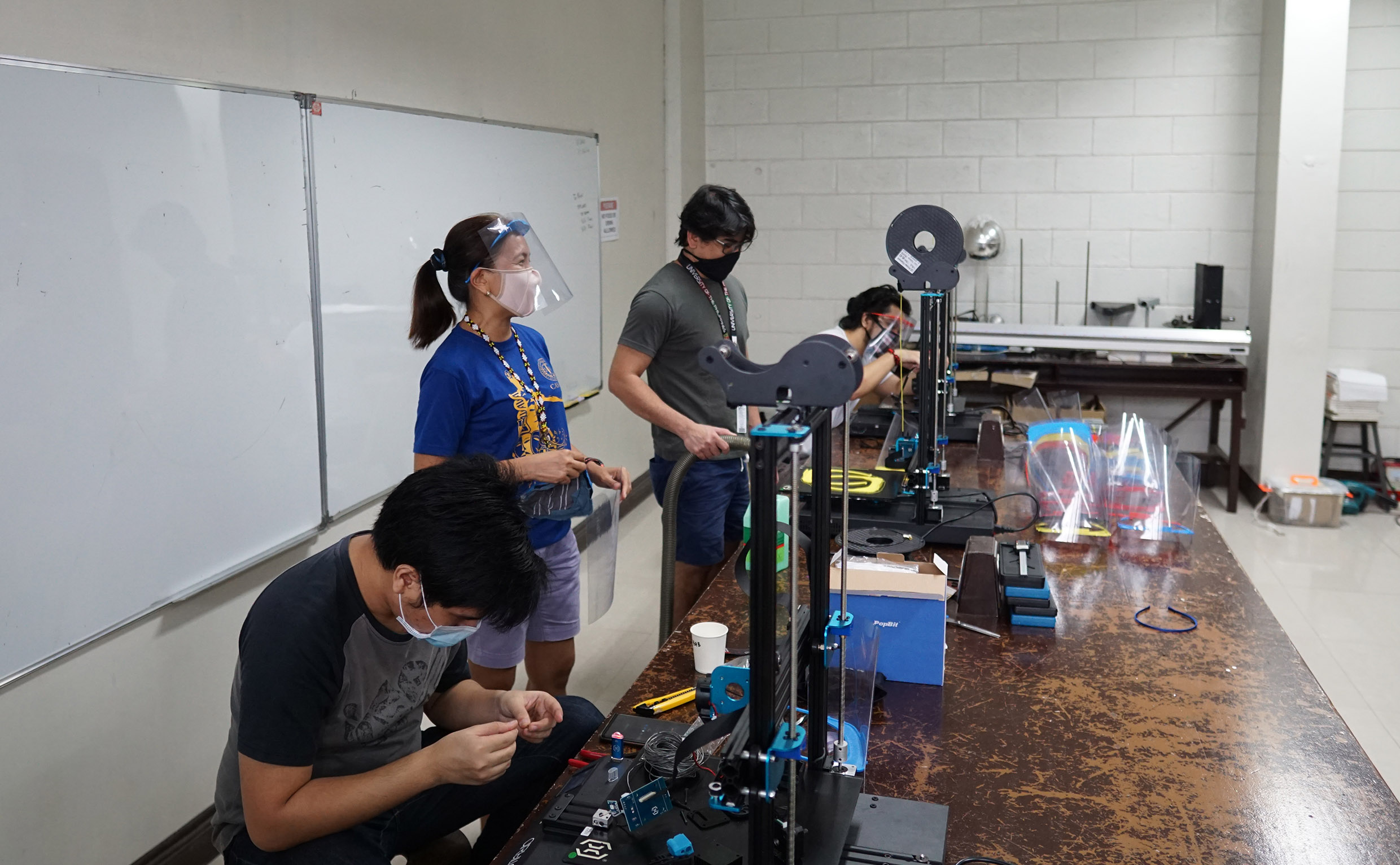 IMSP FabLab makes medical accessories for frontliners
Fighting the COVID-19 pandemic has made UPLB colleges and institutes step up to do their part.
One of these is the Institute of Mathematical Sciences and Physics of the College of Arts and Sciences (CAS-IMSP), some of whose faculty members are part of  the Committee for Technology and Facility Innovation of the UPLB Task Force Laban ng Bayan Kontra Covid-19.  
Before the committee was created on April 6, the institute had already organized the IMSP Fabrication Laboratory (FabLab) on March 27 to help address the shortage of medical facilities and equipment amid the pandemic.
Now under the bigger UPLB committee, it has designed, made prototypes, and produced portable mechanical ventilators and accessories, such as splitter tube and face shields, and personal protective equipment (PPE) accessories, including ear guards and filter adaptors for snorkel masks.
To date, the IMSP-FabLab has donated fabricated face shields and other PPE accessories to the frontline workers inside and outside UPLB.
The University Housing Office received 85 pieces of 3D-printed face shields and 60 pieces of laser cut ear guards; the University Police Force received 25 face shields; while the University Health Service got 40 face shields from the IMSP FabLab.
Outside the university, the IMSP FabLab team has reached out to a nearby hospital and community frontliners.
The HealthServ Los Banos Medical Center received 30 pieces of 3D-printed endoscope splashguards, 50 pieces of ear guards, and three prototype filter adaptors for snorkel masks for its health care workers.
Meanwhile, Brgy. Putho-Tuntungin, situated adjacent to the campus, received 30 pieces of 3D-printed ear guards as additional protection for its community frontline workers.
Fifty (50) special 3D-printed facemasks were also shipped to front liners in Aklan and Coron, Palawan.
The IMSP FabLab, in cooperation with the Committee for Technology and Facility Innovation, is producing more of these medical accessories to protect frontline workers.
Partners and benefactors have been helping the IMSP FabLab in its goal to help the community.
These include the Philippine Australian Alumni Association, Inc.-Southern Tagalog Chapter (PA3i-ST); Mario Domingo of the Domingo Artificial Intelligence Center who donated two 3D printers and printing materials worth approximately PhP 100,000; and UP Rural High School Class of 1979, which donated one 3D printer and printing materials worth PhP 65,000.
The Perry S. Ong Foundation donated one laser cutter machine worth PhP 290,000 and maintenance and other operating expenses worth PhP 103,090. IMSP also generated PhP 39,500 from cash donations .
The IMSP FabLab is co-chaired by faculty members Jason R. Albia, Nelio C. Altoveros, and Ben Paul B. Dela Cruz.
Members of the team are Dr. Ivy R. Colambo, Emmanuel A. Florido, Dr. Marvin U. Herrera, Dr. Editha C. Jose, Dr. Allan Abraham B. Padama, Dr. Darwin B. Putungan, Mojhune Gabriel Manzanillo, Lei Rigi Baltazar, and Joverlyn Gaudillo. (KEAraguas with reports from IMSP FabLab)
Aligned with our commitment to: