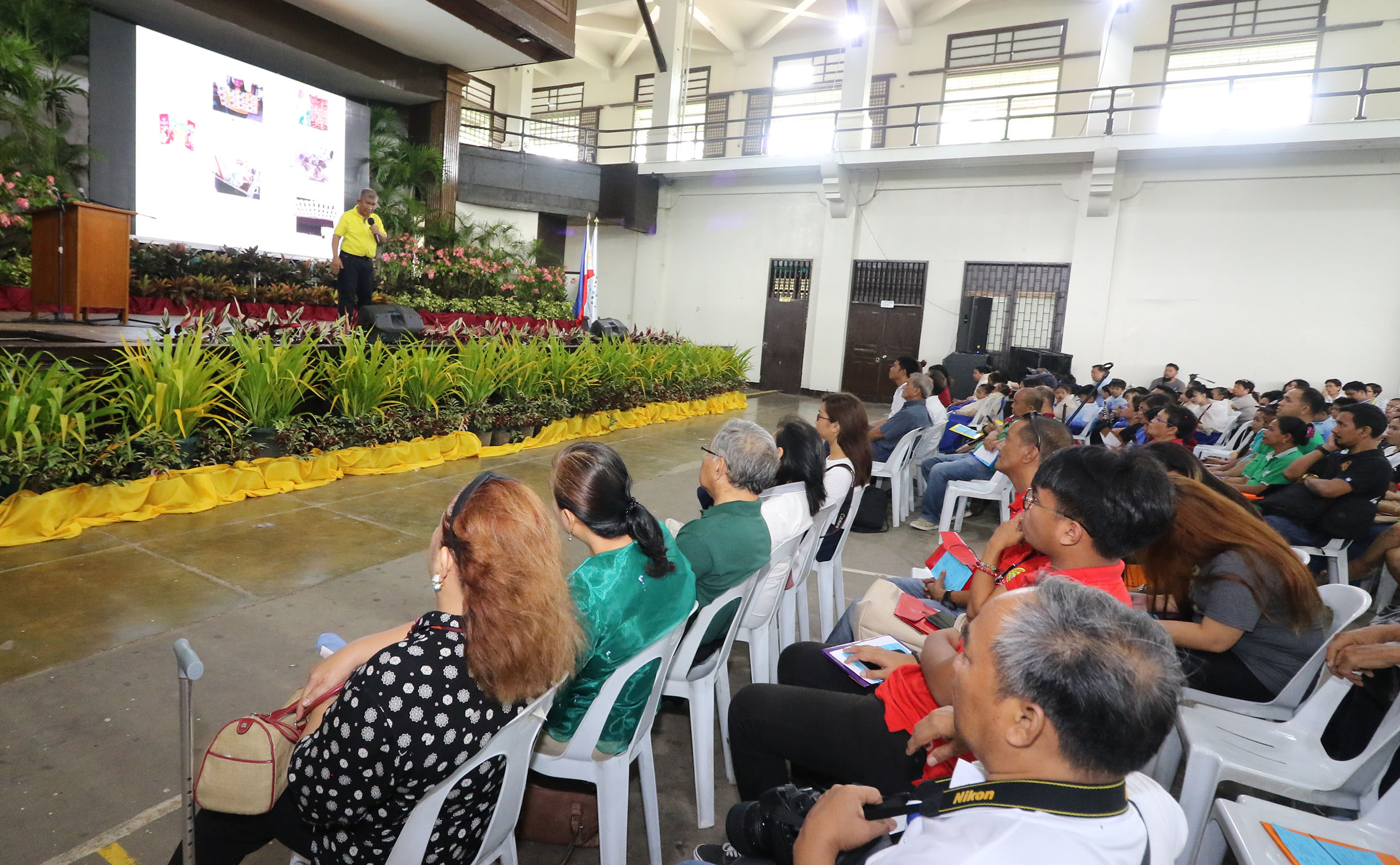 SyenSaya techno forum addresses plastic waste problem
According to the United Nations, the world produces approximately 300 million tons of plastic waste per year, making it perhaps the single most common non-biodegradable waste material of human society.
One of the best ways to minimize plastic waste is community awareness and involvement, which was the primary theme of SyenSaya 2019's Technology Forum entitled "Ang plastik mo: isang talakayan patungkol sa kalinisan ng pamayanan" that was held on Aug. 29 at Baker Hall, UPLB.
During the forum, the local government unit (LGU) of Los Baños highlighted the municipality's pioneering No Plastic Ordinance, one that bans the use of plastic for dry goods and regulates its use for wet goods, and its other waste management practices.
Dr. Antonio Alcantara, Los Baños Municipal Environment and Natural Resources Officer and a retired professor of UPLB, outlined these programs and discussed the waste management hierarchy of reduce, reuse, recycle, recovery, and disposal.
According to him, "reduce" should be the most preferred and "disposal" the least among waste practices. He emphasized the importance of consumer participation and discipline in achieving a plastic-free community.
Following Dr. Alcantara's talk were testimonials from two barangay officials on their villages' best practices on waste management.
Putho-Tuntungin's Barangay Captain Ronaldo Oñate discussed their community efforts against plastics, particularly the establishment of the prescribed Materials Recovery Facility, an ongoing campaign promoting ecobricks to households, and a future biogas project.
Meanwhile, Baybayin Barangay Councilor Thomas Josephus Baes talked about their barangay's strict adherence to the No Plastic Ordinance, weekly cleaning of canals, and information campaign on cleanliness, waste management, and public health.
Both testimonials claimed that participation and discipline among community members contributed to their environmental programs.
Concluding the forum was Marilyn Apacionado, community development officer at the Laguna Lake Development Authority (LLDA), who discussed the effects of plastic waste on the health of Laguna de Bay and how to minimize them. Los Baños is one of the towns surrounding the lake.
She also presented LLDA's on-going projects, such as the Laguna de Bay Institutional Strengthening and Community Participation (LISCOP) and the Young Environmental Stewards Program.
These, she said, seek to empower communities nearest to the lake and the 100 streams and rivers that drain into it, and to ensure that these communities are practicing proper plastic waste disposal and management.
Among those who attended the forum were representatives from LGU-Los Baños and its barangays, students, and residents of the town and nearby communities.
Present during the forum were Dr. Lydia Manguiat, assistant regional director of the Department of Science and Technology-Calabarzon, and Dr. Serlie Barroga-Jamias, vice chancellor for community affairs of UPLB.
In her message, Dr. Manguiat related the forum's relevance to what is considered the most interconnected among the 17 Sustainable Development Goals set by the United Nations, the Goal 12 (Responsible Consumption and Production).
Meanwhile, Dr. Jamias shared to the audience UPLB's efforts to create a "green university" and its cooperation with Los Baños on proper waste management, including the fight against plastic wastes. (Albert Geoffred B. Peralta)