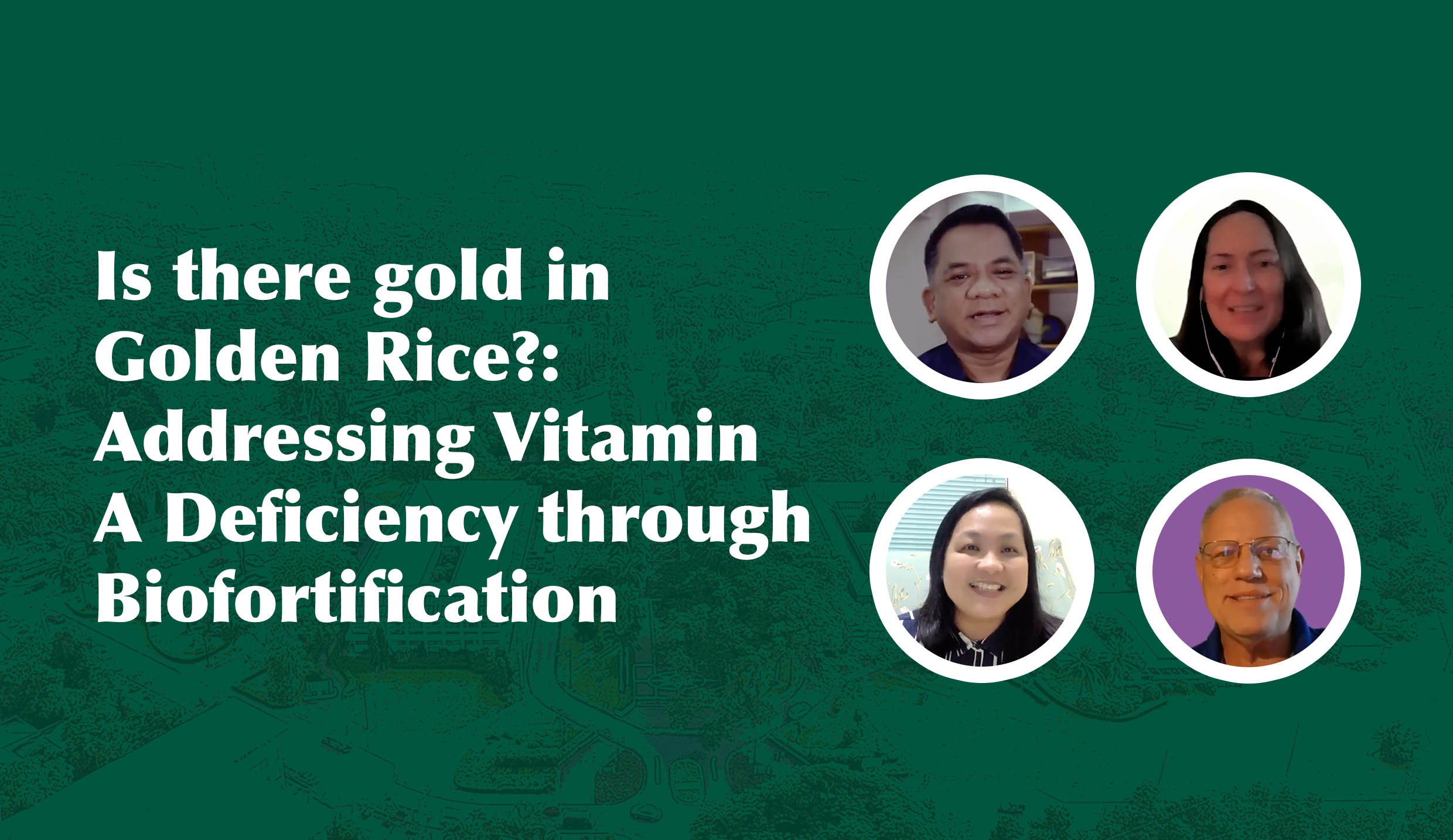 IHNF webinar searches for the "gold" in Golden Rice
The Institute of Human Nutrition and Food of the College of Human Ecology (IHNF-CHE) organized a webinar entitled: "Is there gold in Golden Rice?: Addressing Vitamin A Deficiency through Biofortification" on March 23.
The event was held in collaboration with the John Hopkins University Bloomberg School of Public Health and Helen Keller International.
In his opening remarks, Chancellor Jose V. Camacho Jr. cited how the webinar aligns with the Accelerating Growth through One Research and Extension in Action (AGORA), UPLB's unified research and extension agenda.
Chancellor Camacho said that it is consistent with the effort of UPLB to promote food security and sovereignty and One Health under UPLB AGORA.
Dr. Rolf Klemm, Vice President of Nutrition at Hellen Keller International, said that he advocates human-centered, self-reliant, and ecologically stable communities to meet basic human needs such as nutritious food for Filipinos.
He explained his advocacy in relation to Golden Rice and asked for people to have an open mind toward the technology.
Dr. Amanda C. Palmer, assistant professor at Johns Hopkins University, talked about Vitamin A deficiency and its context in the Philippines.
Dr. Palmer is currently studying whether the consumption of the same amount of Golden Rice as ordinary rice can improve the Vitamin A status in children.
She explained the nutritional supplementary benefits and the safety of Golden Rice, emphasizing the latter's abundance in beta-carotene compared to white rice.
Dr. Aimee Barrion, IHNF director, gave the concluding remarks, thanking the organizers and the speakers of the webinar for their contributions to informing the public on the possible nutritional impacts of Golden Rice to combat Vitamin A deficiency.
A replay of the webinar is available on the IHNF Official Facebook Page. (Kristel Hope Villafuerte)