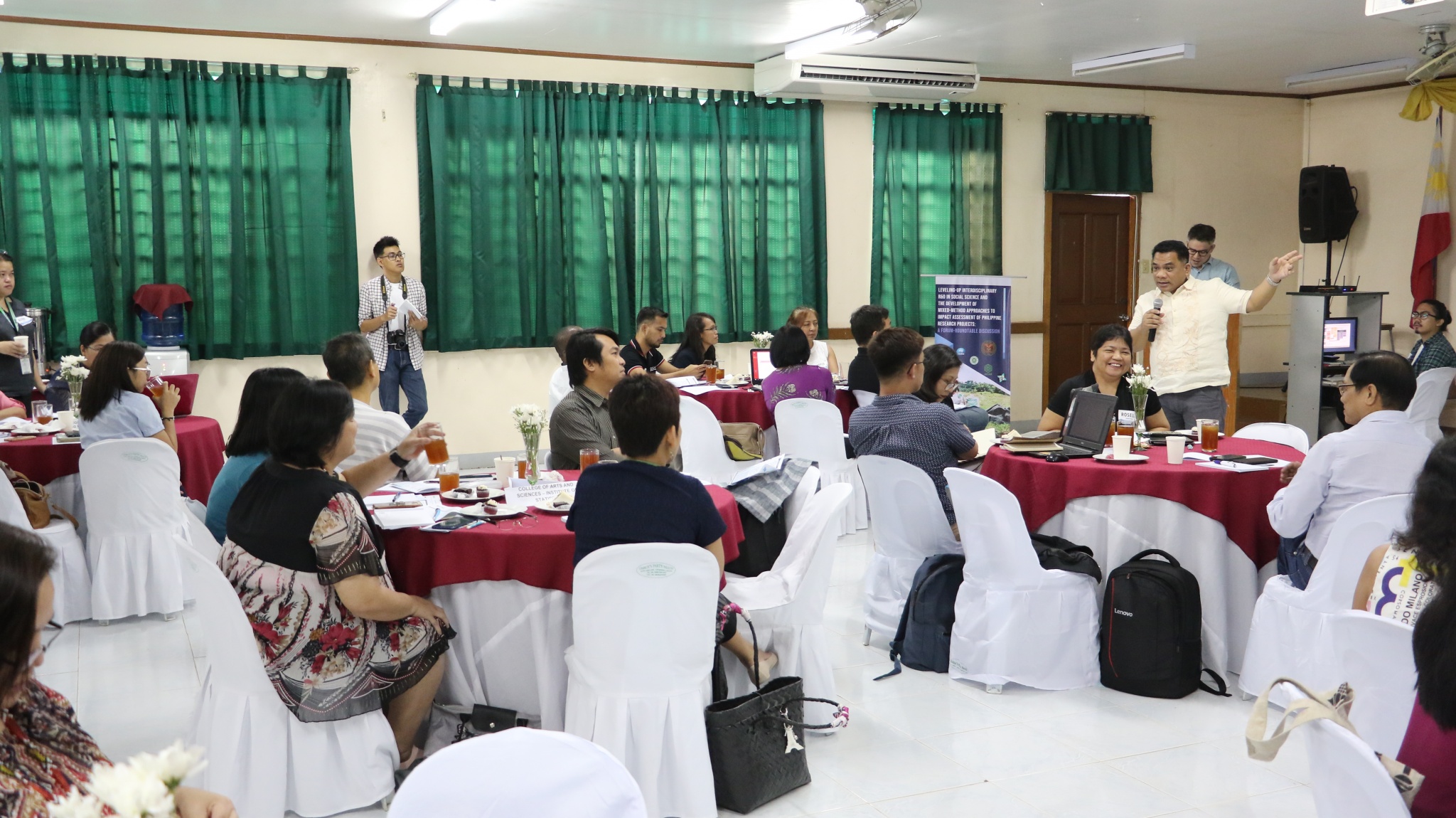 Inter-agency project recalibrates impact assessment for research
Just how much does scientific research and programs affect the life of the everyman?
This is a question that UPLB and its partner institutions are trying to answer, specifically in the Philippine context.
On June 11, UPLB hosted a round table discussion with academic members from the social sciences to review the current headway into developing mixed-method approaches for impact assessment (IA) of research projects in the Philippines.
Dr. Jose V. Camacho, Jr., dean of the Graduate School, explained that their project addresses the increasing complexity of interdisciplinary R&D researches, including agriculture.
Dr. Camacho is one of the project leaders of this DOST- Philippine Council for Agriculture, Aquatic and Natural Resources Research and Development (PCAARRD)-funded endeavor.
According to Dr. Camacho, the current framework for measuring research impacts centers mostly on economic valuation. With the mixed-methods approach, he said that both quantitative and qualitative methods are combined. With the new framework, researches and programs may be examined beyond just hard data and numbers.
As Dr. Camacho put it, "Ang kwenta, may kwento (Numbers have a story behind them)."
"[These research projects] are described to have impacts on society, on people, on human welfare; for instance, reduction in poverty. So the social science field plays a great role in trying to inform what kinds of impacts need to be examined," he added.
During the forum, Dr. Camacho presented the mixed-method approach to impact assessment that they have developed so far.
In developing the framework, their team put particular focus on looking at both positive and negative impacts of research programs, whether they were intended or unintended, and tracing how these impacts came about as a result of the program.
The IA framework was tested in three previous PCAARRD project sites in Davao del Norte, Western Visayas, and Negros Oriental.
After his discussion, the participants held a facilitated group discussion that probed the IA's strengths and weaknesses, its applicability to Philippine agriculture R&D projects, and its 'user-friendliness' to government staff and students.
The participants agreed that there is a need to consider more indicators to capture the effects on the people's experiences as seen in their culture and daily living. There was also emphasis on context mapping wherein effects must be properly attributed to their cause.
The framework was also found too complicated for use by those outside academe. Thus, they suggested that for the meantime, government staff will be the first to undergo capacity building. Students are advised to use only specific parts of the framework for their research.
The forum participants were faculty members and researchers from UPLB, International Rice Research Institute, Visayas State University (VSU), and the United States Agency for International Development.
UPLB had representatives from the College of Human Ecology, College of Public Affairs and Development, College of Arts and Sciences, College of Forestry and Natural Resources, and School of Environmental Science and Management.
The project is a collaboration between DOST- PCAARRD and the Australian Center for International Agricultural Research (ACIAR). It has been on-going since March 2018 and is being implemented by research teams from UPLB, VSU, and the Commonwealth Scientific and Industrial Research Organization in Australia. (Jessa Jael S. Arana)