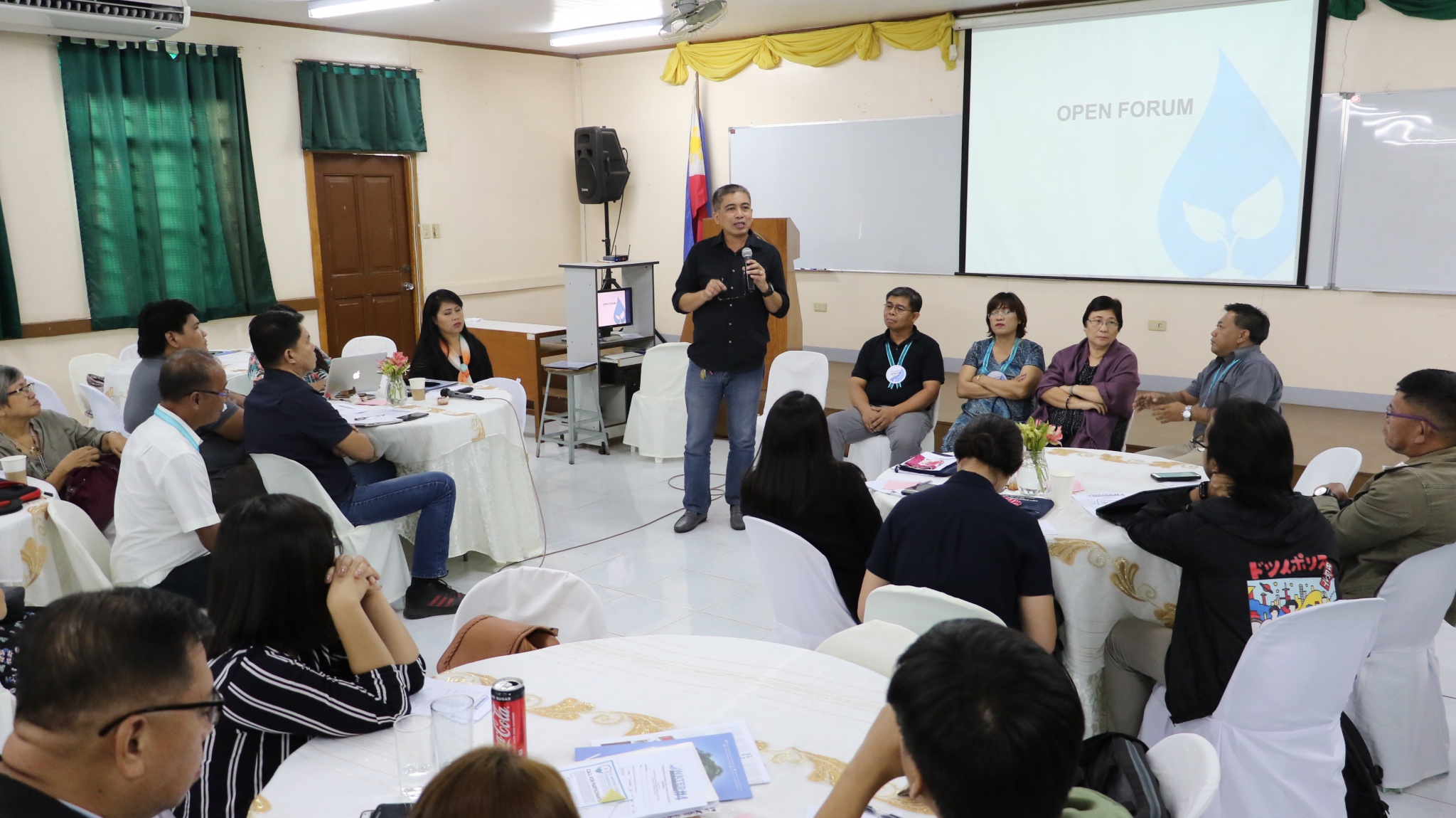 Irrigation tech, issues featured at Water Forum
The discussions at the fourth edition of UPLB's Water Forum Series flowed across the sector that the university knows very well – agriculture.
The knowledge sharing event that the UPLB Interdisciplinary Studies Center for Water (Water Center) organized on June 25 at the Agricultural Systems Institute Lecture Hall featured lectures on the importance of water in agriculture, particularly in irrigation.
"Agriculture accounts for 80% of all water withdrawn in the country," said Dr. Roger Luyun, Jr., associate professor at the UPLB Institute of Agricultural and Biosystems Engineering and chair of Water Center's Research and Development Committee.
Dr. Luyun underscored the importance of "smart agriculture," one that uses information technology tools in making farming decisions, in conserving water.
He talked about how Project SARAI has been promoting smart agriculture, particularly its crop water management technology called WAISS.
WAISS stands for Water Balance-Assisted Irrigation Support System, a technology that his project team developed as a component of SARAI. It gives advice to farmers on when and where to apply the right amount of irrigation.
With WAISS' soil sensor, data logger, and server that transmit data to smart phones, Dr. Luyun said that farmers need not go to the actual farm to determine the need to irrigate. Instead, they could find out via text messaging the crop soil moisture data. At critical levels, they receive irrigation advice without asking for it.
The WAISS field unit uses solar energy, just like another technology featured in the forum, the Solar Pump Irrigation System.
The latter is a water resources management facility of the Department of Agriculture (DA) and the National Irrigation Authority (NIA), which Engr. Henry Cacayon of the DA-Bureau of Soils and Water Management, and Engr. Leslie Dizon of NIA discussed.
The two also talked about other technologies and practices based on indigenous knowledge and science that seek to optimize water use in agriculture amid climate change.
Meanwhile, economists Dr. Arlene Inocencio, professor at the De La Salle University, and Dr. Agnes Rola, professor emeritus at UPLB, tackled water valuation and water governance, respectively.
Dr. Inocencio said that the irrigation pricing of NIA for those who are exempted from the Free Irrigation Service Act is based on crop, area, type of system, and season. She also echoed a result of her study which reveals that farmers are willing to pay more for irrigation if they are given better service.
For her part, Dr. Rola said that administration is the most difficult element in water governance because it pertains to institutions and human behavior. She identified the need for a central planning agency that will orchestrate the conversations of the country's more than 30 water agencies, including decisions on allocating agriculture for water.
The forum's 120 participants, the highest turnout of the series since last year, took part in parallel sessions and discussed the key issues, current initiatives, and proposed intervention in securing water for agriculture.
Present during the forum was Chancellor Fernando C. Sanchez, Jr., who, as a professor at the College of Agriculture and Food Science (CAFS), reiterated the importance of water in agriculture and food security.
Dr. Patricia Ann Sanchez and Dr. Virgilio Villancio are the overall chair and capacity building chair of the Water Center, respectively. (Mark Jayson E. Gloria)