Science and policy forum pushes for Laguna de Bay restoration
Experts, academicians, policy makers, and stakeholders gathered on Apr. 17 to discuss critical findings as bases to create science-based policies for the integrated management of Laguna de Bay.
This was during the 2nd Lake Ecosystems Assessment in the Philippines (LEAP): A Science and Policy Forum for Sustainable Laguna de Bay Management held at the REDREC Auditorium, UPLB.
Laguna de Bay is used as a source of irrigation, hydroelectric power generation, and fish supply, among others, but has been threatened by widespread population, watershed destruction, and other practices harmful to the environment.
According to Jaime Medina, general manager of the Laguna Lake Development Authority (LLDA), Laguna de Bay scored 76% or C- on the 2013 Ecosystem Health Report Card, a product of the joint collaboration of the United Nations Environment, Partnerships in Environmental Management for the Seas of East Asia, the LLDA, UPLB, and other local and international universities and institutes.
"At present, the results of our LEAP research show that the lake has no significant improvement in water quality and is worsening in some parameters," a gloomy declaration by Dr. Decibel Eslava, LEAP study leader and dean of the School of Environmental Science and Management (SESAM).
"There is still a lot of work to be done but we can start by educating the people around the lake. We have to work on improving our understanding of the interconnectivity of ecological systems," urged Dr. Eslava.
Senator Cynthia Villar, in her keynote speech, shared her experience in leading the rehabilitation of the Las Piñas-Zapote River that started in 2002. Their efforts won the United Nations Water for Life Best Water Management Practices in 2011.
"We have to understand that this task will never be finished. We need to devote a lifetime to do this. It is an everyday work," said Sen. Villar.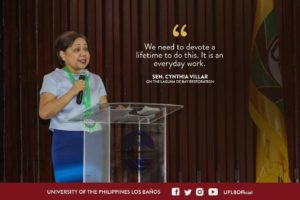 Meanwhile, UPLB Chancellor Fernando Sanchez, Jr., in his welcome remarks, mentioned the importance of policy and highlighted the role of the legislators in rehabilitating Laguna de Bay. "The weight of policy cannot be discounted. Programs and campaigns are one thing, but most often, it is really policy implementation that galvanizes integrated action."
After the policy forum, LEAP study leaders presented their latest findings on the state of Laguna Lake, from biological baselines to pollution reduction.
The scientific presentations were entitled "Geophysical Baselines" by Dr Noelynna Ramos; "Changes in Lakewater and Sediment Composition" by Dr. Eslava; "Integrated Watershed Approach" by Dr. Nathaniel Bantayan; "Socioecological Systems Assessment" by LEAP Program Leader Dr. Maria Victoria Espaldon; "Sewage Treatment Plant" by Dr. Marisa Sobremisana; and "Laguna de Bay as Viewed from Space" by Dr. Gay Jane Perez.
Also present during the event were Hon. Marisol Aragones, representative of Laguna's Third District; Atty. Dulce Rebanal, provincial administrator, representing Laguna Governor Ramil Hernandez; Mayor Caesar Perez of Los Baños; and Dr. Marieta Sumagaysay, National Research Council of the Philippines executive director.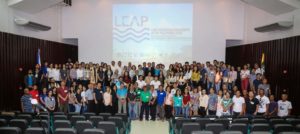 The forum is the follow up of the LEAP held on Nov. 22-23, 2016 in Tagaytay City and is part of an ongoing research program funded by the UP Emerging Interdisciplinary Research Grant and the Department of Science and Technology-Philippine Council for Agriculture, Aquatic, Forestry and Natural Resources Research and Development.
Implemented by SESAM, College of Forestry and Natural Resources, and UP Diliman National Institute of Geological Sciences, the program team hopes that the developed action frameworks can be used in the future for the management of other large urban lakes in the country. (John Glen S. Sarol)