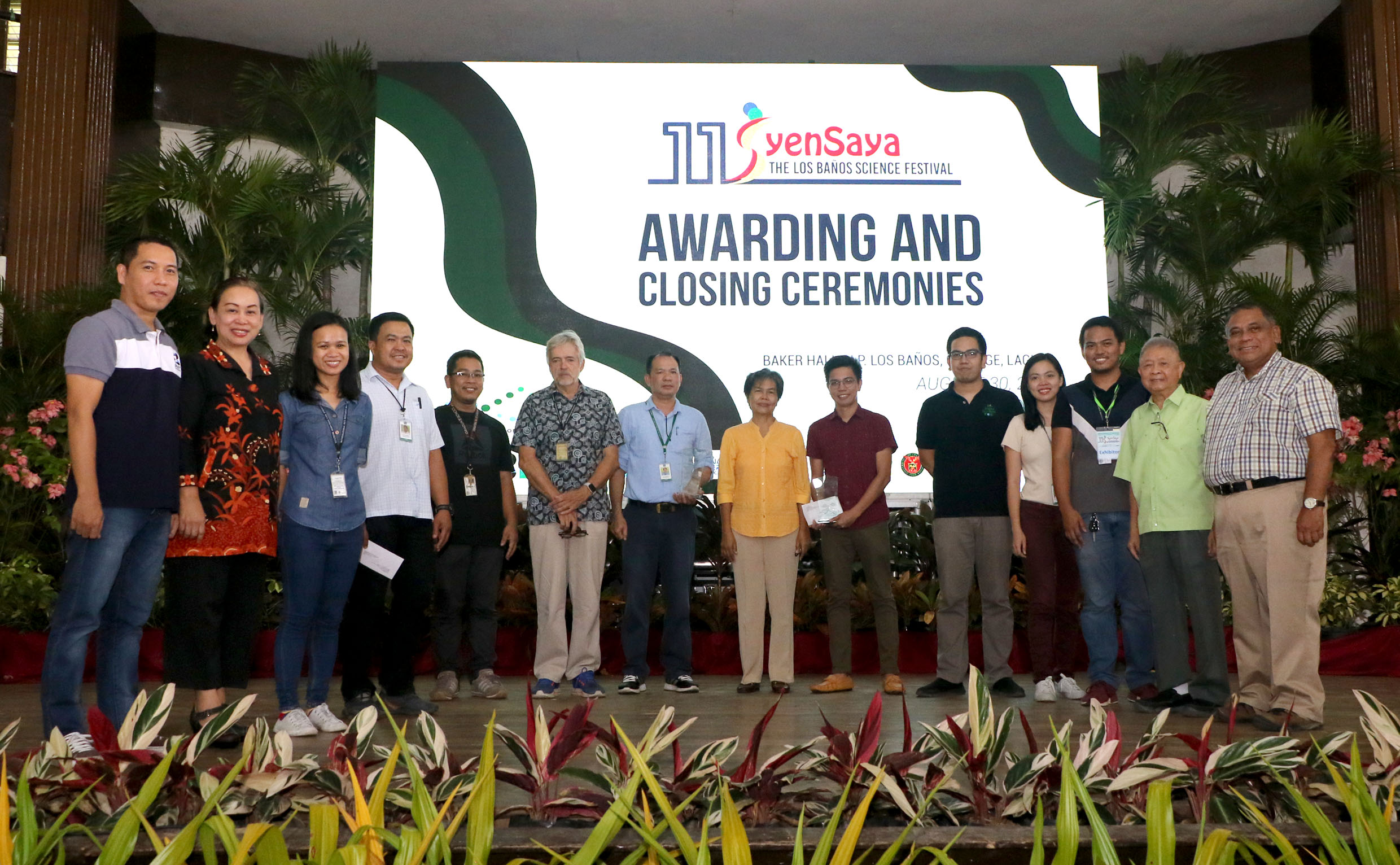 SyenSaya names best S&T researches for 2019
Winning moments of researchers from UPLB, the International Rice Research Institute (IRRI), and two high schools in Calabarzon officially sealed the three-day SyenSaya: the Los Baños Science Festival.
At the SyenSaya R&D Awards and Closing Program on Aug. 30 at Baker Hall, UPLB, the 11-year-old local celebration of the National Science and Technology Week recognized outstanding research and development (R&D) works from seasoned and promising researchers.
Receiving the Philippine Agriculture and Resources Research Foundation, Inc. (PARRFI)-R&D Awards were UPLB's Johnrell S. Zuniega and Dr. Elda B. Esguerra for their research on "Extending the storage life of fresh turmeric (Curcuma Ionga, L.) rhizomes through light and temperature manipulation."
The development award was given to the project "Sustainable rice straw management in the Philippines" from IRRI. The winning IRRI team was composed of Reianne Quilloy, Carlito Balingbing, Joseph Sandro, Ryan Romasanta, Eduardo Secretario, Ampy Roxas, Bjoern Ole Sander, Matty Demont, Nguyen Van Hung, and Martin Gummert.
The YSA awards, on the other hand, were given to three high school student research projects.
The project "Plastic shredder machine and eco-synthetic wood generation through the reuse of plastic solid waste: an environmentally sustainable project" of Carl Adam B. Estacio and Jonsyrill F. Villaran from Cardona Senior High School in Rizal bagged the first prize.
The second and third place winners were projects of students from Calamba City High School, Laguna.
The project "UltraVindow blind: automated sun-powered indoor blinds versus harmful ultraviolet radiation" by Lemerie Jom C. Manguit, Jarren D. Manolid, and Francesca Marice O. Supeña placed second.
Michaela Angeline M. Castillo secured the third spot for her work on "Antioxidant activity of powder from dried mango (Mangifera indica 'Mango Ataulfo') and indian mango (Mangifera indica) peelings."
During the closing program, performers from Paciano Rizal Elementary School in Brgy. Putho-Tuntungin and the Philippine Council for Agriculture, Aquatic and Natural Resources Research and Development (PCAARRD) Cultural Ensemble presented special numbers to the delight of the audience.
Syensaya was organized by UPLB and PCAARRD, which are two of the 22-member- Los Baños Science Community Foundation, Inc. (LBSCFI).
Serving as LBSCFI's president this year is Chancellor Fernando C. Sanchez, Jr., with Dr. Serlie Barroga-Jamias, vice chancellor for community affairs, as his permanent representative.
In her concluding remarks during the program, Dr. Jamias expressed hopes that SyenSaya 2019 served to broaden the public's appreciation for and encouraged students to pursue careers in science.
Dr. Jamias underscored the country's need for more scientists and researchers who will work on finding sustainable ways to address the nation's most pressing concerns and help improve the lives of Filipino farmers. (KEAraguas)