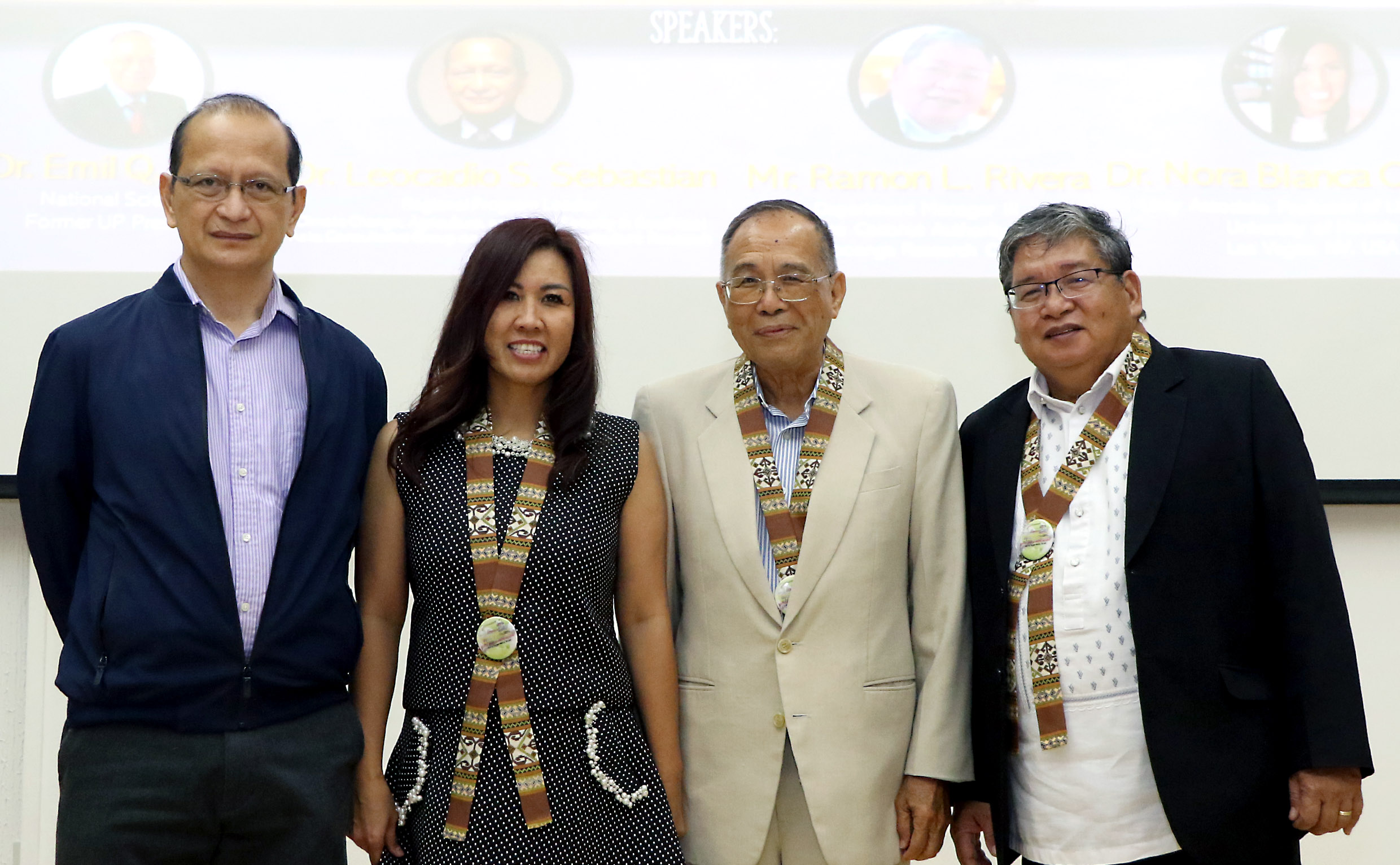 ARDS alumni share expertise, life experience
They set foot at UPLB as promising new freshmen from rural communities. Now, they are back in the university as accomplished professionals and leaders who proffer answers to some of the most pressing issues in agriculture and health.
At the symposium entitled "Rethinking agricultural and rural development (ARD): perspectives from UPLB ARD Scholarship (ARDS) alumni," three UPLB graduates shared their knowledge and experiences in their fields on Feb. 14 at SEARCA Drilon Hall, UPLB campus.
The three – Dr. Leocadio S. Sebastian, Ramon L. Rivera, and Dr. Nora Blanca Caberoy – all grantees of ARDS during their undergraduate years – talked about transforming Philippine agriculture, maximizing coconut's potentials, and understanding blindness and Alzheimer's disease, respectively.
Dr. Sebastian, regional program leader of the Climate Change, Agriculture, and Food Security in Southeast Asia, called for the need to focus the country's agriculture on outcomes and market links.
The Vietnam-based thought leader and former director of the Philippine Rice Research Institute also suggested going beyond large scale demos and pilot sites, mainstreaming transformation efforts into policies, programs, and investment plans, and crafting detailed integrated plans for agriculture.
"We want to transform Philippine agriculture but we have to look at more integrated plans than look at other things," Dr. Sebastian said.
Meanwhile, Rivera, department manager at the Philippine Coconut Authority-Zamboanga Research Center, presented his team's efforts and outputs in developing and promoting coconut hybrids. He noted that coconut hybrids grow faster, yield more, are easier to harvest, and are more efficient user of inputs, among others.
Dr. Caberoy, for her part, did not only underscore the importance of basic research in the field of medicine, as reflective of her researches on tubby and tubby-like proteins in eye and Alzheimers diseases as an associate professor at the University of Nevada Las Vegas. She also acknowledged how ARDS helped changed her life and the people around her for the better.
"Since I was the first in the family to get college education, I was able to help my sisters finish college," she said. "Since then, my nephews and nieces have also become professionals. Some of them went to UP, knowing that their aunt was able to make it, so they were so encouraged to go to UP as well."
She added that since she became the first from her high school to pass the UP College of Admission Test (UPCAT), fellow students were inspired to take and pass the entrance exam.
The significance of ARDS to the scholars' life and communities also served as another centerpiece of the symposium. ARDS, created in 1977 through Presidential Decree 1209, has been providing financial support to deserving but needy UPLB students from least developed regions.
Former and current scholars of ARDS graced the event, with some of them sharing their testimonies, such as Atty. Jinky Patagan Dedumo, now a senior state prosecutor at the Department of Justice and head of the Ninoy Aquino International Airport Task Force Against Trafficking.
"I consider myself blessed to experience those trials and hardships," Atty. Dedumo said, as she recalled her humble beginnings as an ARDS grantee. "As ARDS scholars, wherever we go, whatever we do, we always look back where we came from."
Among the ARDS pillars who graced the symposium was National Scientist Emil Q. Javier, who witnessed and supported the formative years of ARDS in his capacity as chancellor from 1979 to 1985.
He noted how ARDS inspired him as UP president from 1993 to 1999, to institutionalize mechanisms to provide access to UP education for those who come from rural areas and the minority, such as the Excellence-Equity Admissions System in UPCAT, the Summer Bridge Program, and the creation of the Learning Resource Center (LRC) across UP System. LRC is the UPLB unit that oversees ARDS.
Also present were Dr. William G. Padolina, first director of LRC and one of the brains behind ARDS; his fellow past LRC directors; Dr. Benjamina Paula G. Flor, current director; Dr. Ruben L. Villareal, former UPLB chancellor; and Joselito Florendo, deputy director of SEARCA.
The symposium was spearheaded by ARDS, Inc. and UPLB Graduate School (GS), which are being led by two former ARDS grantees – Dr. Renato SA. Vega, interim president of ARDS, Inc. and a professor at the College of Agriculture and Food Science, and Dr. Jose DV. Camacho, Jr., dean of GS. (Mark Jayson E. Gloria)